ユーキューホルダー! 魔法先生 ネギま!2 Anime Review
UQ Holder! Mahou Sensei Negima 2
UQ Holder! Magister Negi Magi! 2 – 07
UQ Holder Episode 07

SPOILER Summary/Synopsis: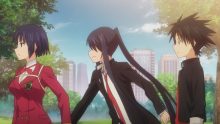 In Shin Tokyo, Karin pulls Kuroumaru aside for a scolding on not still being dressed as a girl. Ikkuu introduced Touta to Kirie, who wishes to have a moment with Touta. She takes him to an ally, where she drops her shy act and becomes abusive of Touta for not protecting her. Touta is confused when Xinxai attacks, fatally wounding Kirie. Kirie manages to take Touta's had before dying, which causes him to appear back on the UQ Holder HQ island. Ikkuu and Karin are surprised to see Touta here and not on a date with Kuroumaru.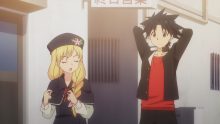 Kirie gets them to take her and Touta to the capital in the group's sail boat. She explains her power of Reset and Restart. Touta thinks this is a cool power, but doesn't realize that dying is painful for Kirie. Once on shore, Karin sees Kuroumaru and repeats the scolding from before. Kirie takes Touta down the ally again, where this time, Touta is able to defeat Xinxai's feeble attempts to kill Kirie. Kirie then explains that they are about to meet Fate Averruncus, a former hero turned villain whom Kirie witnessed slaughtering Karin, Ikkuu, and Kuroumaru in order to behead Touta and claim it as his property.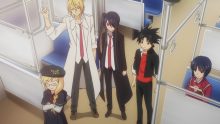 On an elevated train, Touta learns why immortals don't give out the secret of their immortality. Kirie hasn't shared hers with the group, but Touta feels they can be trusted not to just kill Kirie in order to get a cheap time reset. Relieved, Kirie then lays out her plan for the group as she intends to capture Fate, with Yukihime's pre-approval. The plan is modified somewhat so that Kirie will bring everyone back in time. Ikkuu connects to the orbital weapon platform Al-Iskandariya to target Fate. Touta attempts to look up info on Fate, but Yukihime tells him over his phone the info he wants to know.
A short, hooded person bumps into Touta, planting a magic thing on his shoulder. Touta contemplates events, but then Fate is sighted. Touta doesn't see him initially, but when he does, he also sees his friends from the country walking just behind Fate. As such, Ikkuu's attack from space is called off. Fate has noticed Touta, so Touta gets ready for what's to come.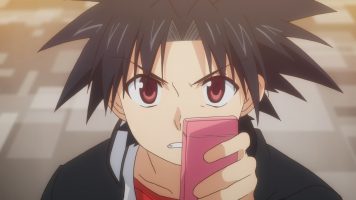 Thoughts/Review:
As expected, UQ Holder! Magister Negi Magi! 2 – 07 has more changes from the manga. This time, Ikkuu comes up short as a character and Xinxai is turned into a cartoon gag.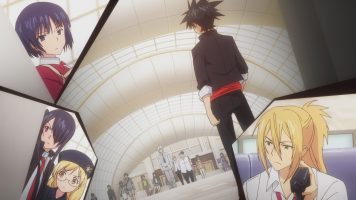 What's Different?
Because of the whole date story being moved from the future to the previous episode, Karin and Ikkuu notice when Touta is on the island when he should be in Shin Tokyo, on a date with Kuroumaru. That change helps set up explaining Kirie's power (at least on a bare basic level), so no real problems there.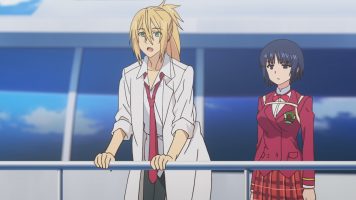 The biggest change comes from the fight with Xinxai. While the anime does help to show to a greater extent how Xinxai can appear from any shadow, sadly, Xinxai is shown to be little more than a cartoon gag. Touta follows the manga story with his initial stop of Xinxai, then does a cartoon gag of knocking Xinxai "out of the park," which is NOT what happened in the manga. In the manga, Xinxai is much more dangerous ans scary. His fight with Touta has Touta lose an eye and nearly lose Kirie. It is Ikkuu who ends up saving the day to protect Kirie.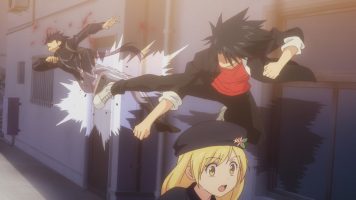 And speaking of Ikkuu, he loses a lot of character stuff from the manga. In the manga, he was shown as being very close to Kirie and protective of her. Further, he told Touta more about his immortality in being an android. All of that is lost in the anime, save for a tiny hint that maybe Ikkuu and Kirie were close. I blame that shift on the fact that Akamatsu-sensei decided he wanted to shove a Kirie x Touta pairing in our faces 'cause "loli megane babe!" 🙄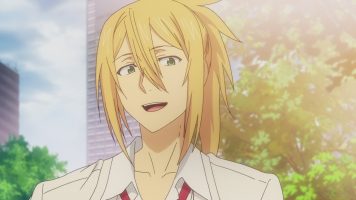 Finally, besides the stuff from Karin having returned from the moon being gone, we get an introduction to Cutlass here. More on that in a bit.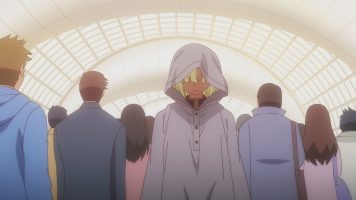 What I Liked
I found myself chuckling over the "osuwari" gag from Kirie to Touta. That comes from my enjoying the Inuyasha anime for its first several seasons, where the dog hanyou Inuyasha was forcibly put down via magic beads every time female lead Kagome spouted "osuwari!" From what I remember, while osuwari does mean "sit," the way Kirie uses it is the way one would use it for a dog. Hearing it made the further gags of Kirie insulting Touta like a dog funnier to me.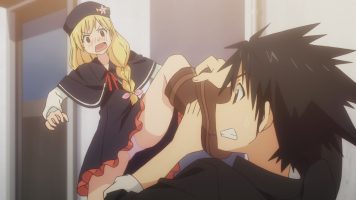 I also liked the explanation as to why Eva didn't come with them (as Yukihime), even though Fate is such a monster. I don't remember this coming up in the manga (and I don't have time to look), but it made sense that Eva's presence would tip off Fate and thus cause him not to fall into the trap laid by UQ Holder.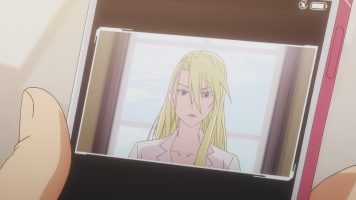 What I Didn't Like
I already mentioned the loss of Ikkuu's character stuff and his defeat of Xinxai as something I didn't like. Because of the way this played out, it made Xinxai's appearance pointless beyond some weak attempt to connect to the previous episode. And it reminded me that in reality, Akamatsu-sensei doesn't know what to do with the guy since he was replaced as a threat by Cutlass.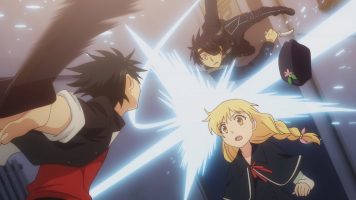 I didn't like Cutlass appearing in this episode, even in cameo fashion. I suppose I need to wait and see how this ultimately plays out. but if she's after Touta (and she is), then her actions make no sense here other than to allow Fate to have his way. And I don't think Cutlass is attached to Fate's group.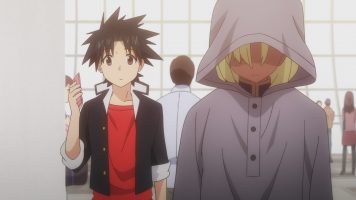 The flashback fight showing Fate slaughtering the members of UQ Holder sucked. It looked awful. In the manga, this reveal of how deadly Fate is provided real shock value. In the anime, it is so ugly to look at, the only shock value is the horrible animation.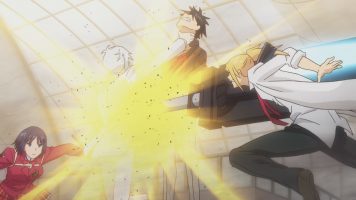 Final Thoughts and Conclusion
OK, time to wrap this review of UQ Holder! Magister Negi Magi! 2 – 07 up as I'm out of time! Because of the poor animation for the fight, the loss of the Ikkuu character stuff, and the weakening of Xinxai as a threat, UQ Holder! Magister Negi Magi! 2 – 07 came off as merely meh to me.  Pretty sad that the manga, as poorly as it is designed, is still so much better than the anime.