ユーキューホルダー! 魔法先生 ネギま!2 Anime Review
UQ Holder! Mahou Sensei Negima 2
UQ Holder! Magister Negi Magi! 2 – 09
UQ Holder Episode 09

SPOILER Summary/Synopsis: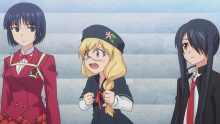 Kirie is unhappy that they let Fate go after going through all that trouble to capture him. Touta confronts Yukihime, who won't speak to him on the matter of Negi. Outside, an elderly woman in wheelchair (Ayaka) come to the Senkyoukan, assisted by a robot (Chachamaru) and with her young granddaughter Mizore. Mizore introduces herself to Touta, warning Shinobu, Kuroumaru, and Kirie about the dangers of being near him. She bases this on the fact that Touta's great-grandfather Nagi and grandfather Negi were notorious womanizers with harems who made girls cry. Therefore, Mizore decides to sacrifice herself to become Touta's wife for all womankind. Touta turns her down.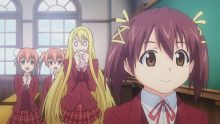 Inside Yukihime's office, the elderly Ayaka, Chachamaru, and Yukihime reminisce about an incident in their school days when Negi was their teacher. They then discuss Negi and the Mage of the Beginning. Meanwhile, Mizore dons a Japanese maid outfit and offers Touta a large bento she made by hand. This impresses the others who observe this. Ikkuu suggests to Karin, Kuroumaru, and Kirie that they counter this by scrubbing Touta's back with 50 strokes at the onsen to evoke the luck of the place.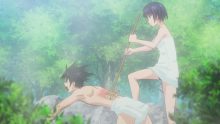 Ikkuu gets Touta to the onsen, where he talks about his brand of immortality. Since Mizore and Shinobu have been let in on this, the race is on for the girls and Kuroumaru to do their magic. The girls end up battling it out over the right to wash Touta's back, so Kuroumaru bails Touta out of the situation. Kuroumaru explains the situation, but is soon attacked. Touta ends up getting knocked back to the onsen, where Yukihime asks him about the commotion. When she learns that he has to have his back washed, she does the 50 strokes, taking the time to chat with him a bit.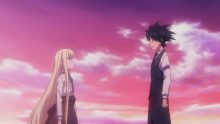 Mizore makes peace with Shinobu and ends up chatting with her about loving immortals. Touta meets with Yukihime on the docks, where he finds her in her true form as Eva. Touta asks if she's still in love with Negi, which she confesses to. However, the Negi they saw in the caverns is not the real Negi as far as she's concerned. She explains how Negi is possessed by the Mage of the Beginning. She also explains the true origins of Touta's creation, that he's a clone.
Thoughts/Review:
UQ Holder! Magister Negi Magi! 2 – 09 continues the massive sprint to the finish. It is a shame this anime is cut so short 'cause with more time, the anime could have corrected issues with the source manga.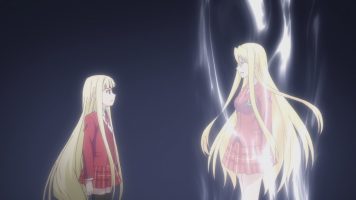 What Was Changed?
With Mizore's introduction, we've obviously skipped all of the Santa story. We've also skipped the entire Dana training arc, where Touta learned to use his powers. Of course this means we've skipped any and all tournament stuff (which I never believed we'd do in the manga). That also means that Eva's backstory and her retconned romantic love for Touta is skipped. We skipped were Touta was given the uniform to be a full time employee of the inn.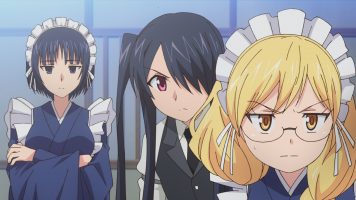 We got the addition of new Negima! material in the form of a flashback.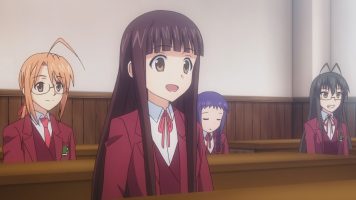 Also, we got the addition of Mizore and Shinobu becoming friends and rivals.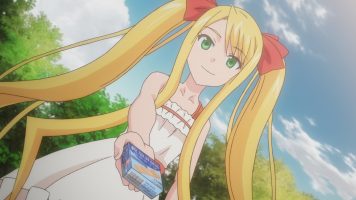 What I Didn't Like
Because of the cuts, all of the progression of Karin, Kuroumaru, and Kirie falling in love with Touta is all but absent. Yes, we got a bit of Kuroumaru's stuff wedged in, but the stuff where Touta does other things to win Karin's respect are not there. And while Kirie isn't my favorite character, it just feels like her interest in Touta is 'cause "reasons". And we don't have Kuroumaru's "become a lovely girl" plot thread where Kuroumaru internally acknowledges feelings Touta.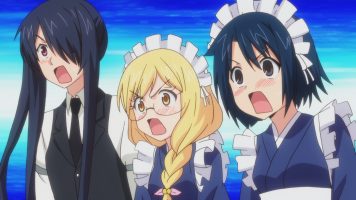 If I'm honest, my next complaint probably won't register too much with viewers who've never read the manga. That said, when Touta effortlessly countered Mizore's brilliant attack, my mind thought back to the manga, where Touta actually had earned that moment (unlike his earlier successes, which were all unearned). Touta had gone through all of this hyper-intense training along with Kuroumaru, Kirie, and Santa to really up their game. So I lamented the loss of an actual earned victory.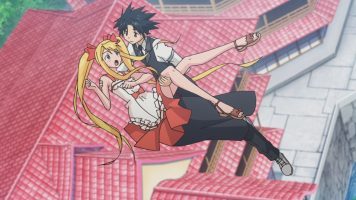 What I liked
Surprisingly, there were things I did like in UQ Holder! Magister Negi Magi! 2 – 09. For starters, we got what I wanted to see in the manga — the meeting between Eva, Ayaka, and Chachamaru. It really frustrated me that the manga never showed this meeting. Instead, Akamatsu-sensei went straight to the harem hijinks and wouldn't let us see. Now, he shows us this meeting, complete with a flashback to their time at school with Negi as their teacher. I loved it.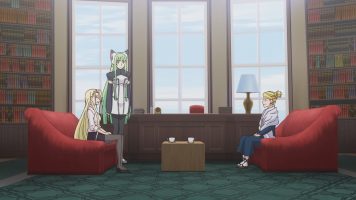 I also really like that the Eva x Touta stuff is all excised from the anime. Eva meeting Touta on the dock was another skip of some 10 chapters. The manga had her simply tell Touta he wasn't #1 on her boink list until the issue with Negi was resolved. In the anime, she still confesses she loves Negi, but without the Eva x Touta stuff. Frankly, I have NEVER liked the notion of Eva becoming mother to a boy she wants to eventually boff. The anime's version is a simple love of woman and her adopted son. That's what I wish the manga had done.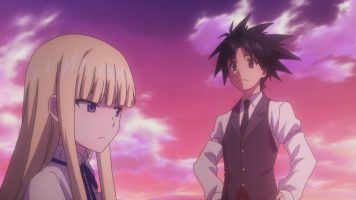 The last thing I really liked is the introduction of Mizore. I admit that I've always liked Mizore's character in UQ Holder. A lot of the manga is rather gloomy and depressing. Mizore is like a ray of sunshine and a breath of fresh air. The anime went out of its way to have Mizore and Shinobu become friends, which I liked. I also liked that Mizore is well versed on immortals, which makes sense. I don't remember the manga really going into Mizore's thoughts on immortals.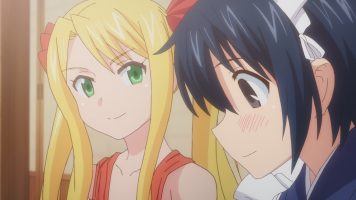 Final Thoughts and Conclusion
First, let me apologize for falling behind again. I had tried to get stuff going as I knew I'd be massively busy. Alas, things don't always go according to plan. 🙁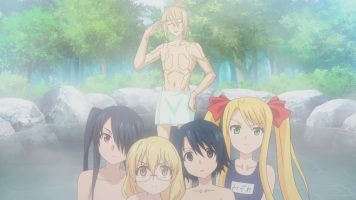 That said, while I lament the fact that UQ Holder! Magister Negi Magi! 2 anime has to keep skipping massive swaths of the source manga, I did appreciate some of the additions to UQ Holder! Magister Negi Magi! 2 – 09.