ユーキューホルダー! 魔法先生 ネギま!2 Anime Review
UQ Holder! Mahou Sensei Negima 2
UQ Holder! Magister Negi Magi! 2 – 12
UQ Holder Episode 12 (Final Episode)

SPOILER Summary/Synopsis: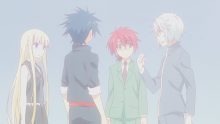 The members of UQ Holder are holding their own against Negi-MotB and allies. Fate and Yukihime arrive, where Fate pulls Negi's astral true form out of his body. At the same time, he pulls his own astral true form, Yukihime's astral true form as Eva, and Touta's astral body. They talk with Negi, where he tells Fate that he has to die. Touta gives his time to Eva, who embraces Negi. Time for this spell runs out and their astral bodies return to their physical bodies. Fate and Yukihime attempt to seal Negi-MotB, but fail.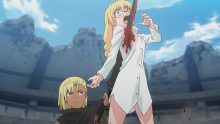 With that, the members of Negi-MotB's team turn the tide on the UQ Holder members, defeating all but Touta. Touta mimics Negi's lightning form, but Jack Raken puts a stop to Touta. Kirie prevents Touta from being killed, so Cutlass puts her down, forcibly pulling two of her teeth to prevent her from committing suicide. Touta despairs, but Kirie knows they've stalled long enough. With that, Negi-MotB and Touta are pulled into a phantasmagoria, where all of Negi's former students are.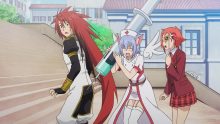 Negi's former students attempt to convince him, many through attacks, but all fail. These students were formed by the memories of Negi and Asuna. On cue, Asuna shows up, putting them back into reality, where Negi briefly regains control of himself. Asuna thanks Yue and Nodoka as their staying with Negi caused Negi to resist MotB for 20 years. MotB regains control, but with Asuna staying with them, Negi-MotB concedes and retreats with his clan, Asuna in tow.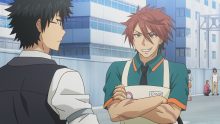 Jinbee and Gengorou discuss things, where Jinbee brags on saving so many people. Shinobu shows up, having rescued some kids. Mizore laments not being privy to the stuff UQ Holder saw with Negi. Ayaka agrees, saying the same thing often happened in her youth. Fate leaves, shooting a warning to Yukihime. Dana observes all this from a distance. Back at the Senkyoukan, the girls and Kuroumaru discuss Kirie rejecting an earlier love confession for Touta. Touta confesses to Yukihime, but is rejected.
Thoughts/Review:
And so UQ Holder! Magister Negi Magi! 2 – 12 brings an end to a poorly done anime adaptation. Though the ending shows the desire to have a second season/series, I just don't see that happening.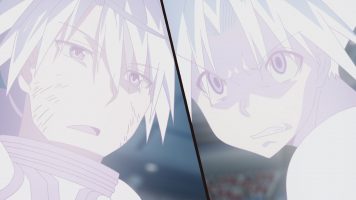 What Changed from the Manga?
While the basics of the episode 12 were taken from the manga, the anime adaptation needed to add a heavy Negima! element though, which reminded me of the first Negima! anime series, which is not a good thing. For those who didn't watch that travesty, the series ended with all of the girls from Negi's class gaining a pactio with Negi in order to fight a cliched good vs. evil battle. As I described it at the time,
I think it would have been less painful to eat a bowl full of shredded glass and have that pass through my digestive system than it was to force myself to witness this tripe.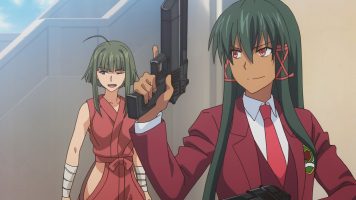 UQ Holder! Magister Negi Magi! 2 – 12 doesn't quite go to that level, but it comes pretty close. This time, all of the girls show up out of Touta's mind, thanks to the memories of Asuna and Negi. What?! And then all of them need to get lines, some of them attacking Negi, and all of it being equally worthless. Of course, the coup de grâce is to have all these girls have their clothing removed. 🙄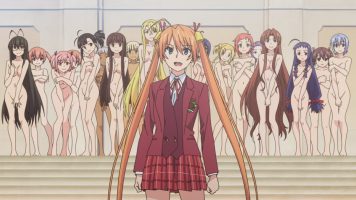 I know that in the manga, I have enjoyed some of the Negima! flashback stuff, but here, I just couldn't get into it at all. In the manga, the Negima! elements still felt like they had a story purpose. Here, the girls showing up served no purpose because frankly, what could memory fragments do to Negi-MotB? As such, it just felt like Negima! fanservice 'cause "reasons."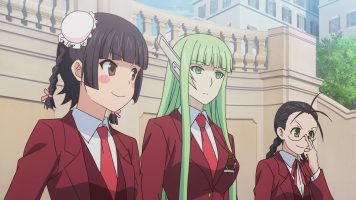 Ramming that Touta x Eva Thing
One story element from the manga that I never cared for was having Touta fall for Eva (and thus his adoptive mother, Yukihime) after meeting her in the past. It just has a strong ick factor because who raises a child to have sex with them? Transversely, what boy, even with an adoptive mother, who's never been sexually interested in said mother figure, suddenly wants to marry (and thus have sex with) said mother figure because they met her when she was the same age as the boy? It makes no sense.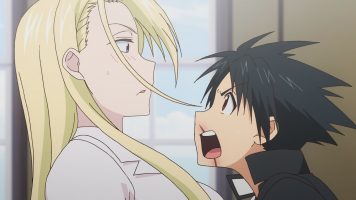 Until episode 11, this plot thread was not brought up in the anime. However, episode 11 had Eva suddenly weeping about wanting to be with Touta forever 'cause "reasons." Then for episode 12, the anime brings in the Touta confession to Eva (as Yukihime) from after the Dana arc and inserts it. 🙄 Of all the things to ram in here.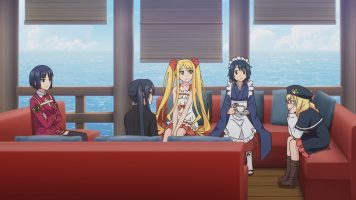 Hoping For Another Season/Series?
Because the anime ended with Asuna joining Negi-MotB in order to restrain him further, it felt pretty clear to me that those producing the anime are hoping for the chance of a second season. I doubt they get it, but with UQ Holder now getting a mobile game in Japan, who knows. There is a ton of material still not animated from the manga, which could be reworked I suppose.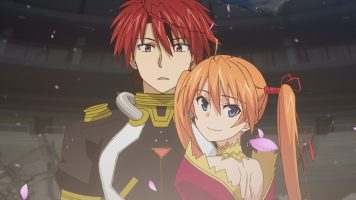 Also, I noticed that Dana, the deus ex machina "broken" character, got a cameo in this episode. This suggested to me a desire on the part of the anime folks (and maybe Akamatsu-sensei) that they'd like to get another anime season/series.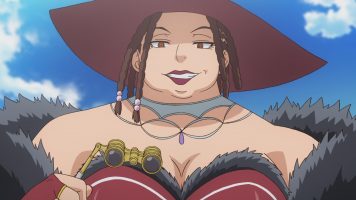 Final Thoughts and Conclusion
Time to wrap up my review of UQ Holder! Magister Negi Magi! 2 – 12 and provide a few thoughts on the series.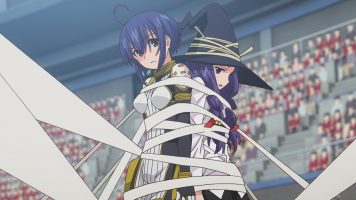 Sadly, the series suffers from trying to cram so much source material into 12 episodes. As such, there's little time to do things properly since Akamatsu-sensei, who was on the anime production team, wanted to make sure the anime touched certain things, such as the harem elements that were added well into the manga's run. Throw in the Negima! stuff, and the anime becomes a mess.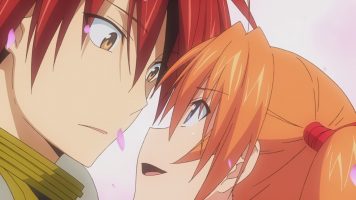 That's not to say that there were some OK things in the anime. One thing that springs to my mind is the fact that the manga had skipped showing us a meeting between Eva and the elderly Ayaka after setting that up as an obvious thing. The anime put this in, which was a nice touch.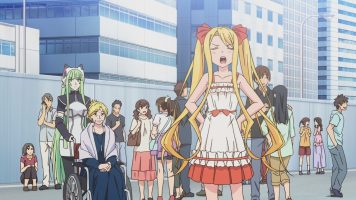 Finally, Zazie showed up for the class 3-A cameos, but the series didn't use her earlier when the manga had. Why did they not use her earlier?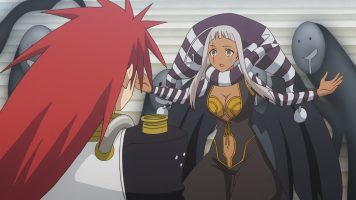 In the end, UQ Holder! Magister Negi Magi! 2 – 12 brings to an end a TV series that heavily rushed, leaving casual viewers going, "What?" and long time fans going, "This sucks!" It is a shame the Japanese didn't want to do this properly.