Fate/Apocrypha 25
フェイト/アポクリファ episode 25

SPOILER Summary/Synopsis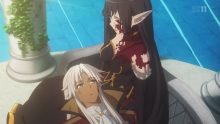 As the Hanging Gardens of Babylon begin to crumble and fall apart, Shirou awakens with his head resting on the injured Red Assassin's lap. They watch the sun rise and she forgives him for lying to her about her becoming Empress of the world. After they chat a while, she kisses him and he dies. She then disperses into energy. Meanwhile, Sieg finds himself in the Holy Grail, in the same place Shirou had been, where he's joined by a worried Black Rider.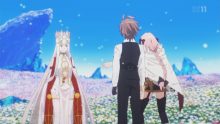 The figure of Justeaze appears before them, telling them they've won the Greater Holy Grail War. She is a terminal to the Greater Grail and asks him his wish. He wants to stop Shirou's wish, but Justeaze says that is impossible, now that the wish has been granted and is in progress. As the trio discuss the situation, Black Rider notices Sieg's hand is black and has dragon scales. Sieg asks Justeaze a question and she confirms what he wants can be done. Black Rider protests, but Sieg arranges for him to be granted a physical form to live in the world.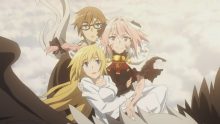 Black Rider races off, rescuing Caules and Laeticia in the process. They make it out of the Hanging Gardens before it crumbles completely and falls to ground. As they fly, they observe the dragon Fafnir (Sieg), flying away to The Reverse Side of the World, where only immortals reside, with the Greater Holy Grail. Red Caster sees this and is amazed. His only lament, as he dissolves into energy, is that he didn't get to be the lead in this play. Meanwhile, Laeticia wonders if Sieg and Jeanne can meet again in that place.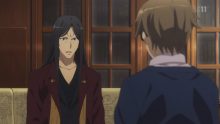 Sometime later, Caules meets with Lord El-Melloi II at the Mage Association Clock Tower to discuss the Greater Holy Grail War. Caules is kicked out of his normal mage studies, but is transferred to Knowledge, where Caules will learn a new kind of magic that's different from the formal magic he already knows. Meanwhile, a grateful Astolfo sees Laeticia off as she returns to France. In the Reverse Side of the World, Jeanne wanders until she encounters a sleeping Fafnir, holding the Greater Grail. She causes him to return to humanoid form. Before they begin their new life together, she confesses her love for him.
Thoughts/Review
And so it all ends, but I'm left with one question? Why bother with the Greater Holy Grail War?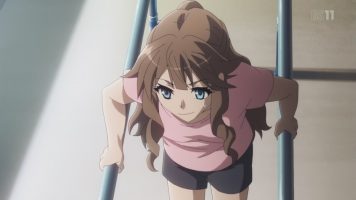 Shirou and Red Assassin
As I've noted before, Fate/Apocrypha has gone out of its way to have pure evil characters. We've seen insane characters, worthless characters, ruthless characters, etc., but even the most evil of characters have some element that removes them from the realms of pure evil. Shirou and Red Assassin, both of whom can be described as evil characters in my opinion, are no exception.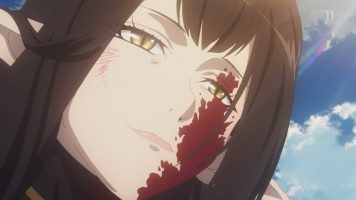 Shirou gets his wish and before he dies, gets to spend a romantic moment with Red Assassin. At the end, she becomes forgiving of Shirou's lies to her. As a result, I have to say that I liked the touching moment they had together before Shirou dies and Red Assassin is returned to wherever it is that Servants go when they "die."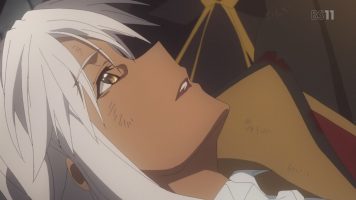 Win the Greater Holy Grail War, Gain a Consolation Prize
All Holy Grail Wars have operated on a single idea — the Holy Grail will grant a wish to the winner of a Holy Grail War. At times, these wars are interrupted, as happened in the Fourth Holy Grail War (Fate/Zero). In the Fate/Apocrypha universe, their Third Holy Grail War was interrupted when Darnic stole the Greater Holy Grail and hid it away for decades. No winner, no wish.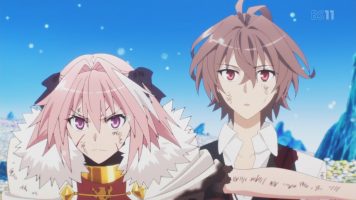 When Fate/Apocrypha started, I figured that the whole Greater Holy Grail War would be similar to Fate/stay night, only with double the Servants and one Servant without a Master — Ruler. However things went down, we'd end up with one Servant, one Master, and Ruler. The winning Servant and Master would then make a wish and that would be that.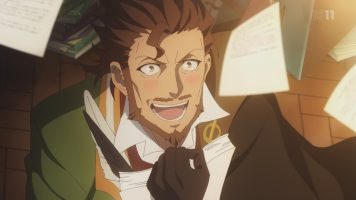 What makes no sense is that Shirou, who had not won the Greater Holy Grail War, simply entered the Greater Holy Grail and got a wish anyway 'cause "reasons." What? So what the heck was the purpose of the war then? If it was that easy, Darnic screwed up when he stole the Grail and didn't make a wish. All Shirou had to do was steal it, have an audience with Justeaze, then have his wish granted, what was the purpose of the war at all?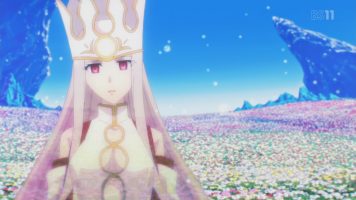 As for Sieg, he got a consolation prize because he actually won the Greater Holy Grail War, but Shirou's wish trumped his initial wish. It makes zero sense to me. But hey, Sieg becomes a Dragon so…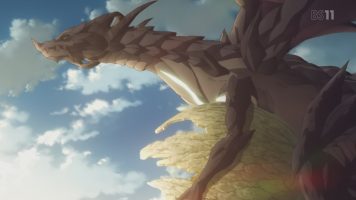 Sieg, Black Rider, and Ruler
OK, so for those who had any kind of interest in romance between Ruler and Sieg (I was not among those), we get a happy end when Jeanne d'Arc is reunited with Sieg. No clue what they are going to do now, but I suppose they live happily ever after.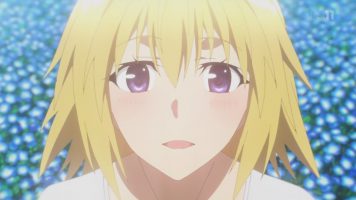 I did find it somewhat interesting that Black Rider got to remain behind and apparently have a physical form. I suppose this makes Astolfo immortal in the way that Shirou was.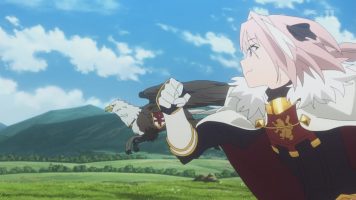 I'm glad that Laeticia got to return to her life unharmed. I had the feeling that Astolfo will visit her from time to time, between doing whatever it is he does as Rider.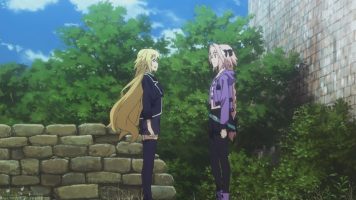 Final Thoughts and Conclusion
Let me wrap up my review of Fate/Apocrypha 25 and throw in a few other thoughts as well.
I am glad to see that Fiore is learning to walk.
It was great seeing Lord El-Melloi II (aka: Waver-kun) again. I'm glad he's taking Caules under his wing for training.
Gordes looks to have had a kid at the end of the episode. The kid is too old to have been spawned from Gordes and the female homunculus Thule. But I am glad to see that she's still "by his side" after a fashion.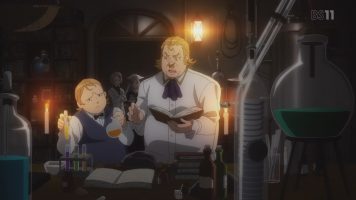 As I think back on Fate/Apocrypha, I can't help but lament that for the most part, the anime went through a series of actions, but little was behind them. There were certainly plenty of twists, and I had no problem with that. Some of the best material centered around Jack the Ripper (Black Assassin), but some good stuff lay with Red Archer and Red Rider.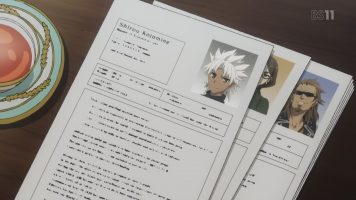 Sadly, with only 25 episodes, I felt that the anime only gave us the framework of the story, but failed to adapt the most of the heart behind the story. As such, Fate/Apocrypha's biggest appeal will only be for fans who play Fate/Grand Order who want to see some Servants who show up there in animated form.