ユーキューホルダー! 魔法先生 ネギま!2 Manga Review
UQ Holder! Mahou Sensei Negima 2
UQ Holder!: Magister Negi Magi! 2 Chapter 144
UQ Holder Chapter 144

SPOILER Summary/Synopsis: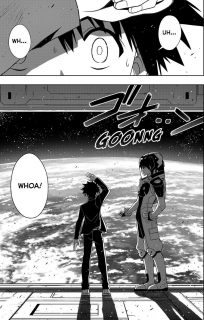 Touta races up the tower and has to be grabbed by Gengorou before he passed the staging location. Gengorou is impressed that Touta made it up at all, let alone be the second person to the rendezvous site. As there are three minutes until the missile attack, Gengorou rewards Touta by agreeing to listen to anything Touta says.
Touta asks why Gengorou was so opposed to saving 10,000 people. Gengorou explains that if they do it once, then they'd have to do it all the time, even to save one person. Otherwise, this action is arrogant foolishness. Further, if UQ Holder starts doing this, then they are attempting to "save the world" like Negi-Ialda. To Gengorou's surprise, Touta agrees he has a point. Gengorou remarks that before Touta joined UQ Holder, Yukihime and Kirie would never get involved in things like this.
Santa, Jinbee, Karin, and Kuroumaru arrive, so Gengorou puts the battle plan in action. Karin uses a Thousand Bolts magic app cylinder, which Touta absorbs. They are able to get to the missile, where Touta dispatches the enemy agent riding it. However, their enemy has the missile deploy its warheads. Jinbee uses his Switcheroo to bring the warheads to Kuroumaru, who slices them all before Santa uses his powers to to send the remaining warheads safely away.
Gengorou has the enemy agent bound in a magic and uses his powers to probe the enemy's memories. Karin marvels at Touta's conflict over Gengorou's words, but she smiles at tells him that this time, Touta was right. The other members in the operation agree, sans Jinbee, who informs Gengorou that he's on the losing end.
Gengorou discovers that their enemy apparently expected to fail and may have a nuke planted in the station as a fallback. This causes a lot of panic among the UQ Holder members, but Kirie reminds them that they can just reset and restart. However, she notices her save point has been destroyed, meaning they can't go back.
Thoughts/Review:
In a weird way, Akamatsu-sensei uses UQ Holder chapter 144 to explore the notion of, "With great power comes great responsibility." Just how far should you go to save the world?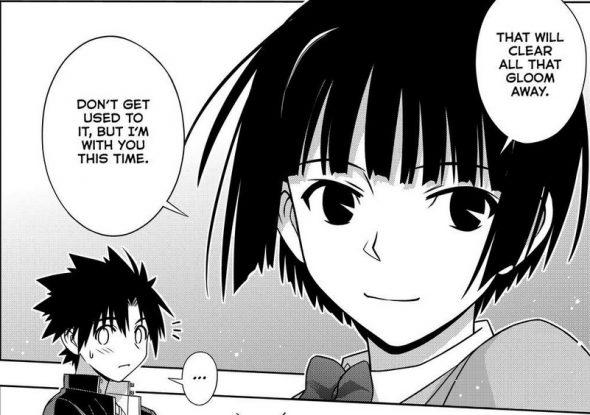 Gengorou's Issue

The whole reason Touta wanted to save these people is that the members of UQ Holder have the equivalent of superpowers. As such, his mind has held the notion that they have to use their powers for a greater good. And who can argue with saving 10,000 people?
However, Gengorou points out that the whole reason they don't go back in time and save everyone is that it would never end. You couldn't just pick and choose whom you'd save. You'd have to try to save everyone. In the end, they'd be no different than MotB, who's trying to save all of humanity.
Plus, Gengorou makes an excellent point about Touta wanting to save these 10,000 people. In reality, had Touta not heard of the attack, he wouldn't have done anything. But as the attack directly impacted him (the debris from the destroyed station crashing down all around the Senkyoukan), Touta and those influenced by him want to save these people. As such, only saving these 10,000 is an act of selfish arrogance.
In the end, I think that should the manga continue, we'll see UQ Holder do time resets to save people when they feel they should. They may have a great responsibility, but they don't have to save everyone.
Cutlass's Trap
As expected, having UQ Holder go back in time to save the 10,000 people was a trap. What I didn't expect was that this trap would take a long time to be sprung. Gengorou stated it would take about 30 minutes for him to get the information from their captive. So why wasn't the backup explosive(s) triggered almost immediately after the missile attack failed?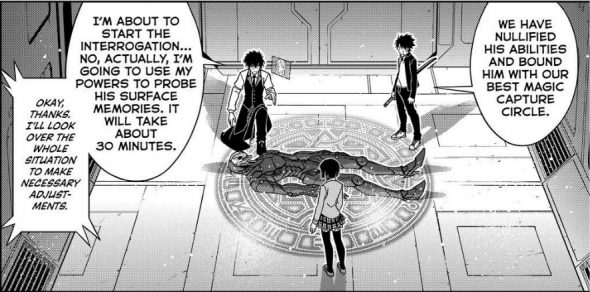 That brings up the question of what Cutlass's aim is? I thought she wanted to slay immortals. But if no secondary explosion was triggered immediately after the first one failed, then she has to have something else up her sleeve, right? Or maybe I'm overthinking this.
In addition, it is hard for me to believe that no one was prepared for this trap. After all, Cutlass was goading them on to do it. And they know Cutlass has a mastery of time and knows about Kirie's powers. As such, I have to believe that at the very least, Eva was aware and somewhat prepared, though she didn't act like it.
Final Thoughts and Conclusion
You know the drill–I'm behind and so I need to wrap up my review of UQ Holder chapter 144.
Kudos to Crunchyroll for doing a great job on the 2-page spreads. In the new reader, the artwork is seamless. In the old reader, there is a white line, but otherwise it is good. I suspect Kodansha sent CR the 2-page spreads without breaking them up, thus CR didn't have to worry about putting them back together properly.
I'm glad to see Santa finally involved in the action and using his (forgotten) powers.
Looks like we'll get another look at Kirie's powers. Akamatsu-sensei does need to address the fact that Kirie didn't need save points to do her resets as a young child. So how the heck did she learn how to do save points in the first place? Also, shouldn't Kirie's natural ability to reset time kick in if she doesn't have an artificial save point?
Even though we have Super Touta here, at least he's part of the "Holder League" and not just doing everything on his own. Plus, he's somewhat earned some of these abilities at this point. 😉 Also, Gengorou holding him in the "princess carry" was a hoot. 😀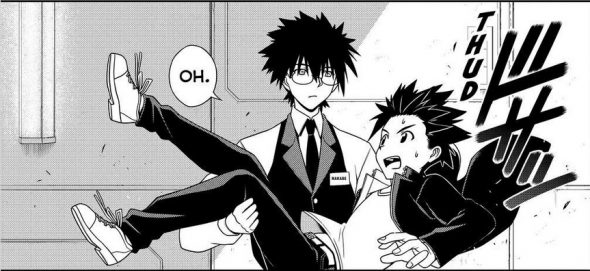 In the end, I rather enjoyed UQ Holder chapter 144, mainly because it did look at the issue of saving folks and how far UQ Holder should go in that endeavor.