21Fate/Apocrypha 21
フェイト/アポクリファ episode 21
SPOILER Summary/Synopsis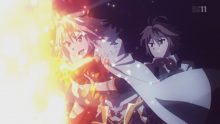 Black Rider activates his special Noble Phantasm that allows him to block all attacks Red Assassin sends his way. As such, Black Rider begins destroyed the defenses of the Hanging Gardens of Babylon. Red Assassin dispatches Red Lancer to deal with this, but Black Rider is able to avoid his attacks by teleporting. In order to give Black Rider freedom to work in peace, Sieg transforms into Black Saber, causing Red Lancer to deal with him. Black Rider destroys the last of the defenses, but is exhausted and crashes to the floating fortress. Red Assassin is about to kill him, but Red Saber shows up with Sisigou in their jet.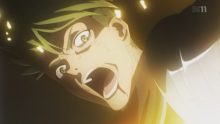 On a passenger jet, Red Rider activates a Noble Phantasm to shift Black Archer and himself into a Reality Marble where time has stopped and it is no longer night. Black Archer gets Red Rider to agree to grant his wish in exchange for the battle. The two fight unarmed where Red Rider eventually punches through Black Archer's chest. Before dying, Black Archer's constellation in the sky fires a Noble Phantasm at Red Rider, removing his immortality. Black Archer then dies.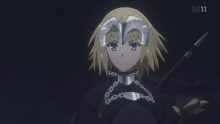 On yet another passenger jet, the enraged Red Archer accuses Ruler of being a child killer due to her actions with Jack the Ripper. Ruler does not deny this, which is the last straw for Red Archer. As such, she activates a Noble Phantasm Agrius Metamorphosis, which causes her to transform into a more beastly mode. Ruler is horrified by this as it means Red Archer is sacrificing her good name Atalanta. Back on the Hanging Gardens, Black Rider comes to and sees destruction all around him. He then finds Red Rider there, who has something for Black Rider.
Thoughts/Review
With Fate/Apocrypha 21, the wind-down begins with the elimination of at least on Servant.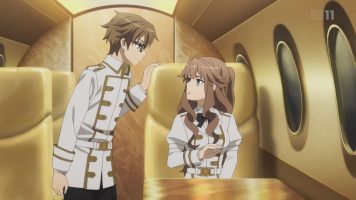 Black Archer vs. Red Rider
I have to admit, I had no clue about which way this fight would go. I could see things going either way in terms of who would win. However, I also didn't care much about the fight, though I was mildly surprised to see it turn into fisticuffs of sorts. I'm still not quite sure how Black Archer pulled off that final Noble Phantasm, but then I guess I'm not as versed on the lore as I should be.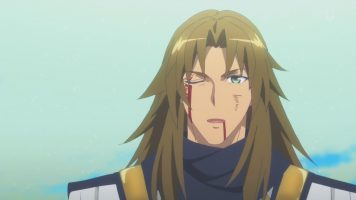 Red Rider wins the fight, but he is honor bound by his promise to Black Archer to do something for the Red Faction. This reminded me again of how different this Holy Grail War is from the one in Fate/stay night. There, Saber was clearly good. Archer and Lancer, and (fake) Assassin were neutral forces that needed to be removed for the greater good. Caster, Rider, Berserker, and Archer-2 were evil. In Fate/Apocrypha, the lines aren't so clear. And aside from Black Assassin, it is hard to call anyone evil.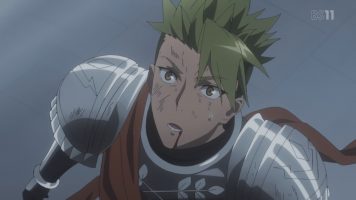 Since Red Rider didn't kill the unconscious Black Rider at the end of the episode, I presume that Red Rider is going to do something for the Black Faction.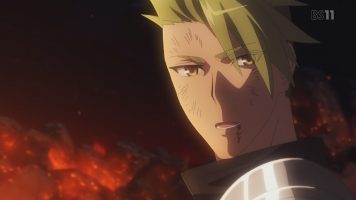 Black Rider, Sieg, and Red Lancer
Black Rider got to be a useful Servant with a convenient Noble Phantasm that can be used on a moonless night. I thought Black Rider was finished after taking out the last of the defenses on the Hanging Gardens of Babylon, but instead, he just fell unconscious. And he was spared from death twice, first by Red Saber bringing her attack on Black Assassin and then by Red Rider not killing him when he had the chance.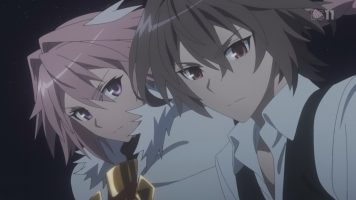 In some ways, it is a bit surprising that Red Lancer abandoned his mission to stop Black Rider, just because Sieg turned into Black Saber. As powerful as Red Lancer is, I think he could have thwarted Black Rider long enough to force Sieg to return to his normal self. But, that didn't happen, so I guess I'll have to wait and see the outcome of that fight.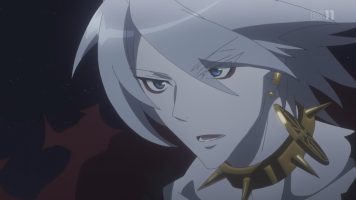 Ruler vs. Black Archer
From Fate/Grand Order, I only know of Red Archer's Phoebus Catastrophe Noble Phantasm. I know nothing of her Agrius Metamorphosis Noble Phantasm (and funny how Servants all seem to have two Noble Phantasms in Fate/Apocrypha), but it seems like some kind of cursed NP like Black Lancer's second NP was (which turned him into Dracula). But whatever it is, I figure Ruler will still defeat her.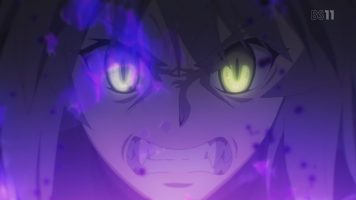 It is a shame that Red Archer lost her ability to reason. Her emotions overwhelmed her and have driven her to insanity. She was one of the few characters I found a little bit interesting. Hopefully, her sanity is restored before she's killed.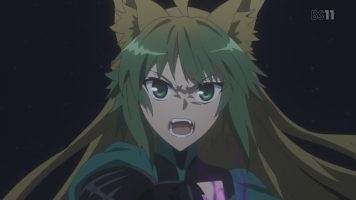 Final Thoughts and Conclusion
Yeah, as always, I'm massively behind. So I better wrap up my review of Fate/Apocrypha 21.
Whatever Shirou is doing inside the Grail (within Heaven's Feel) sure is conveniently taking a long time.
I guess Red Saber and Red Assassin have already had their battle, based on the amount of damage and fires around Black Rider when he came to. I hope we get to see a bit of that in the next episode.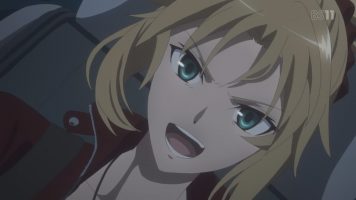 In the end, Fate/Apocrypha 21 was an OK episode. It entertained me and kept my interest, but after all is said and done, it is merely average.