ユーキューホルダー! 魔法先生 ネギま!2 Manga Review
UQ Holder! Mahou Sensei Negima 2
UQ Holder!: Magister Negi Magi! 2 Chapter 145
UQ Holder Chapter 145

SPOILER Summary/Synopsis: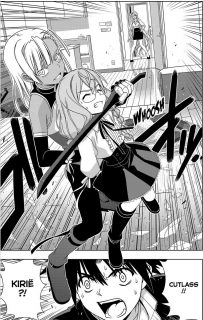 After discovering her save point is destroyed, Kirie races back to her room to find Cutlass waiting for her. Meanwhile, Gengorou reports that there's a nuke on the elevator train going to Earth, which could either kill a million on the ground, or a 1000 on the train. Touta and company, sans Gengorou, race to the shaft, then free fall to the train elevator. Jinbee's ability cannot move the bomb far enough away to get them out of the ground zero blast radius.
Cutlass makes contact with Touta somehow, where she reveals she has Kirie captive. Cutlass revels in the trap she has set for Touta and company, taunting her "Nii-san" to make a choice of a 1000 or a million, or leave it to someone else.  Kirie tells the group not to worry as her save points aren't required for her powers. Cutlass can't believe it, but Yukihime telepathically confirms this to Touta through Karin. However, it is possible that Kirie will have to relive her whole life again, and that may make her relationship with Touta different.
Touta decides that he's not going to sacrifice Kirie, angering Cutlass. As such, Cutlass decides to go ahead and kill Kirie. Yukihime attacks Cutlass, eventually freezing her and shattering her frozen body. Yukihime then apologizes to Touta about this.
Thoughts/Review:
Well, it is always nice when we get a taste of Eva's power and why she was so feared. Thankfully, UQ Holder chapter 145 provided this for us, but does this mean that we are possibly nearing the end of the manga?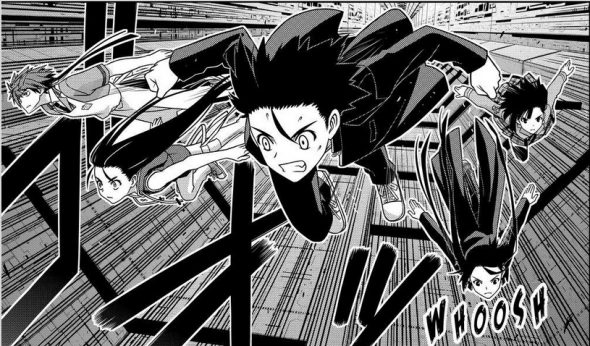 Is Cutlass Really Dead?
When I saw Eva mow down Cutlass, then freeze her, then shatter her body, I was reminded of the Kyoto Arc in Negima! where Eva (in her true form) with Chachamaru as they made short work of the Ryomen Sukuna no Kami by shattering that monster's body after a mass freeze. Afterward, it is revealed that Ryomen Sukuna no Kami was resealed, suggesting that Eva hadn't actually killed the beast (wish I knew if it were merely mazoku or youkai in nature).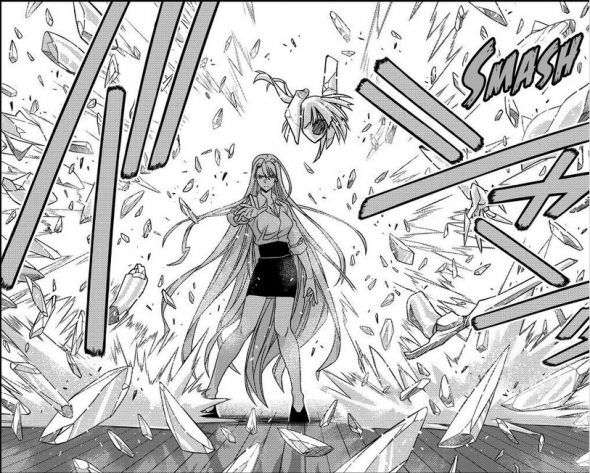 While I don't think that same element exists here for Cutlass, I do think there's a possibility that she's alive. For starters, there's her mention of having a backup mind. While that was contained in her physical body, the fact that she has one at all suggests she may have "offsite storage" for her mind. And with a cyborg body and cloning, she could come back that way.
Kirie could die anyway, resetting time, and not go all the way back. That would bring Cutlass back as well.
Finally, Cutlass may have some other power that hasn't been revealed that allows her to do this. After all, she apparently escaped from a cell that was supposed to be escape proof.
Of course if Cutlass is really dead, then there's a part of me that thinks, "I bet the manga is winding down."
Communication With Touta
It may be because I've had so much else on my mind of late, but I'm really confused about how everyone is "magically" communicating with Touta. For Eva, she's relaying a telepathic message through Karin since Touta can't use magic apps. So does this mean that the only way Eva communicated with Karin (and apparently the others) in a telepathic form was via a magic app of some sort? And then Karin becomes a simple telepathic relay to Touta? It all seems weird.
I also was confused on how Cutlass had two-way video communication with Touta. That seemed technological, not magical in nature. But I'm not seeing how that was accomplished.

Kirie x Touta or Bust!
Once again, Akamatsu-sensei does a hard push for his preferred Kirie x Touta pairing. I can totally appreciate Touta not wanting Kirie go through her bad life again. But the other emphasis heavily pushed was that if Kirie did this, her relationship with Touta might be different. But I don't care about that. If Kirie goes all the way back in time, then there's also a chance that things don't pan out they way they have thus far.
Ugh. Kirie's ability is such a pain in the rear at times.
Still, if Akamatsu-sensei does do a full-on reset (which I don't believe for a moment), maybe I could get my harem ending. ??? Yeah, I know, that'll never happen. But once UQ Holder shifted into a harem title, I wanted a harem ending. And I think a story justification could be made for this. But as I said, this will never happen as Sensei is hell bent on making Kirie the girl. It makes me wonder why he even bothers with the harem stuff.
Final Thoughts and Conclusion
In the end, I really liked UQ Holder chapter 145. We got to see Eva open a can of kick bottom. And we touched on Kirie's rule breaker power. We'll see how things play out and whether or not this is the beginning of the end.