Fate/EXTRA Last Encore 04
SPOILER Summary/Synopsis: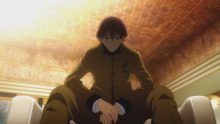 Rin and Saber-Nero have a bath in the giant Roman-Japanese bath as they ride up the Moon Mile Ladder elevator. Hakuno ponders things and is soon joined by a mostly nude Saber-Nero, who has words for him. They eventually emerge on the second tier on a ruined castle, where they overlook a city that is overgrown with vegetation. An old man at a bell tower notes their arrival and loads a sniper rifle to kill this new Master. Saber deflects the bullets and has Hakuno descend with her into the jungle.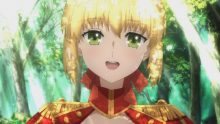 The old man (Dan Blackmore) sends his Archer Servant to hunt them in the dense woods while Saber makes eloquent speech to Hakuno. Archer's attack interrupts that as he drops poison gas. Hakuno uses a spell to keep from dying, but despite Archer's bloviating, there's no physical sign of him. Saber takes an arrow, but before Archer can kill them, they are saved by a girl, who takes them back to her hideout. She is a Master without a Servant, but is a resistance fighter on this tier. She heals Saber as Saber and Hakuno wonder what became of Rin.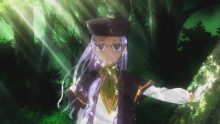 The girl introduces herself as Rani VIII, stating she's been waiting 50 years for a Master to arrive and assist her. She discusses things with them about SE.RA.PH. before they head to bed. Hakuno has a nightmare about the man he met previously at school, so he gets up to find Rani and a lot of clones lighting candles at gravestones of former Masters. As they talk, Rani reveals that the year is actually 3020 and that 1000 years have past. Further, humanity is down to about 100,000 people, along with the few remaining in SE.RA.PH.
Meanwhile, Dan chastises his Servant for not killing the Master immediately. However, Dan vows that this time, he will ascend to the next floor.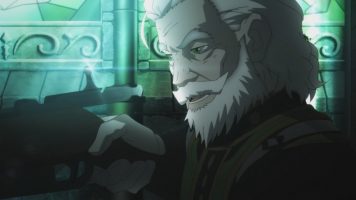 Thoughts/Review:
Fate/EXTRA Last Encore 04 continues the trek into Fate weirdness.  Add to that, a lot of bloviating dialog that makes me want to hit the fast-forward button a lot.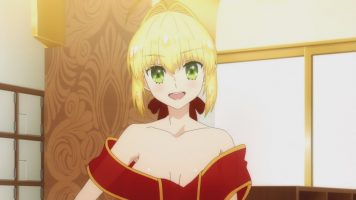 Tier 2
While Tier 1 may have been a false paradise created by Shinji, Tier 2 must be paradise lost with the city overgrown and deserted. As with Tier 1, there's a Floor Master, his Servant, and a former Master who no longer has a Servant. So basically, Hakuno and Saber have to defeat Dan and Archer. And then I guess, they go to Tier 3. Woo-hoo. ?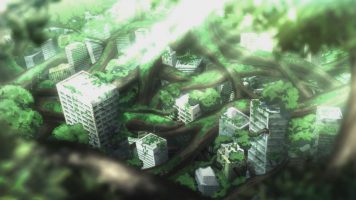 It is strange that Rin was on the Moon Mile Ladder elevator, but didn't emerge on Tier 2 with Saber and Hakuno. I suppose that was so this new chick Rani could take her place and fulfill the role of providing exposition as to the events that have been happening on Tier 2. However, that doesn't explain where Rin went. At least Saber and Hakuno eventually acknowledged Rin's absence, but they didn't seem to worried about it.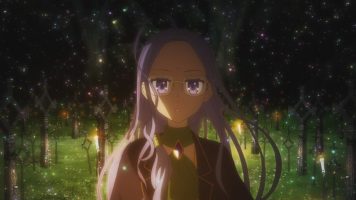 I think Dan's Archer is Robin Hood, based on my Fate/Grand Order experience. He's a Servant I have, but not one I use. As such, I really had no attachment interest in this character. Ditto for his Master, Dan.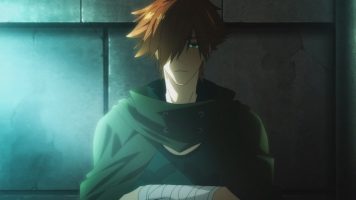 Relevant Information
I mostly found Fate/EXTRA Last Encore 04 to be kinda "meh" due to the fact that there's a lot of talking, but not a lot of actually saying anything. However, the one piece of information that really caught my interest was learning that it has apparently been 1000 years. I had speculated that maybe SE.RA.PH. had delayed Hakuno's entry and used him as a last, desperate action to regain control from Chakravartin. While I was sure a lot of time had passed, I didn't think it would be 1000 years.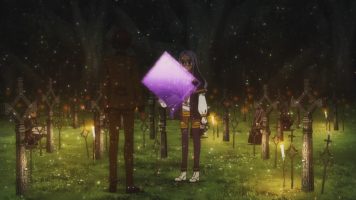 The only other bit of relevant information is that Hakuno appears to be having memory dreams, indicating he's been here before and that he'd possibly made it to the top tier. Now, due to spoilers, I do know that Hakuno probably has been through all this before and that we saw the results at the beginning of the first episode. But why he and Saber-Nero (apparently) have no actual memories of those events, I couldn't say. Computer malfunction, maybe.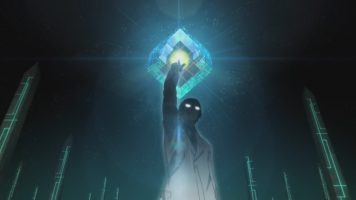 Final Thoughts and Conclusion
I've got to wrap up my review of Fate/EXTRA Last Encore 04 so I can get back to work. So far, the series isn't grabbing me, and SHAFT shoving more Saber-Nero fanservice out there doesn't make up for the lack of an intriguing tale. Nevertheless, I shall press on as I'm able.