Fate/EXTRA Last Encore 05
SPOILER Summary/Synopsis: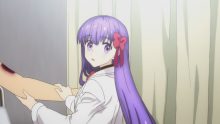 Dan recalls his life as a Master when Archer-Robin Hood ambushed a Master. At that time, Dan was chivalrous and allowed Sakura to heal the Servant. Afterward, the Master and an apparent Saber Servant fought him and Archer-Robin Hood, where Dan and Archer were defeated. However, the system brought both back to life on Tier 2, causing Dan to abandon chivalry and start assassinating Masters in a desperate attempt to ascend to Tier 3.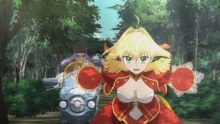 At Rani's home, she has breakfast with Saber-Nero and Hakuno. Saber tells her Master not to fret over the fact that 999 years have past. The trio then come up with a plan to deal with Dan and Archer-Robin Hood. Saber leads the way as Rani follows in a futuristic motorcycle with Hakuno in the sidecar. Saber engages Archer while Rani and Hakuno press on. The church bells ring, signalling a sniper attack from Dan. However, before they can react, Rani has been hit and is critically injured.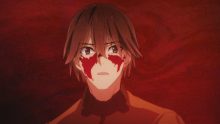 Hakuno hears the voices of previous Masters telling him to ignore Rani and move on. He refuses and uses his Dead Face ability to get Rani out of harm's way. Hakuno realizes that a professional sniper wouldn't purposefully give away his attack by ringing bells, indicating Dan is using them to ricochet to their targets. Meanwhile, Archer uses his Yew Bow NP on Saber, but fails to kill her. She does land a fatal blow on Archer, who's life terminates next to a grave (of Dan?)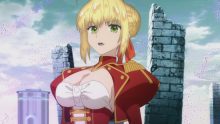 Dan realizes Archer is in trouble, but as he ponders, he realizes too late that he's about to get hit. Hakuno uses Dead Face to fire a projectile at Dan, causing Dan's shot to fail. As Dan dies, he wonders what his wish was going to be for the Holy Grail. He thinks about his dead wife before dying. With that, Tier 2 begins to collapse. Hakuno doesn't want to abandon Rani, but Saber forces him to remember that Rani has no intention of leaving the graves of the former Masters. With that, they take the Moon Mile Ladder to Tier 3, where Rin is waiting for them inside.
Thoughts/Review:
More "meh" material was to be found in Fate/EXTRA Last Encore 05. Despite an attempt to allow us to get to know Dan, everything is too "by the numbers" to really get that invested in the characters.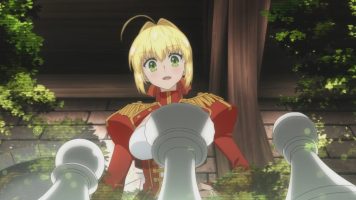 Rani
The writers attempted to try to make Rani more than just the exposition "red shirt" character that she ended up being. Unfortunately, all they had to work with was the fact that Rani has apparently spent the last 50 years lighting candles at the graves of fallen Masters every night. Beyond that, Rani doesn't have a strong personality and thus after this episode, I doubt I think of her again.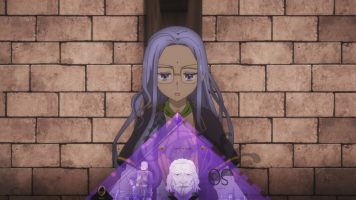 I will say that I didn't expect her to be a red shirt character though. I figured she was there to spout all of the exposition about Tier 2, then join Hakuno and Saber on the journey to Tier 3. (Rin too.) So I was surprised to see Saber and Hakuno abandon her, even though Rani had stated that she didn't want to leave the former Masters in the graveyard outside her home.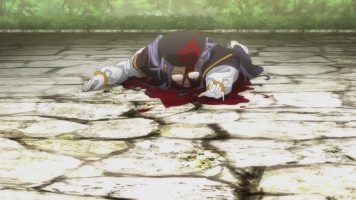 Dan
Here too, the writers attempt to make Dan more than just the boss to fight on Tier 2. I will admit that he got a messed up deal, after he and Archer lost their fight 999 years earlier. Why the system brought him and Archer back to life, I'm not really sure. But it did make Dan somewhat insane. So once he abandoned his chivalrous nature and turned into a murderous sniper, he lost all sympathy points with me.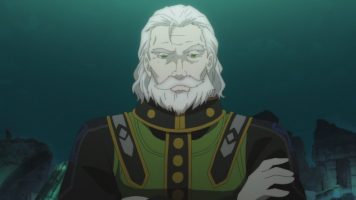 On the flip side, I understand how Hakuno figured out that Dan was using the clock tower bells to ricochet bullets to their targets (which is a massive stretch). What I don't understand is how Hakuno was able to kill Dan. That's because this bloody Dead Face ability of Hakuno's hasn't been explained. We've had tons of time to mindlessly bloviate about things, but no time to explain what the heck he's doing. 🙄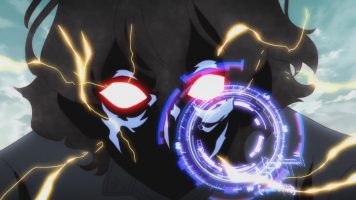 Final Thoughts and Conclusion
OK, time to wrap up my review of Fate/EXTRA Last Encore 05.
I liked seeing Sakura in a cameo.
Rin returns at the end of the episode. Based on comments from folks familiar with the game, I suppose Rin was just put on the shelf to allow Rani to push the exposition and to give a game character some screen time.
I noticed Rin still has a Command Spell. If she lost her Servant, how is this possible?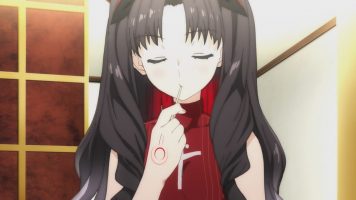 In the end, Fate/EXTRA Last Encore 05 isn't a terrible episode, but it isn't anything special either. Basically, it is a retread of the third episode, only with a new Servant and Master. Oh well. Nothing to do but press forward.