ユーキューホルダー! 魔法先生 ネギま!2 Manga Review
UQ Holder! Mahou Sensei Negima 2
UQ Holder!: Magister Negi Magi! 2 Chapter 146
UQ Holder Chapter 146

SPOILER Summary/Synopsis: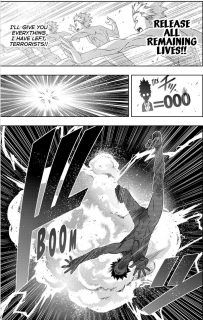 After Yukihime kills Cutlass, Touta finds himself in a barren (phantasmagoria?) landscape. Cutlass is there and as she heads to a vertical line on the horizon, she laughs at his plight and makes mention that she's glad she's not an immortal. When Touta starts to respond, Cutlass has a look of sadness on her face as she gazes at him. Touta is brought back to reality when Gengorou yells at him.
Santa discovers the bomb in one of the cars and how it works. So he, Kuroumaru, Jinbee, Santa, and Karin come up with a plan, which they coordinate with Yukihime and Gengorou. They manage to get the car with the bomb in it evacuated with three minutes left. Kuroumaru cuts the car out, Jinbee teleports it to space, where Santa and Touta send it far away. Karin deploys a massive barrier around them to contain the explosion, but nothing happens.
Gengorou reports the bomb was a fake. Santa confirms this while Gengorou takes the cybernetic body of his captive, which contains a small nuclear bomb, out into space. He uses his 217 lives to minimize the nuclear detonation, allowing all of the humans on the space elevator to live.
Touta comes to on a beach after Karin slaps him and scolds him for passing out from reentry. Gengorou is in orbit, about to make reentry, and contacts Touta to let him know that Gengorou was about to die. However, he doesn't want Touta to be bothered by this. He says farewell to Jinbee as well, then has final words for Touta before reentry. Karin attempts to comfort the distraught Touta.
Ikkuu reports that he has Gengorou and saved him. When everyone returns to the Senkyoukan, Ikkuu and Jinbee find it all very funny, explaining that Gengorou receives lives for every good deed he does. So he was saved once again. Later, Touta apologizes to Gengorou. Touta agrees that saving Cutlass means walking the same path as Negi-Ialda (MotB), but he doesn't have an answer when Gengorou asks him what Touta means by saving the world. Gengorou is fine with that as a drunk Jinbee comes to lighten things up.
Thoughts/Review:
And so another story arc comes to a conclusion with the completion of UQ Holder Chapter 146. And I will admit that Akamatsu-sensei had me going for a bit there.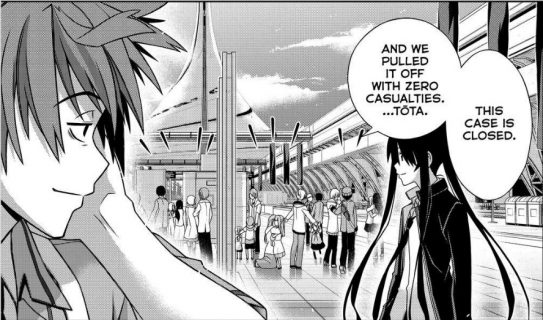 Cutlass
Cutlass may have only been in the first few pages of this chapter, but she did make an impact. All of her evil and seeming insanity makes her a prime candidate for a "I don't care what happens to you" feeling. But seeing her on that mindscape (for lack of a better term) with her left arm cut off as well as her right leg, I couldn't help but be reminded that Cutlass had suffered a lot at the hands of "whomever." As such, she had transposed that rage onto Touta as a coping mechanism.
Now at the end, we see that Cutlass may actually regret her choices. It doesn't make her choices any less evil, but it does show that there was still a nugget of humanity within her, despite everything that had been done to her.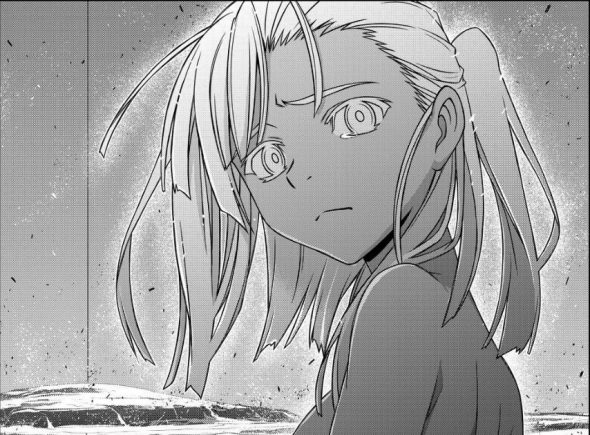 So, the question becomes, "Is Cutlass really dead?"
I think Akamatsu-sensei has set things up to have it either way. If UQ Holder goes on for a while longer, he can bring Cutlass back in a new body. In the barren mindscape (which looked a lot like the place where Touta first met the Mage of the Beginning, along with Negi and Nagi), Cutlass is hopping toward what could be a space elevator in the distance. So her astral form with all of her memories and such could be returning somewhere to be reborn again in a new body.
If UQ Holder doesn't go on, well, she's said her farewell with a hint of regret.
Gengorou, the Hero of the Arc
I have to admit, Akamatsu-sensei had me going when it seemed like Gengorou was about to die. As I read Gengorou's "final words," I thought, "Wow. Killing Gengorou means UQ Holder really is almost over." Haha. So score one to you, Akamatsu-sensei.
That aside, I'm glad that the true hero of this story arc is Gengorou. We learned a lot about Jinbee and him in this arc, which was nice. However, at the end of the day, it was Gengorou who saved everyone, not Touta. I liked that. I think that if UQ Holder is to have long-term success as a manga series, other members of the organization need to play important roles and have their star shine. Touta doesn't need to be the hero all the time.
The Maturing Touta
Speaking of Touta, I'm glad to see that he's maturing as a character. This has been going on for a while, but it really comes to a head here. I think back to the days when "Super Touta" irritated the heck out of me because of his mindless stupidity and ability to do anything. Touta would spout out nonsense and save the day when all was said and done. As long time readers of this blog know, I used to rant and rave about this.
Now, Touta doesn't spout nonsense. Saving folks is a noble goal, so Touta espousing this is not a bad thing. When it seemed like Gengorou was dead, Touta realized that the one person really opposed to his plan was the one person who was going to ultimately pay for it. Even though Gengorou lived, this notion wasn't lost on Touta, hence his deep-bow apology to Gengorou at the party.
Ultimately, Touta has won the respect of Gengorou after these events. Touta is no longer spouting his former nonsense. And Touta now understands that he can't be obsessed with saving everyone 'cause that will just turn him into another MotB, looking to save the world by utterly controlling it. As such, I like where Touta has gone as a character.
Final Thoughts and Review
Well, I suppose I better get this review of UQ Holder Chapter 146 wrapped up.
These space elevator cars are traveling vertically, so how come everyone is moving horizontally within these cars, as if they were on an actual train? Have they introduced artificial gravity to the Akamatsu-verse?
Clearly, Akamatsu-sensei wanted to service Karin by having her clothing burn up on reentry (Touta's as well), but it makes no sense that the subspace whatever where they keep spare clothing and weapons got burned up in reentry. How come Touta's phone didn't get burned up?
It may have been a simple oversight, but I didn't notice Eva at the celebration party. I noticed everyone else, including Chamo in humanoid form.
One final note on Crunchyroll. I was only able to read UQ Holder Chapter 146 on their website via the old reader. When they upload the chapter, the old reader will advance to it, even if Crunchyroll forgets to put links and such up. The new reader won't. Kinda annoying that CR screws this up so often.
 In the end, UQ Holder Chapter 146 turned out to be an interesting chapter, with Akamatsu-sensei actually making me think he'd killed Gengorou. Plus, I like the maturing Touta.