ユーキューホルダー! 魔法先生 ネギま!2 Manga Review
UQ Holder! Mahou Sensei Negima 2
UQ Holder!: Magister Negi Magi! 2 Chapter 147
UQ Holder Chapter 147

SPOILER Summary/Synopsis: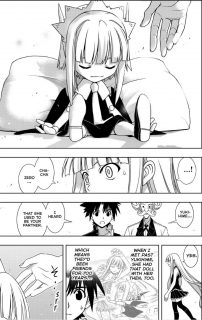 Touta comes into Yukihime's office/room as she comes naked out of the shower. Yukihime teases him over his reaction to her nakedness. Kirie is also in the room, so Yukihime teases her as well. Dana arrives, forcing Yukihime to return to her normal Eva mode. This causes Eva to be embarrassed when Touta stares at her, resulting in her kicking him. Dana gives Kirie an adult body with breasts to boot to help her self confidence.
Touta interrupts, reminding them that they were going to get more info from Chamo. Eva has not heard of this happy ending, so Chamo shows up in humanoid form to brief her. Eva has a hard time accepting that in this alternate timeline, she married Nagi. Even Dana seems unsure as to how Negi was able to rescue Nagi without killing him. Eva states that this other Eva is not her.
To Eva's surprise, Chamo produces the doll Chachazero. Touta also recognizes the doll from when he met Eva in the past at Dana's castle. Eva transfers some magic to the doll, causing Chachazero to blink her eyes partially open for a bit and acknowledge her master. After she has her moment, Touta says that it is time for him to know about his past as well as Cutlass's past. Eva acknowledges this, but wants five minuets alone with Chachazero.
Eva faces her lifeless partner, then finds herself at Dana's castle. There, Chachazero's consciousness is alive and well, thanks to the magic provided by Eva. The two observe their shared memories of the times that Eva met with Touta in the past. Chachazero teases her master about being in love with the brat, something Eva denies.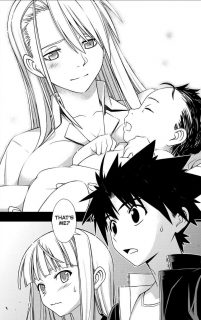 Chachazero forwards to more current times, seeing Touta confess to Eva in her Yukihime form, Eva rejecting Touta, then later, Eva kissing Touta. This causes Chachazero to go  nuts over what she sees and demands Eva accept Touta's proposal. Eva refuses, saying that she does have a reason to not accept Touta's proposal.
Eva finds herself back in reality when Touta comes into her office, having heard Eva shouting. Since Eva is blushing very hard, Touta thinks something is wrong. Eva backs up, but then crashes through the floor with Touta falling with her. They land in a hospital hallway, near a T-intersection. There's a room with an open door and inside, the two see Yukihime talking to a young woman and holding a baby. That baby is named Touta. Chachazero appears, now having her answer and Touta asks if that baby is him.
Thoughts/Review:
Well, UQ Holder chapter 147 is certainly very, very good for two reasons. First is Chachazero, and second is we may be finally exploring Touta's past.
Chachazero Properly Returns
In Negima!, one of the supporting characters that pretty much stole the scene whenever she came in was Chachazero. This bloodthirsty, sadistically funny doll partner of Eva's was such a delight during her brief moments. As Eva's true pactio partner (since Chachamaru only had a doll contract and didn't get a true pactio until she did so with Negi some time later), the only reason Chachazero didn't have a bigger role in the story (aside from her scene stealing) was due to the fact that Eva could not provide Chachazero adequate magical energy in order for Chachazero to function.
When UQ Holder started, I was angry at how Akamatsu-sensei handled Chachazero. As I wrote for my chapter 1 review.
First, while I loved this chapter, I absolutely HATED what happened with Chachazero. Seriously, that sucked on every level, both seen and unseen. Unfortunately, Akamatsu-sensei didn't bother to say why Chachazero was abandoned, other that Eva saying that one grows tired of the things they once loved. Yeah, I know that Chachazero is a scene stealer, but she was just so freaking awesome and then some. You just can't do that to Chachazero, though Sensei did just that…the bastard!

Still, Eva did have a Chachazero doll at her desk, so maybe Chachazero simply reached the end of her lifespan. She had been alive for a very long time. And of course, to have a new Eva, she had to be rid of everything from her past. I'm still depressed though.
Akamatsu-sensei has given us some Chachazero cameos in more recent times. He still has not provided an explanation as to what happened to the doll, nor has he ever explained how it is that Chachazero comes to be able to talk and such. I've theorized that the doll was ensouled. I hope that Akamatsu-sensei explains this more.
Still, I don't mind saying that I loved Eva's reaction upon seeing Chachazero. When Eva transferred some magical energy into Chachazero, and the doll's eyes flickered open for a bit and she acknowledged Eva, I nearly lost it. I could almost forgive Akamatsu-sensei for his terrible treatment of Chachazero. I really, REALLY hope Chachazero can become supporting character in UQ Holder.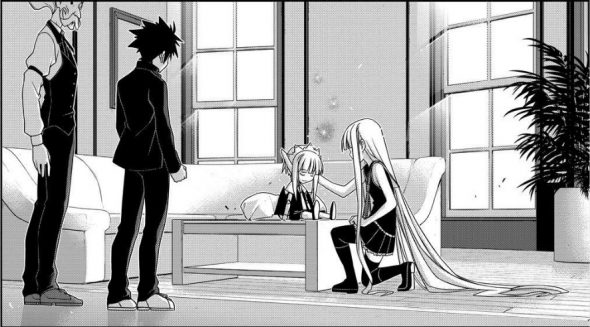 Chachazero Rules!
Although UQ Holder chapter 147 did not give us the bloodthirsty Chachazero, it did give us the very sadistic Chachazero. As expected, Chachazero immediately steals the show, owning Eva and having wicked delight in doing so. Even in Negima, Chachazero owned Eva to an extent, even though Eva was the master. In this memory phantasmagoria, Chachazero has no handicaps, and thus shows how the servant surpasses the master. I loved every moment of it.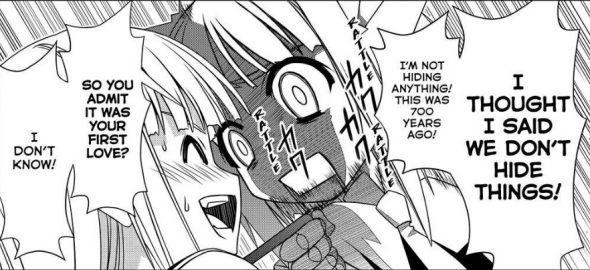 Though she's an evil doll (of sorts), Chachazero does care greatly for her master. She may have been all over Eva for rejecting Touta, but when she saw Eva, as Yukihime, holding the infant Touta, she had her answer. And frankly, I'm glad for this scene. I realize that Akamatsu-sensei is clearing the table for Kirie, but Eva needed to be off the harem table completely. Having Eva be a potential lover for Touta gave off a terrible incest/inseki vibe. I did not like that at all.
I could understand young Eva falling for a boy she didn't know who seemed to be her age. But 800 years later, especially after having been Touta's foster mother for two years, no way. By doing this flashback and us seeing Eva holding an infant Touta however many years ago, the romantic stuff would have fled out the door as far as I'm concerned. So yeah, I'm glad Chachazero dug this up.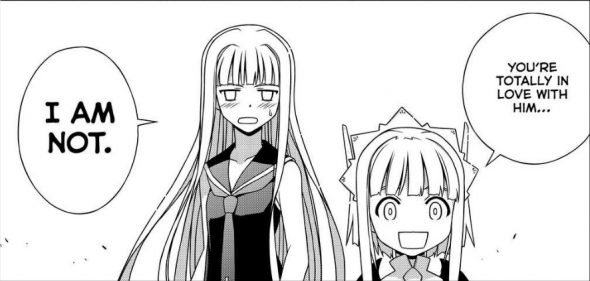 Of course, Chachazero's going through her combined memories with Eva is a convenient way for Akamatsu-sensei to do a story recap before launching forward. I'm glad Akamatsu-sensei went this route.
The Harem Thread
Akamatsu-sensei made sure to have Kirie around while the naked Yukihime teased Touta. Obviously, this is to continue to push Kirie forward even as Akamatsu-sensei laid out the groundwork on why Eva x Touta ship will never sail. Bringing Dana in so that Kirie could see herself in an adult form further pushed the Kirie x Touta ship.
Kuroumaru was only scene in the splash page, but it was a bit suggestive in that Kuroumaru would make a lovely girl for Touta. I did like that Eva endorsed the Kuroumaru x Touta ship.
It is a shame that the harem weren't in this chapter, but I suppose that would have been too much. Still, at this point, my top choices for Touta are either Karin or Kuroumaru. But frankly, I'd be cool with Touta having a battle harem with all the girls, sans Eva.
Final Thoughts and Conclusion
I need to get to bed, so let me wrap up my review of UQ Holder chapter 147.
Obviously, the woman Eva met with is a Konoe family member. She looks exactly like Konoka. But is she Konoka, or is she merely a clone of Konoka, passed off as the daughter of Konoka? After all, Honoka looks like Konoka in child form. But this woman addressed Negi as "Negi-kun," somewhat suggesting it is Konoka. We'll see.
Is the Touka-san that this Konoe woman mentioned from Negima? I would say yes. That would imply that this Konoe woman is possibly a 2nd generation clone of Konoka.
Akamatsu-sensei teased that there is a way for them to save Negi and defeat MotB. Personally, I'm hoping there's a way for them to save Nagi somehow.
With Akamatsu-sensei getting serious about plot, is he starting to wrap up UQ Holder? We'll see.
In the end, UQ Holder chapter 147 ended up being a very enjoyable chapter. We saw Chachazero properly return with a major speaking part. Also, we got to see Touta as an infant. I'm looking forward to seeing what happens next.