Fate/EXTRA Last Encore 08
SPOILER Summary/Synopsis: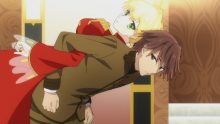 Saber-Nero and Hakuno perform stretches on board the Moon Mile Ladder as Nero boasts of how Tier 4 turned out to be nothing. They arrive on Tier 5 and exit with Rin. This tier is story, full of ruined buildings, so that the trio are all wearing rain coats. Rin points to an actual, make-shift ladder in the distance they will have to climb to Tier 6. However, she warns that though there is no Floor Master, there is a "monster" similar what they faced on Tier 3 — Julius Belkisk Harwey.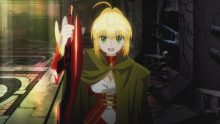 The trio take a break in a ruined skyscraper. Rin vanishes to go scouting, so Saber takes the opportunity to give a speech to Hakuno, comparing him to her former master, a female. Rin returns and the trio head out. They find trouble, so Rin advises returning and coming up with a strategy. However, a Berserker-class Servant attacks, so Saber engages. The man, Julius, comes after Hakuno. Rin transforms into Lancer to force Berserker away. She gets Saber to safety, who thanks Rin and requests she deal with Berserker as Saber races to return to Hakuno.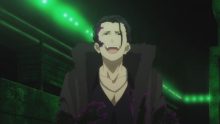 Julius knows Hakuno and gives him a beating. Hakuno activates his Dead Face ability, amusing Julius who's clearly digitally not all there. Julius also activates Dead Face and removes Hakuno's heart. Hakuno doesn't die, but finds himself seeing the man he saw on campus. The man describes Dead Face and how SE.RA.PH went from a heaven to a digital hell. Saber's arrival causes Hakuno to drop Dead Face and recover. Saber then goes after Julius, but he evades all her attacks.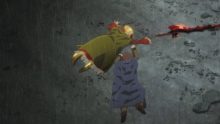 Lancer-Rin's battle with Berserker leads her to being knocked through a wall into the building and floor where Hakuno, Saber, and their opponent is. Saber collapses, having been injured by Berserker's NP somehow. Before Berserker and his apparent Master can finish things, a giant fist comes crashing through the roof, driving the pair away. The injured Hakuno makes it to the injured Saber. He then finds himself in an isolated place, entering a black body of liquid. He makes it to a place where there's a darkened classroom with a movie projector and a female student waiting for him.
Thoughts/Review:
At least the narrative for Fate/EXTRA Last Encore 08 is mostly chronological this time, at least on the surface. But considering how the first of the episode was out of order, this whole episode could be another giant mess.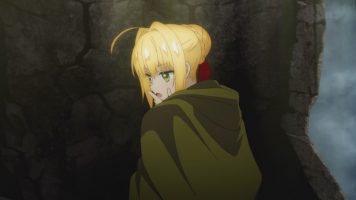 Rin
One thing that is clear is that Rin has been on all of these tiers before and knows a ton about them. For the most part, she's the series's exposition dumper. The events on Tier 3 strongly suggests that Rin has already been on all of these tiers before. However, how she is clued in on everything is more of a mystery.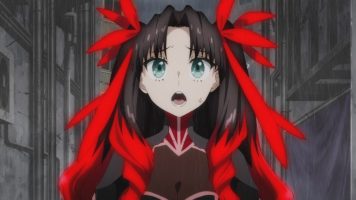 I don't know why, but I suspect that giant arm and whatever it was attached to is somehow connected to Rin. I almost want to say it is Rin, but then Rin did mention something about a monster on this tier like the Jabberwocky on Tier 3. So maybe this is something else, but why it would go after Julius and his Berserker Servant?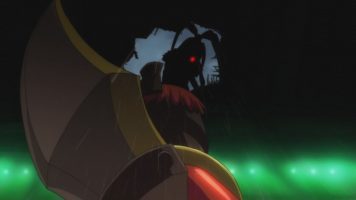 Saber
I guess Saber's long-winded speech to Hakuno was to encourage him. I hate to say it, but it bored the heck out of me and just felt like filler.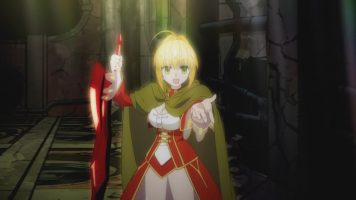 As to Saber's battle with Berserker, not sure what blow he landed on her that caused her to be injured on a delayed factor. She didn't fight with him that much, and Rin had to bail her out. So not sure what's going on there.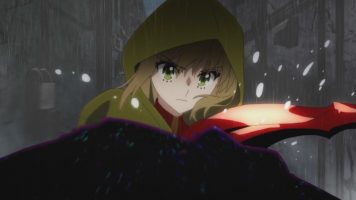 Also, with Julius speaking of Hakuno as no Master, is Hakuno providing mana to Saber?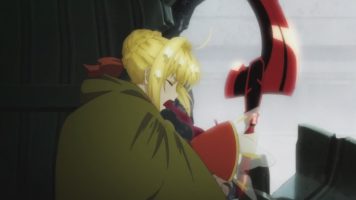 Julius and the Mystery Man
So Julius is another Dead Face. As I understand it, Saber and her former Master defeated him and his Servant on their time through, but as with this whole jacked up system, Julius is not quite dead yet.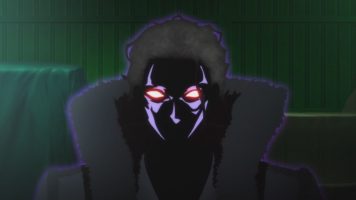 Then there's the mystery dude that Hakuno met in the first episode, who shows up in a vision, or flashback, or flash sideways, or something. But he had his exposition on Dead Face to provide, 'cause this is apparently outside of Rin's purview.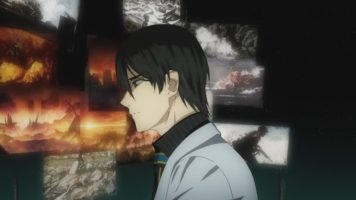 The thing is, if Hakuno is supposed to be some killing machine, then why is is so calm and collective here? Besides, the whole Holy Grail War is about killing Servants and often their Masters too. So Hakuno being this ball of hate who lives to kill just doesn't ring true to me.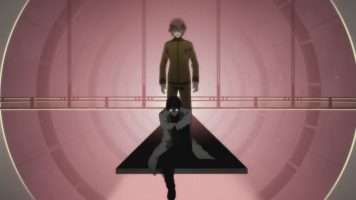 Final Thoughts and Conclusion
OK, let me wrap up reviewing Fate/EXTRA Last Encore 08. While this episode doesn't appear to be the jumble of flashbacks, time loops, and other confusing stuff, it still vomits a ton of exposition in a way that's not really that interesting. Well, nothing to do but push forward.