Full Metal Panic! Invisible Victory 09
フルメタル・パニック!Invisible Victory episode 09
SPOILER Summary/Synopsis: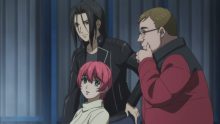 In Anchorage, Alaska, Wraith and Galvin Hunter have a Mithril programmer named Mira access Al's AI. Meanwhile in San Fransisco, Tessa is found wandering the streets barefooted and is taken to a hospital. There, hospital psychiatrist Dr. Witt attempts to reach Tessa. She initially fails, but then Tessa opens up about Mithril, Amalgam, and the events that happened, eventually leading to mutiny and her abandonment. Sometime later, the doctor writes her report, amazed at how Tessa's delusional story sounds so coherent. As such, she arranges for Tessa to be sent to another facility.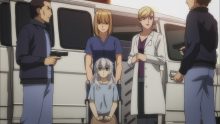 While attempting to transfer Tessa, Dr. Witt and the nurse are taken by Amalgam agents. At a warehouse, Lee Fowler waits and greets Tessa. However, he's disappointed to see that Mithril's Witch is just an empty shell. Fowler threatens the doctor, forcing the nurse to reveal she's actually Mao. Tessa suddenly becomes alive, letting Fowler know this was a setup to nab him. One of the kidnappers threatens Tessa and gets assassinated by Kurz from a sniper's position. Fowler is impressed, but says he's taken precautions. As such, he sets off some bombs in containers as Mithril troops open fire.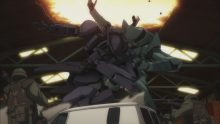 Fowler calls in a Plan-1059 Codarl-M (?) AS unit, so Tessa has Ben Clouseau's M9D Falke counter. The Amalgam AS unit is equipped with a Lamda Drive, putting the M9D at a disadvantage. So Ben uses his skills to keep the enemy AS off balance until a cruise missile launched from Tuatha de Danaan arrives. The enemy AS has to use its defensive shield against the cruise missile blast, allowing Ben to kill the Amalgam AS from behind. Fowler escapes, but calls Tessa, who leaves him with a profanity-filled message for him and her brother, Leonard.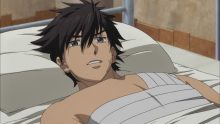 After Tessa apologizes to Dr. Witt and the Mithril troops leave, Lee Fowler contacts Leonard, who's living with Kaname. Leonard is amused by his sister's high spirits. Afterward, he has a chat with Kaname, who's attempting to make omurice. After Leonard leaves her, she writes Sousuke's name on her omelet, using ketchup. Leonard gets a call, informing him that Sousuke is still alive. In Polynesia, Sousuke comes to in a hospital bed in a giant room, where's he's bandaged up. Lemon tells him it has been 56-days since Nami died and briefs him on the situation. The place they are at comes under attack, so Lemon goes to deal with it. Sousuke attempts to get up, but his injuries prevent this.
Thoughts/Review:
Wow! Full Metal Panic! Invisible Victory 09 turned out to be one heck of an episode, allowing us to catch up on old friends as well as find out what happened with Sousuke.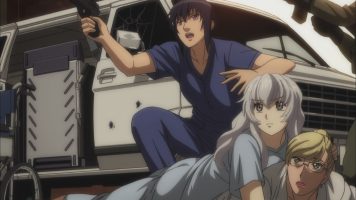 Tessa's Ploy
When Tessa was found wandering the streets and acting like an empty shell, I wasn't sure what to make of it. With months having past since the Tuatha de Danaan had escaped, Tessa's story of mutiny and abandonment mostly felt real to me. It was hard for me to believe that Kurz, Ben, Mardukas, and Mao would abandon her. But it was possible that in a mutiny, those people were killed.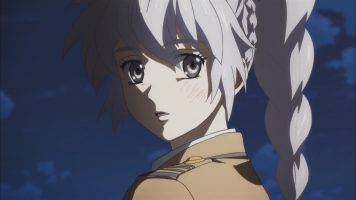 That said, when I saw the nurse, somehow I knew it was Mao. I think it was the eyes and the way the hair seemed like a wig. So I knew something was up, but I wasn't sure if maybe Tessa was having a delusion that she'd been in a mutiny and Mao was trying to save her or what.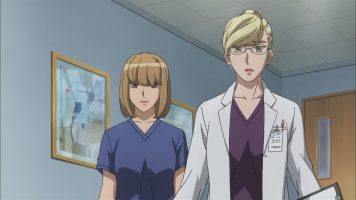 It was an awesome moment when Mao revealed herself and Tessa dropped the "empty-defeated" act. And seeing all of the Mithril troops come in was great as well. But the best was when Tessa went off on Lee Fowler on the phone. Tessa is awesome for sure.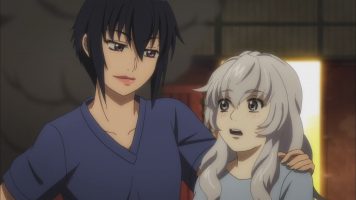 Kaname's Life
With Kaname willingly going off with Leonard, and even saying she'd love him, I actually expected her to be in an NTR situation. I could see her banging Leonard and even professing feelings for him, all in a ploy to save Sousuke's life. However, when we stop at Leonard's mansion estate in Michoacán, Mexico, while Kaname is living peaceably with Leonard, it is clear she doesn't love him and she does have feelings for Sousuke, as evidenced when she wrote his name on her omurice.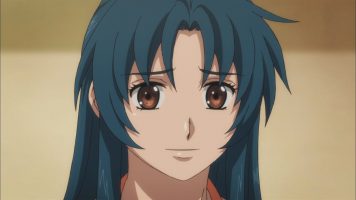 Kaname's conversation with Leonard and forgetting the taste of a parent's cooking was clearly about Kaname accepting her fate to be with Leonard for the rest of her life, and as such, she should forget about Sousuke. I was glad to see that she realized Leonard's game, but didn't play along. That said, I can't help but wonder if she has sex with Leonard as part of their living arrangement. I hope not, but the way she left Sousuke for Leonard makes me think that she might, even if she just stares at the ceiling.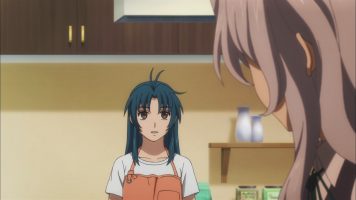 Sousuke's Danger
It is hard to believe that Sousuke has been out of it for 56 days. And yet at the same time, I'm glad this is the case. Sousuke's wounds were quite severe. He was basically running on adrenaline when he took out Kurama. And considering that Lemon's forces took him to a hideout rather than someplace with a great, medical facility, no doubt that added to the time Sousuke was unconscious.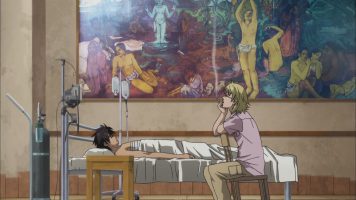 I'm guessing that the "enemy" that is attacking the compound where Sousuke's recovering are Amalgam troops. While Sousuke might be a minor irritant to Amalgam as a whole, one would think that he wouldn't warrant squad (or more) of troops to kill him. As such, I suspect that what's going on here is that Leonard wants Sousuke dead, thus taking away any hope Kaname has of being rescued by Sousuke. With no hope of rescue, then maybe Kaname surrenders to Leonard.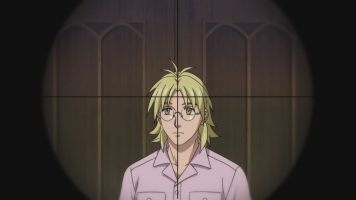 Final Thoughts and Conclusion
I've got to wrap up my review of Full Metal Panic! Invisible Victory 09 as I have a ton of work to do.
I loved Ben showing once again how an AS in the hands of a highly skilled operator can overcome an AS with a Lambda Driver. If I recall correctly, he schooled Sousuke in this in the previous series.
I don't remember Mira from earlier series. Maybe she was there and I've forgotten.
With Wraith and her companions having worked so hard to get Al's AI computer out of Japan, combined with securing another AS to install the computer in, are they hoping to find Sousuke on their own to have him use this new AS? Clearly, this is where the story seems to be going, but it seems a big stretch if they don't know where Sousuke is and if they aren't in contact with Tessa.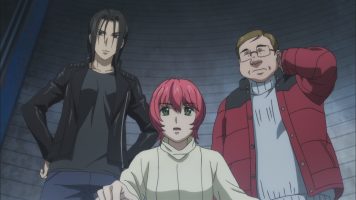 In the end, Full Metal Panic! Invisible Victory 09 was a really good episode. I enjoyed seeing Tessa pull one over on Amalgam, and then going off on one of them. Also, it was great seeing Kaname again. Can't wait to see her and Sousuke reunited.