True Tenchi Muyo! Volume 1 is Here!
–> Buy True Tenchi Muyo! Volume 1: Jurai from Amazon.com!
Intro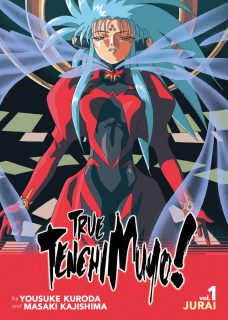 Hey gang! Well, it has been a long-time coming, but today, we finally have the True Tenchi Muyo! Volume 1: Jurai novel officially released in English. And, in the credits, yours truly is named as the official adapter. Yay! I may write more on that later, but right now, I want to share something else with you all.
Below, you'll find the forward I submitted for True Tenchi Muyo! Volume 1. This is actually the final version after it had gone all the way up the editorial chain at Seven Seas. They loved it. Unfortunately, it ended up being too long and there weren't enough pages to include it. I probably would have gotten it in had I written only 2-3 paragraphs, but you know me — I like blathering. ? Nevertheless, this was an awesome experience, having something I wrote professionally edited and notes sent back to me on how to make improvements to what I wrote.
So without further ado, here's the final version that would have appeared in True Tenchi Muyo! Volume 1 had there been pages to spare.
Foreword
For English-speaking fans of the canon Tenchi Muyo! Ryo-Ohki series, today is a good day. The proof of this is in your hands. The True Tenchi Muyo! novels have been officially translated into English—at long last, English speaking fans can delve deeper into the universe that Masaki Kajishima-sensei created.
I'll never forget my first experience with Tenchi Muyo! Ryo-Ohki. Although the seeds of my love of anime and manga were planted in the late 80s when I lived in Japan, those seeds did not germinate until many years later, after I had returned home, when I began renting anime DVDs. I soon discovered that I had a taste for harem romantic comedies and began to ask on various anime forums for suggestions of what I should watch next. One title in particular kept popping up: Tenchi Muyo! Ryo-Ohki.
A short time later, I rented the three-disc DVD set from Pioneer. While I certainly enjoyed the harem comedy aspects of Tenchi Muyo! Ryo-Ohki, after watching the first thirteen OVA episodes, I discovered that there was more to this series than met the eye. Indeed, I ended up watching the DVDs twice more and plowed through the confusing extras (confusing because Pioneer attempted to merge non-canon and canon information together). It wasn't long until I sent the rented DVDs back and spent over a hundred dollars buying the set for myself.
I wanted to know more about Tenchi Muyo! Ryo-Ohki, so I joined AIC's English forum and numerous other Tenchi Muyo! fan communities. The AIC forums were the best as some English-speaking Japanese fans would provide us with information not available to English speaking fans who had little to no understanding of Japanese. This additional information came from interviews Kajishima-sensei gave and the doujinshi he produced, as well as from the 101 Secrets of Tenchi Muyo! Ryo-Ohki book and the True Tenchi Muyo! novels. I put all the information I could find into the Tenchi Muyo! FAQ website that I inherited.  For me, the rest, as they say, is history, as the website took off in popularity and lead to me starting an anime and manga blog.
So why did Kajishima-sensei write these three True Tenchi Muyo! novels?
From all accounts, Pioneer—the then Japanese distributor of all things Tenchi—was not keen on making the third OVA series. Despite the success of the first two, OVA series don't generate as much revenue per episode as a TV series does. However, Hasegawa-sensei's Tenchi Muyo! novels, which are set in separate OVA continuity that branched off after the first OVA series, were selling quite well. On top of this, the one-episode OVA, Galaxy Police Mihoshi's Space Adventure, which tested concepts later used in Tenchi Universe and Magic Girl Pretty Sammy franchises, sold quite well. All of this told Pioneer that fans wanted Tenchi Muyo!—but Japanese fans didn't care whether or not it was part of the original canon Tenchi Muyo! as written by Kajishima-sensei.
With the third OVA shelved and no immediately plans to revive the original storyline, Kajishima-sensei eventually wrote his first novel in 1997, True Tenchi Muyo! Ryo-Ohki: Jurai. A year later, he wrote Yosho, followed by Washu in 1999. These novels, combined with additional information he'd place into his doujinshi works, Kajishima-sensei fleshed out the Tenchi Muyo! Ryo-Ohki universe he had created. For Japanese fans, this was a major boon. For non-Japanese fans, we only had the crumbs of information hidden in these texts, provided to us by generous Japanese fans with some English skills. Unfortunately, the official English market was yet ready to take the risk on licensing these novels.
There was talk of Kajishima-sensei writing one or two more True Tenchi Muyo! novels, something mentioned in the interview portion of the Jurai novel, but by the time it came to write more of these novels, Tenchi Muyo! production company AIC and distribution company Pioneer had dissolved their partnership. AIC formed a new partnership with another distribution company, then AIC gave the green light for Kajishima-sensei to write the Tenchi Muyo! GXP anime series for television, a third Tenchi Muyo! Ryo-Ohki OVA series comprised of seven episodes, and the War on Geminar OVA series. Therefore, there was no need to write additional True Tenchi Muyo! novels.
Kajishima-sensei is still writing the Tenchi Muyo! GXP novels, which he started after being displeased with how the GXP anime handled his story. In addition, he recently finished writing for Tenchi Muyo! Ryo-Ohki OVA 4. Reportedly, he has plans in the works for creating Tenchi Muyo! Ryo-Ohki OVA 5. And as he has done since the 90s, Kajishima-sensei produces new doujinshi works every year for the summer and winter Comiket event in Japan. These doujinshi almost always have some new bit of Tenchi material in them, but sometimes have material for other works his other works.
All that said, thanks to Seven Seas, non-Japanese fans can finally start delving into the three Shin Tenchi Muyo! Ryo-Ohki novels and unlocking all the mysteries contained therein.
-AstroNerdBoy