ユーキューホルダー! 魔法先生 ネギま!2 Manga Review
UQ Holder! Mahou Sensei Negima 2
UQ Holder!: Magister Negi Magi! 2 Chapter 150
UQ Holder Chapter 150

SPOILER Summary/Synopsis: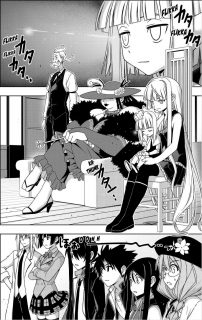 Eva, in her Yukihime form, gets up as the final battle against the Mage of the Beginning starts over Saturn. She's greeted by Mana and Zazie before heading out with Chachazero. The two discuss Eva's new business she's going to run for immortals. Chachazero comes up with the name UQ Holder as the term "yuukyuu" means "a really long time in Japanese.
Eva thinks back to when Negi first took her to the island where he had the Senkyoukan built for the purpose of giving youkai and immortals to reside. These folks would be part of a company or organization. Chachamaru arrives with Chamo and Chachazero with news on MotB, leading to the final battle.
During the battle, Negi is by himself and being overrun, so Chachazero sacrifices herself to save him. She lets Negi know before "dying." Chamo takes Chachazero's body as Eva helps him in the battle that eventually failed with Negi being possessed.
Ten years after the battle, Eva goes to the Amater Industrial Research Lab #7 in Amano-Mihashira City, Eva joins the female Konoe as they observe Touta and other (clone) kids at play. Konoe says that the kids likely won't survive.
Eva pays Fate a visit, where he declares the Touta experiment a failure. But research moves forward with a bunch of children being grown in large containers.
Four years later, Fate gets word of an escaped clone and the scene made to look like a death while the search continues. Eva, now Yukihime storms in to see Fate, showing proof that the Negi clones are being used in battlefields all over. Fate explains that this is business and that the use of immortal clone soldiers gives them data for the failed Touta experiment. Yukihime questions these actions.
Yukihime decides that she can defeat Ialda using the Manus Jaldae spell. In return, she wants Fate to stop the cloning project. Fate rejects this, doubting her ability to come through since Negi failed using the spell. Fate uses technology to rob Yukihime of her magic power, but before Fate can do anything, four members of UQ Holder, including Jinbee and Gengorou appear to defend her. Since Fate doesn't like the odds, so he allows them to leave.
In the present, Chachazero shuts down, ending the story. Eva discovers that the rest of UQ Holder is there and has seen the story. Later, Kuroumaru and Touta are on the beach and discuss things.
Thoughts/Review:
Well, I'm running behind again thanks to real life, but that aside, UQ Holder Chapter 150 was good stuff!
Chachazero's "Death"
When Akamatsu-sensei started UQ Holder, he immediately got rid of Chachazero, implying that Eva just grew tired of the bloodthirsty awesome doll and just abandoned her. That angered me to no end back then. I know Akamatsu-sensei wanted to be rid of Chachazero because she is a scene stealer. Her awesomeness is…well, awesome. Sadly, Chachazero trumps everyone, which is why Akamatsu-sensei used her sparingly in Negima!, and then "forgot" her completely as things wound down.
I loved seeing the discussion between Chachazero and Eva. It was awesome seeing that Chachazero was the one who came up with the name UQ Holder. Then she turns around and complains that they are being "goodies." Its those little moments that make Chachazero so awesome. She speaks her mind and doesn't hold back. She's evil but honest.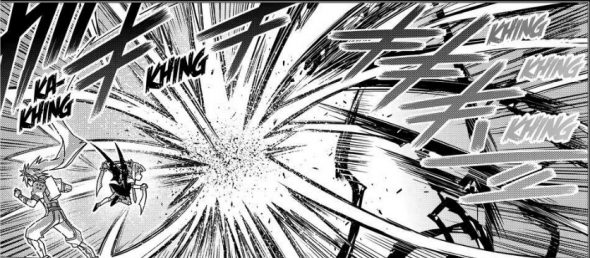 This conversation made her "death" have more impact with me. She gets angry with Negi for doing what he told them not to do. She then comes in and sacrifices herself when Negi is about to be taken from behind. Chachazero's reasoning shows how much she does care for her Master, and because Eva cares for Negi, Chachazero does as well. OK, I got a bit teary as Chachazero "died."
I really hope that Akamatsu-sensei brings Chachazero back. I know she's a scene stealer, but she's too awesome to not be in UQ Holder as Eva's partner. Plus, assuming Akamatsu-sensei isn't going to wrap up the manga after finishing all these plot threads, Chachazero can stir the pot in a comedic sense.
Fate's Plan; Eva's Plan
Fate is playing a dangerous game with his immortal soldier's scheme. I get what he's trying to do. By putting these "Negi clones" (who aren't physical clones at all) into combat and such, the data can be used to create the ultimate "clone" to defeat MotB. But as Eva points out, there's no way to control them. But, Fate wants to do something that would save Negi's life.
Eva, on the other hand, made a promise to Negi that she would kill him if things went south. She didn't go through with that promise because she initially bought into Fate's plan to save Negi. I can understand and appreciate that. But now we know why Eva decided to go ahead and kill Negi as he requested, after seeing how barbaric Fate's plan truly was.
I presume the tanned girl in the evidence Touta brought is a young Cutlass. This felt like Akamatsu-sensei paying tribute to Gunslinger Girl and the character of Triela.
The Original UQ Holder
Since UQ Holder's launch, there have been characters who were in the promo art who've yet to show up in a meaningful way in the manga. We see Juuzo and "Bishounen-san" make a cameo in the flashback, but in a meaningful way. I hope we get to explore more about them and that they show up down the road.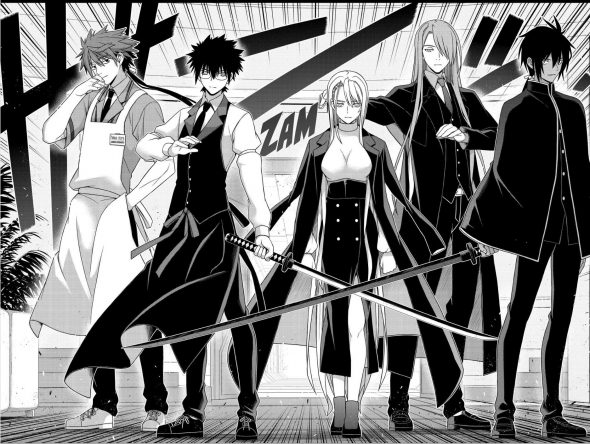 And speaking of the original UQ Holder organization, I liked how Akamatsu-sensei showed us how Negi was the one to buy the island and then have the Senkyoukan built on it.
Final Thoughts and Conclusion
I need to wrap up my review of UQ Holder Chapter 150 before more stupidity gets in the way.
I liked seeing Mana and Zazie, even if only in a cameo.
As expected, Akamatsu-sensei left it to the imagination of the readers on whether Eva and Negi spent the night together or not.
Interesting how Fate used the future-tech stuff we saw in Negima! to nullify magic. I wonder if Akamatsu-sensei will show this future-tech stuff getting sent to the past for Negi to encounter there.
I'm told that Akamatsu-sensei is going to use the next chapter to explore Kuroumaru. I hope that's the case. Even if it takes the rest of this year or more, I want Kuroumaru's past explored in depth.
Oh! So I don't forget, a big shout out to Crunchyroll for doing a pretty good job on all the 2-page spreads. Someone actually bothered to keep them together nicely rather than have then not match up at all.
In the end, UQ Holder Chapter 150 ended up being quite good. I love this look back at the past. I hope Akamatsu-sensei will take his time and give us good character exploration, growth, and a good story to boot.