ユーキューホルダー! 魔法先生 ネギま!2 Manga Review
UQ Holder! Mahou Sensei Negima 2
UQ Holder!: Magister Negi Magi! 2 Chapter 152
UQ Holder Chapter 152

SPOILER Summary/Synopsis: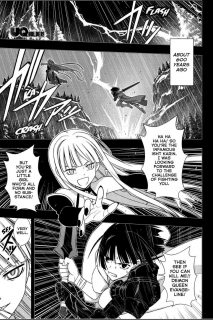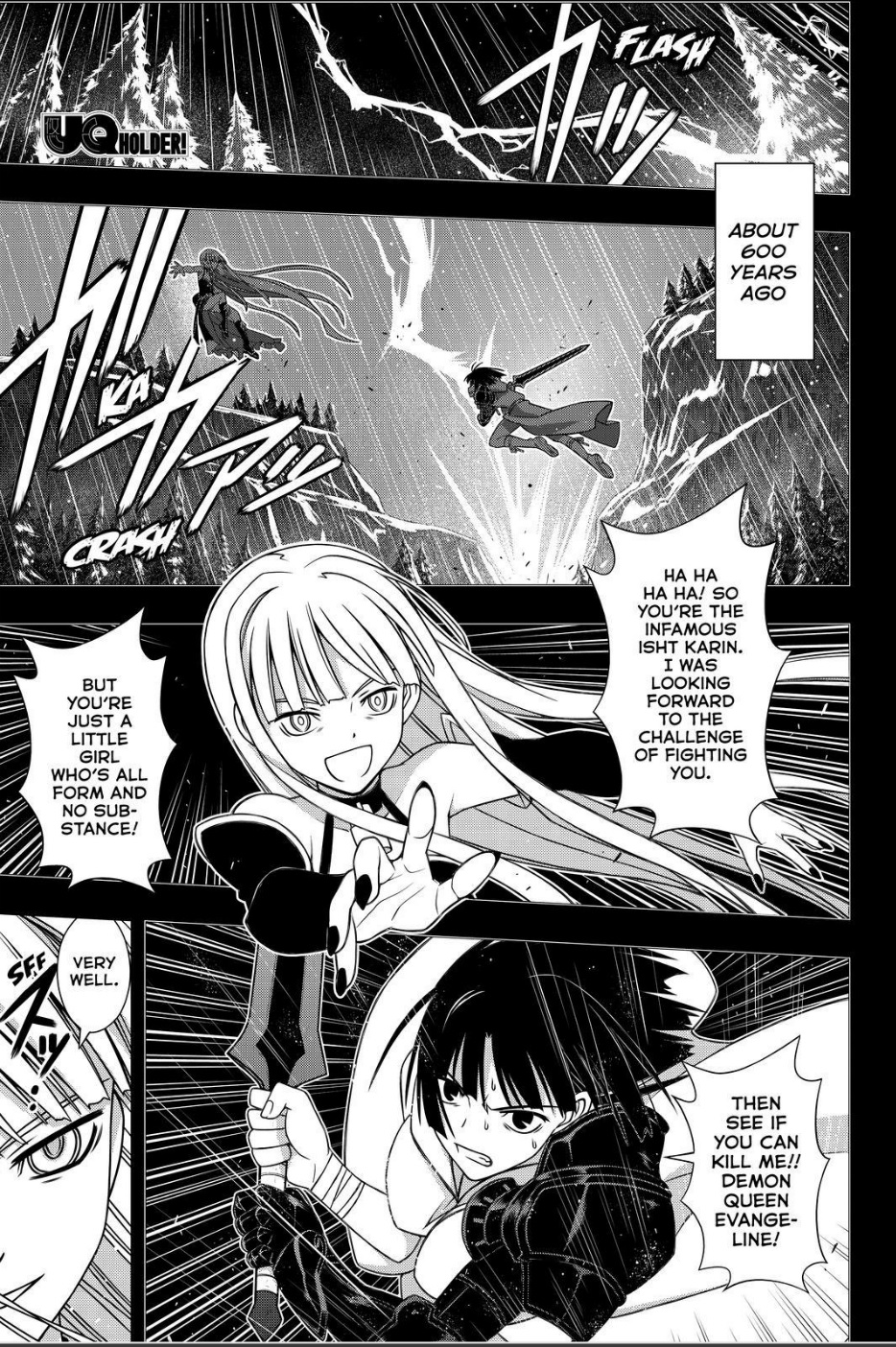 Karin has a memory-dream about a fight she had with Eva some six hundred years ago. This makes her start pondering things. As such, Karin decides to have a girl chat with Kirie and Kuroumaru, so she drags them to the outdoor bath. There, Kuroumaru reveals the pactio she received with Touta. Kuroumaru apologizes to Kirie, but Kirie isn't concerned. She's glad to have Touta around, but realizes that Touta doesn't need her. Karin is glad Kirie has grown out of her shell of isolation, thanks to Touta.
That aside, Karin wonders if a formal pactio contract will work for Kirie and Touta when the provisional contract did not. Kirie learns that a formal contract could be done another way. However, when Karin jokes about this, Kirie points out that it is Karin who needs a pactio power boost since she hasn't seen Karin win a fight yet. Karin is angered at the thought of forming a pactio with Touta, so Kuroumaru reminds her that Yukihime is a pactio partner option.
Karin demands Yukihime form a pactio with her, to which Yukihime agrees. However, Karin's powers reject Yukihime, meaning no pactio is possible and that God is saying the world doesn't need Yukihime. This combined with Yukihime's suggestion that Karin could pactio with Touta has Karin very depressed. When Touta approaches her, she flees on a speeder bike, causing Touta to give chase. Even after being stopped by cops, Karin won't stop trying to get away from Touta, but he keeps following.
Karin lashes out at Touta, but as the rain falls, she comes to realize that she's the one to blame. She apologizes to Touta and acknowledges him as her friend. Karin decides to tell him more of her backstory and how she betrayed her teacher. She also says her name is synonymous with traitor. Tens of thousands of days and nights later, Karin encountered Eva, where the two ended up fighting. Karin calls her abilities a curse, but Eva sees it as a blessing and love, howbeit a twisted love.
Thoughts/Review:
Welp, UQ Holder chapter 152 gives us some good Karin love, but also has Akamatsu-sensei attempting to have his cake and eat it too with the implication that Karin is Judas Iscariot…or not.
Games (and the Harem Hints)
Before we get to the meat of UQ Holder chapter 152, let's look briefly at the game talked about in the chapter. I don't know if it supposed to be a parody of the Negimate! game or not. It might be a partial parody of the Fate/Grand Order game. But either way, I got a kick out of Mizore turning the anti-gaming Karin into someone who's at least somewhat interested in the game.
Where the harem hints come into play (and by harem hints, I mean that Touta might not end up with a single partner under formal contract, but rather the entire harem of girls that surround him at the Senkyoukan) is Honoka's joke that when it came to the game, Touta would be someone all of the other players would need, thus a harem. And later when they are all playing the game, everyone's power in the game is going up, thanks to them all partnering with Touta.

Girl Talk (and More Harem Hints)
Next up in the UQ Holder chapter 152 bag of goodies is Karin's girl talk with Kirie and Kuroumaru. Naturally, this has to be done in the bath so we can have some "ecchi goodness" out of this ( ? ), but it did contain some actual content of value.

First, we got to see a glimpse of Kuroumaru's new artifact. While there was a translator note, it wasn't initially clear to me about the Mikazuki Munechika katana replicas that Kuroumaru has. It will be interesting to see these in action.
That aside, the fact that Kuroumaru became Touta's Minister Magi allowed for a discussion of how Kirie feels about things. To be honest, this may be the best Kirie stuff in the manga so far. Kirie is actually being mature and acknowledging that while Touta does see her as a girl, she understands that he doesn't actually need her. And she's happy to have Kuroumaru and Karin as her girlfriends to hang out with. I liked that.
Where the harem hint comes into play is when Chamo shows up. So while Kirie could not have a provisional pactio with Touta, apparently she could have a formal one that wouldn't require kissing. One one hand, it does suggest that Akamatsu-sensei could still force the megane girl on us. On the other, since both Negi and Nagi apparently had multiple formal pactiones, then there would be a way for Kirie to be in Touta's formal battle harem with Kuroumaru.
Karin's Failed Pactio
One of the great digs Kirie got back on Karin was pointing out how Karin was in need of a pactio power-up due to her string of recent losses. That actually made me laugh out loud due to the fact that it is all true. I love Karin's character, and she's a cool battle babe, but she has had her keester handed to her multiple times. (To be fair, it was so Touta could win the day or at least help win the day.) In reality, Karin should be a top-tier fighter who shouldn't lose, save against someone like Negi, Nagi, Jack, or MotB. (Maybe Eva as well.)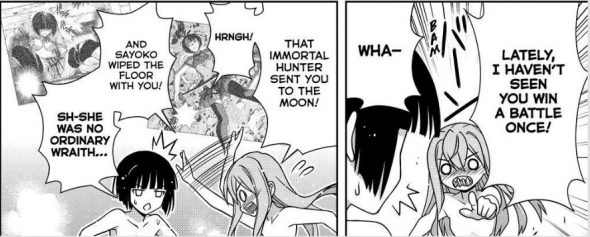 Still, in order to have Karin go down the Touta path, Akamatsu-sensei had to close the Eva path. By making it so that Karin's powers reject a partnership with Eva, Karin continues down this path that she has resisted going down since Eva first suggested it to her early in the manga. Fortunately, this power rejection doesn't feel forced. Since Karin has (holy?) light powers, it is only natural that the light would reject the darkness of Eva.
Not that I enjoyed seeing a depressed Karin. However, the incident finally made her stop pushing Touta away and accept him as a friend. Although I personally want to see Karin in a formal pactio with Touta as part of his formal battle harem, at the very least, I hope we see Karin treat Touta as a friend, even if she still has to get a bit strict at times.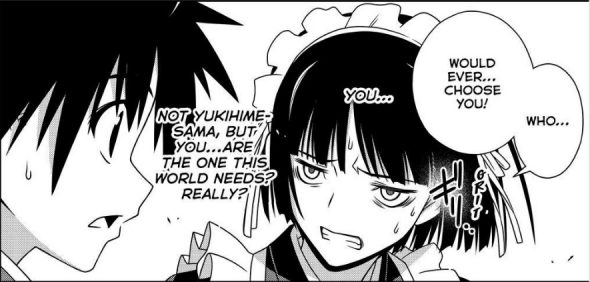 Karin's Backstory: The Judas Connection
UQ Holder chapter 152 continues to reveal Karin's backstory, as initiated in chapter 109. Once again, Akamatsu-sensei STRONGLY implies that Karin is in fact Judas Iscariot. We have the fact that she confirms being in Jerusalem. We have the imagery of what appears to be the moment Judas kisses Christ as a signal to the Roman soldiers to arrest Christ. There is the overt reference to 30 pieces of silver. Then there's the overt imagery of three men hanging from crosses. And of course, there's the hanging scene.
When Touta puts together that Karin is Judas (without using the name) and that her teacher was Christ (again without saying "Jesus" or "Christ"), Karin implies that the Judas story in the Bible is not in fact as it actually happened. I presume this is because Judas was a man and Karin is a woman. However, the wording contains enough weasel in it to give Akamatsu-sensei a partial out.
Akamatsu-sensei gives himself a second, stronger out by having Karin concede that because she's been alive so long (well over 2000 years), she may have deluded herself into believing that whatever crime she committed was the same as what Judas did to Christ, and therefore she is Judas. I'm rather hoping for this option 'cause as I stated in my chapter 109 review, Karin in UQ Holder is not the evil Judas Iscariot of the Bible.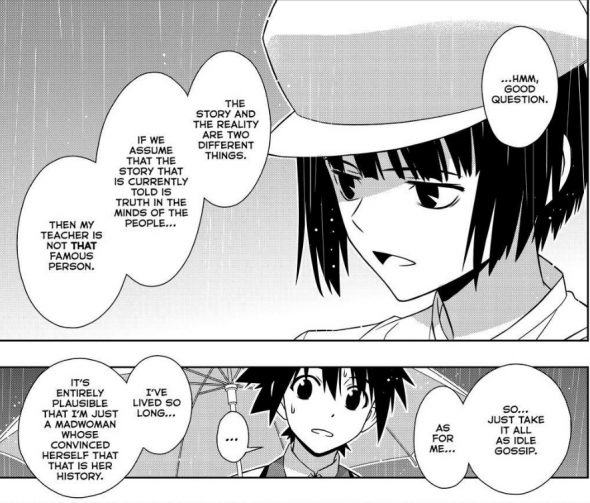 Karin's Backstory: The Battle With Eva
One thing UQ Holder chapter 152 does not make clear is the context for Karin's battle six hundred years ago with Eva. Based on what we know about Eva, it seems unlikely to me that she would be the one to seek out Karin and battle her. Instead, I suspect that Karin traveled the known world, attempting to do good deeds to attempt to atone for her sins. As such, Karin had become infamous, as Eva acknowledges.
So it is highly likely that Karin was hunting the notorious, evil Demon Queen Evangeline to slay her once and for all. Either that, or she came to investigate the burning village where she encountered Eva. We know Karin wasn't playing because she went for Eva's head and succeeded in beheading her, not that this stops Eva, of course.
What's interesting about the fight is that though Karin has way over 1000 years on Eva (probably 1300 to 1400 years), Eva's skills are far superior to Karin's. Karin isn't using her light powers though, choosing only to fight as a warrior (much like she is in her current time period). Eva's using her trademark Ensis Exsequens magic blade spell. However, she also did something new. Eva appeared to cause the blood from what was left of her arm (after Karin severed it), to grab ice swords to counter-attack Karin. That was impressive for sure.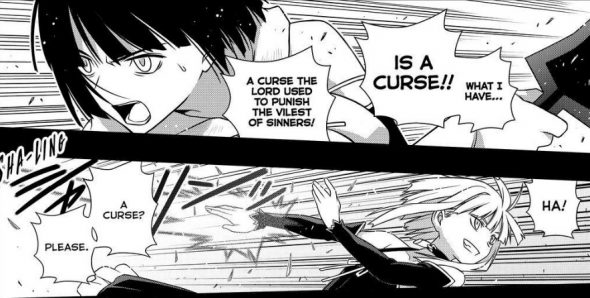 One thing of note is that Karin wore armor from her left shoulder blade down through her left hand. I wonder why only there.
Final Thoughts and Conclusion
I desperately need sleep, so let me wrap up my review of UQ Holder chapter 152.
One thing that Akamatsu-sensei will need to address. After Karin became devoted to Eva, where was she during the time when Eva was wandering the world with Ala Rubra (and Eva not having a clue that Nagi was married to Arika, nor never seeing her)? Ditto Eva's time at Mahora.
To date, I think the only three forms of dress we've seen for Karin are nude (or semi-nude), wearing her Senkyoukan maid uniform, or wearing her Mahora school uniform as her battle uniform. It was nice seeing Karin in some lovely civilian clothing for a change.
A short-haired Eva is cute. Just sayin'. 😉
In the end, UQ Holder chapter 152 turned out to be quite interesting. I'm looking forward to seeing the rest of the mini-Karin arc. I hope it ends up with Karin getting a pactio card from Touta.
What do you all think? Let me know in the comments. ?