ユーキューホルダー! 魔法先生 ネギま!2 Manga Review
UQ Holder! Mahou Sensei Negima 2
UQ Holder!: Magister Negi Magi! 2 Chapter 154
UQ Holder Chapter 154

SPOILER Summary/Synopsis: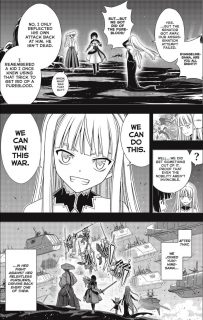 Eva comes after Mundus Magicus Senator Gorgonzola, who's behind the invasion of Martian mages to Earth. Eva easily overcomes the troops the senator summons. However, the shinso vampire Ba'al stops Eva. As they fight, Ba'al questions Eva's motives in coming to the Magic World. Eva avoids the trap Ba'al set earlier and battles him to a draw. As such, Ba'al reveals his true form, which is an untold number of magical beasts and evil demons.
Ba'al causes his beasts to attack, so Eva uses her Doll Master ability to summon heavily armed troops. However, it is not enough and Eva is overwhelmed and heavily injured. Jinbee rescues her, but is attacked by Ba'al's minister, Sept Shichijuurou Nanao. Karin unleashes a devastating Divine attack on Ba'al to help defend Eva. Ba'al quickly subdues Karin and is going to send her to the rift between worlds. Eva uses Magia Erebea to send Ba'al's attack back at him, destroying him for now.
The Senator and fellow politicians who supported him used the Megalo-Mesembrian Royal Guard to fight as their private army. Since Eva was the most powerful mage alive, she, Jinbee, and Karin were able to overcome their opponents in under a year. Senator Gorgonzola agrees to a peace treaty. He tries to spring a trap on them, but a giant Eva unleashes a massive attack. As a result, Eva received a price on her head, but the invasion of Earth stopped.
Karin tells Touta that for 120 years, Karin followed Eva around. Eva wanted Karin to go her own way.  Karin isn't happy to just be on call and wants a pactio with Eva.
Thoughts/Review:
Crunchyroll sucks horribly in how they handled UQ Holder chapter 154. However, I decided to go another route to read this excellent chapter. (More on that in a future post.)
The Bishounen Shinso
When the latest shinso vampire arrived on the scene in the previous chapter, it appeared to be a loli girl. This is a natural assumption since Akamatsu-sensei loves him some loli babes. (Well, to be fair, Akamatsu-sensei just loves him some babes, loli or otherwise.) However, the Twins are using the "he" pronoun, indicating that Ba'al is a male. Presuming there are no other indications in the Japanese text, in terms of historical context, Ba'al (Baal) has been male. So that makes sense.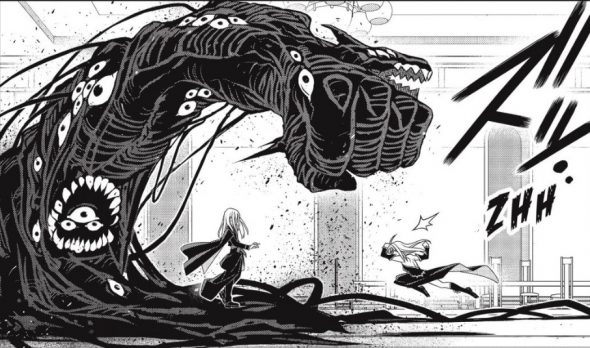 Hopefully, Akamatsu-sensei doesn't decide to pull a Kuroumaru on us when it comes to Ba'al. We've been there and done that gag.
The question I have is, "What happened to Ba'al?" After Eva defeated him, Karin's tale mentions spending 120 years battling bounty hunters. However, it does not mention another confrontation with Ba'al. So is Ba'al still out there? I wouldn't be surprised if he becomes a new enemy for the UQ Holder crew to fight. At the same time, I wouldn't be surprised if he's the Noble that Eva mentions to Touta in volume 1 of the manga. Obviously, with a hair cut.
Eva: The Most Powerful Mage
One of the mysteries of the UQ Holder manga is why Eva is not the powerhouse she was in Negima. Obviously, from a story telling perspective, you can't have a Mary Sue character who can kick everyone's arse. And while Akamatsu-sensei has not explored why Eva is no longer as powerful as she once was, he did allow us to see how she earned her fearful reputation on the Magic World.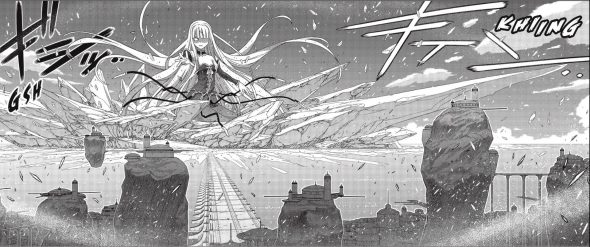 Frankly, I have to say that I loved Eva's rematch with Ba'al. On one hand, it got to show just how good Eva truly is. She forced Ba'al to have to use his true form in order to get the upper hand on Eva. And ultimately, she was able to defeat Ba'al using Magia Erebea. On the other, the fight more effectively showed just how much more powerful shinso High Daylight Walkers are compared with someone with the mad skills of Eva.
Also, Eva creating doll versions of herself, Jinbee, and Karin is a new skill. However, she may be using Eastern shikigami magic to create the clones, which would then be easy for her to control with her Doll Master ability.
Finally, it was AWESOME to see Eva take on an illusionary giant form and defeat an entire nation.
Final Thoughts and Conclusion
It feels like I should have more to say about UQ Holder chapter 154, but I'm rather pressed for time. So let me wrap up things with some final bullet points.
We finally know the name of the other bishounen member of UQ Holder — Sept Shichijuurou Nanao. Granted in UQ Holder chapter 154, he's working for Ba'al, but we already know from another flashback and from volume 1 that he was a member of UQ Holder.
Although I hated seeing Chachazero reduced to two single frame cameo, I am glad Akamatsu-sensei didn't forget her. I missed Chachazero being at the camp with Karin and Eva, though I know Akamatsu-sensei "put her on the shelf" there because she would have stolen the scene. ?
Karin using her Divine magic is awesome, even if ultimately unsuccessful against Ba'al. I kinda wish it had actually done damage to Ba'al. I hated that Karin got punked so quickly.
Speaking of Karin, I suspect she will get her pactio. I've long thought that Karin's mallet came and went like a pactio artifact. As such, I suspect this will be her pactio artifact, but she just doesn't have to say "Adeat" or the like to summon it. I cite Asuna in Negima as precedence.
If I'm right about the a Karin pactio, I hope Akamatsu-sensei addresses Chachazero and her pactio.
In the end, UQ Holder chapter 154 continues to show that the series can be quite strong and good without needing to have Touta be front and center of everything. I'm loving that we are continuing to get Eva's backstory. Oh, and Crunchyroll sucks!