So I decided to play "Fate/Grand Order" again. ?
You know, I must be a glutton for punishment. After becoming fed up with Fate/Grand Order several months ago, I found myself coming back to play the other day. I can already hear folks saying, "Wait! You barely blog any more and talk about lack of free time. But you've got time for some stupid mobile game that pissed you off?"
Heh! Yeah, well…we'll talk more about the lack of blogging in another post. ? But for now, here's why I originally left Fate/Grand Order (FGO) and why I decided to come back…for now.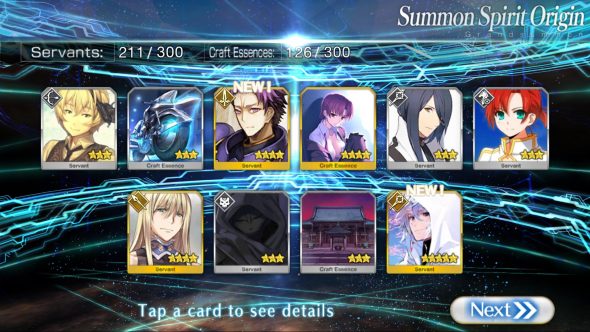 Why Did I Quit "Fate/Grand Order"? Event Stupidity!
The time sink issue aside, I found that the game was enraging me quite a bit. The straw that broke the camel's back was the last event I participated in. The Developers are constantly doing events, which are a great way to get the stupidly hard to acquire materials needed to allow you to ascend your Servants ('cause it is "fun" to throw in road blocks preventing the player from just leveling their Servant to max level). Unfortunately, most of these same materials are needed to level up Servant skills, so you need a boatload and a half of them at a minimum. Events can give you a cargo container of the boatloads of cargo containers you actually need.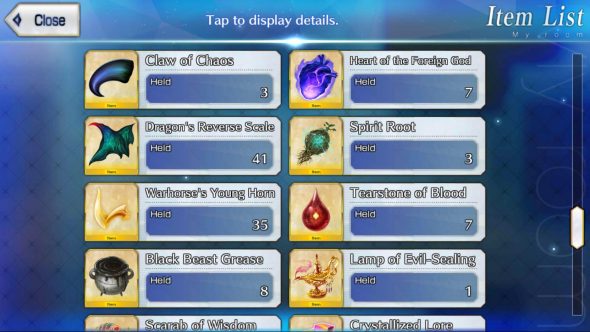 The bad part about events is that the Developers put out new Craft Essences, which are cards you can give to your Servants to give them certain boosts to HP and/or attack as well as some skill or other boost. These event CE may be decent, or may suck horribly. But you are basically forced to use them. Why? Because these CE have event-specific boosts to reduce the tedious task grind.
For example, an event might have a task to kill 100 ghosts. The best mission to farm them has 5 per battle. That means you have to MANUALLY slog through this fight TWENTY times! Let's say the event CE provides a boost of 1 ghost you encounter. If you have that CE on all of your Servants, including the friend's Servant you use for the (manual) fight, now you are fighting 11 ghosts per battle, rather than 5. So now your fight just became MUCH more difficult, but you only have to go through it 9-10 times rather than 20.
In the last event I participated in, one had to collect wood, ore, water, etc. In addition to having to use event CE to get boosts, you had to use specific Servants to get boosts for specific items.  As such, in order to be efficient, one had to put together teams of Servants that you may not have done much with. For me, I was lucking through, thanks to friends. But for some of the farming elements, thanks to RNG and the fact I have to manually fight each time, one time I might breeze through fight and the next, I might lose WITH THE SAME SERVANTS!
That was enraging me to no end as my only other choice would be to not be efficient in farming, but then have to spend MUCH more time in the game and possibly burn premium currency to keep refreshing my energy. But then I'd read stuff online from others who were all going, "OMG! This is the best f-ing event ever! My underwear just catapulted across the room and I'm ejaculating all over the place!" ?
Why Did I Quit "Fate/Grand Order"? Quality of Life Issues
If you managed to make it through the above tirade, you'll see that one of the biggest quality of life issues I had was that one has to manually slog through fights every stinking time. In an event where they create BS tasks to complete, OK, I can understand manually slogging that. But for day-to-day stuff, I shouldn't have to. Once I've completed regular missions for farming, I should be able to just sim them through and collect the rewards.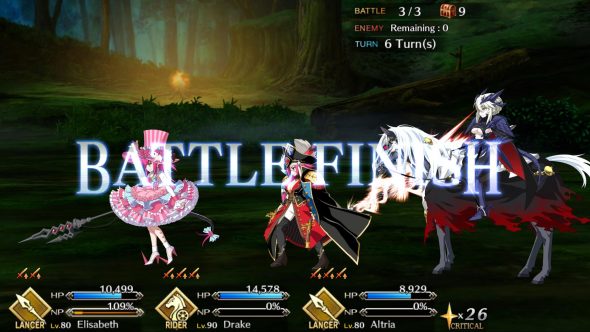 There were other quality of life issues. The Devs think that forcing you to watch a Servant's NP animation is SOOOO bloody important. Yeah, I wanted to watch that 50 billion times, and I just LOVE watching the death throes of an enemy Servant. A battle could take as much as five bloody minutes to get through because of crap like this.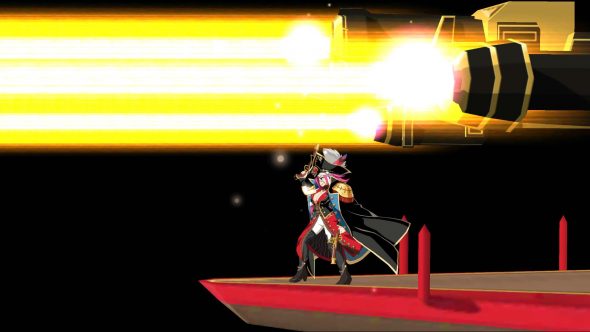 I hate how expensive things are in terms of AP (the game energy needed to do missions of any kind). At my level, I have 135 AP. That means that in the Daily Quest section, I can do the hardest mission (with the best rewards) three times as it costs 40AP a go. ? After that, your AP will s-lo-w-l-y regenerate. So basically, twice a day, you can farm the three tough nodes for the loot you desperately need. From time to time, the game folks will "generously" give a half-AP event. To me, the half-AP price is what it should be all of the time.
Something else that irks me to no end is the fact that you can't easily play Fate/Grand Order on any device. That's because the people who are in charge of this game won't allow it to be linked to you Google account (or anything else for that matter). As such, if you want to play the game on multiple machines for whatever reasons, you have to establish a transfer code, give it a password, and then use that on the new device. REAL pain in the arse. The game should just be linked to Google so you don't have to worry about all that other stuff and the possibility of losing your account.
There were a lot of other quality of life issues I had back then. But writing about them is making me very weary. ?
Why Did I Quit "Fate/Grand Order"? SSR (5*) Servant Paywall

One of the most disgusting things about Fate/Grand Order is the fact that ALL of the SSR (5*) Servants are locked behind the "gacha" paywall. When it comes to the 4* SR Servants, some of the events will provide what is termed as a welfare Servant, as you can score whatever 4* Servant that is the reward, acquire all of the special mats needed to ascend said Servant to level 80, and get enough copies of said Servant to ensure that Servant's Noble Phantasm (ak: NP — the Servant's ultimate attack) level is maxed at 5.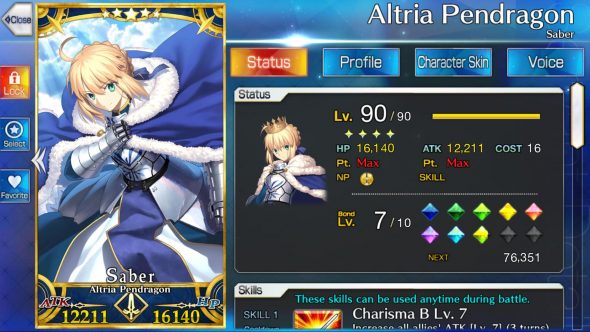 However, the game will NEVER provide the player with a free 5* SSR Servant. Yes, you can earn QP (the premium currency) and get lucky in a gacha pull. (Considering how the game treats paid QP and earned QP differently, no one is going to convince me that F2P people have lower odds of pulling an SSR Servant than someone who spent actual money.) And yes, you can get a free summons ticket and get lucky. But you are just hoping to get lucky and get something.
I would like to see SR and SSR Servants whom are in the constant gacha pool be something one can earn via farming. I know I've complained about the insane grind of farming mats, but having Servant shards that could be farmed at the same time would be nice. Then folks could try to farm for their favorite Servant.
Why Did I Come Back to "Fate/Grand Order"?
You know, as I recount all of the negatives in this game, I have to wonder if I'm insane or not to return to the game. ?
To be honest, I've always had a weak spot for the Fate franchise. I enjoy the idea of having tons of Servants at my beck and call to battle evil forces. (I have no evil Servants. ?) I like collecting powerful Servants and building them up. So from that aspect, I missed the game.
Also, I follow a lot of Japanese artists on Twitter. Some of them do incredible FGO artwork. And whenever I'd see this, I'd miss some of the fun elements from the game.
I heard that a few quality of life improvements had been made. NP animations can be abbreviated (but still not skipped). I no longer have to suffer through enemy Servant death throes. They improved filtering so that if I'm working on Sabers, all I see is Sabers and their mats. And they made it so I can easily see what EXP cards I have to level up Servants.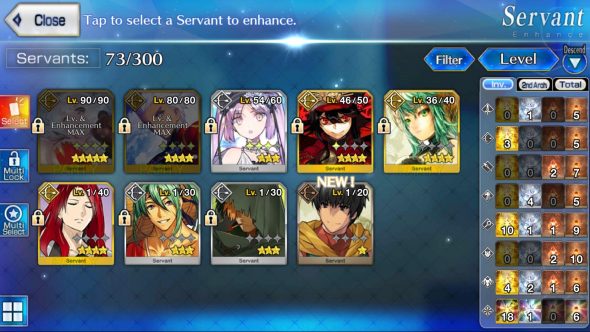 However, what ultimately got me to play the game is that one can now play Fate/Grand Order on one's PC via BlueStacks 4. (Note: I am NOT an affiliate of BlueStacks.) I don't like playing games on my phone. I only play games on my phone as a last resort. Even on my tablet, I only play games there when I go on business trips. Playing games on my PC is what I'm all about. And now that FGO can be played on my PC with its 32″ monitors, well it is pretty sweet. ?
How Has the Return Been?
Shockingly, I haven't raged at all…at least as of this article. Since I came back during the half-energy costs for completing the main story, I busted out a lot of the Camelot section. Now that the AP costs are back to outrageous, I've stopped. So I just do one of each of the Daily Quests 40AP tasks, twice a day, IF I have time.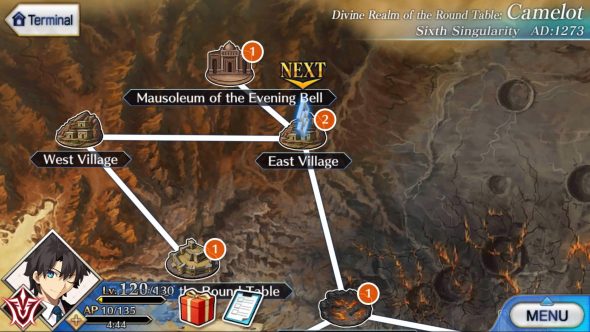 I can't do any of the big events right now because I'm being punished for being so far behind the others. That's another of those "lovely" things in the game — you better play all the time and keep up or you won't get to participate in special events to get the mats you so desperately need. ?
Supposedly, the Orion event is returning to the North America servers next month. I would be able to participate in that, and it should be a way for me to get some desperately needed mats.
Bottom Line
Basically, many of the irritating things about Fate/Grand Order are still there for me. But there have been a few minor improvements. And I have to say, the elements about the game that I do enjoy are trumping the negatives for now. But we'll see if that continues or not.