Fruits Basket (2019) 01
フルーツバスケット 01
Furuba episode 01
Story Summary/Synopsis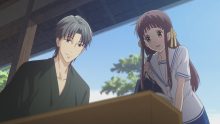 HONDA Tohru is living in a tent on a hill and discovers a home nearby. On the engawa in front of the house, she sees a Zodiac set out. A man comes out and they chat. Tohru reveals how she longs for the cat to be part of the Zodiac. The man, Shigure, gets clocked by his younger cousin Sohma Yuki. Yuki is a popular classmate of Tohru's and he walks with her to school. This causes the unofficial Prince Yuki fan club to come after Tohru. However, Tohru's best friend's Uo-chan, a former yankee, and Hana-chan, a girl with psychic "denpa" wave powers, chase the girls off.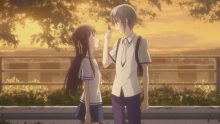 After school, Yuki walks with Tohru a bit and gives his thoughts on the cat being in the Zodiac. Tohru goes to work as part of a cleaning crew for an office building. That evening, Yuki and Shigure are walking home when they spot Tohru walking through the same woods. They discover she's camped on Sohma lands. She offers to pay them rent, but then collapses due to exhaustion. Shigure discovers the hill Tohru had camped on experienced a landslide. Tohru freaks out, but they put her to bed while Yuki excavates Tohru's things.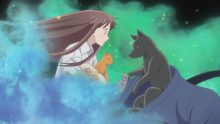 The following day, Tohru wakes up and again panics because the photo of her deceased mother is still buried in the dirt. Yuki shows up with her things. He and Shigure offer to give her a home until her grandfather's place is renovated. In exchange, Tohru will be their live-in housekeeper. They take her up to her room. Once there, another teenage boy comes crashing through the roof. He challenges Yuki to a fight. When Tohru tries to stop them, she grabs the boy, who turns into a cat. She then stumbles into Yuki and Shigure, turning them into a rat and dog respectively.
Thoughts/Review
I honestly thought that the day would never come when we'd get a proper anime adaptation of the Fruits Basket manga series. I even wrote a piece on the subject in 2007. But with Fruits Basket (2019) 01, it does appear that we are going to get that proper anime adaptation I've long dreamed of.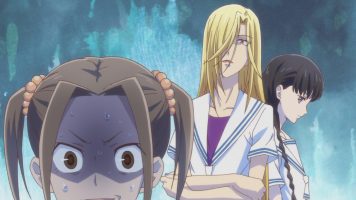 A Proper Story Adaptation…So Far
In my 2007 piece on why there wouldn't be a sequel to the original Fruits Basket, I noted that Tohru's hat was a key plot element in the source manga. However, since the original anime adaptation failed to use the hat, I felt this is why Takaya-sensei would never allow for a sequel that could never tell her story.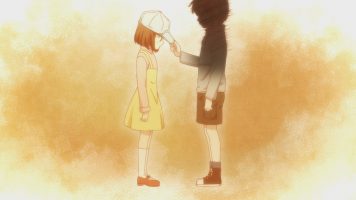 In Fruits Basket (2019) 01, I immediately saw how the modern anime adaptation of the Fruits Basket story brought the hat's attention to viewers in a clear, "Yo! Here's the hat fans! And for those who don't know the original story, this hat is important!" And later, we see a flashback of how Tohru acquired the hat. For fun, I've included imagery from all three sources regarding the hat.
This combines with the fact that the only "extras" added within the episode only enhanced and did not change the original story, I'm very pleased with the story adaptation so far.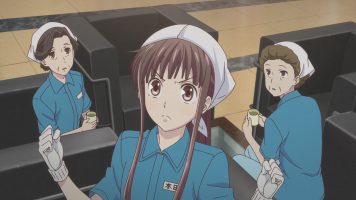 The New Seiyuu
Although it is difficult for me to watch the original Furuba anime adaptation (due to how radically different the story is from the source manga), I will say that the seiyuu used in that anime adaptation were quite good. So I was quite disappointed to hear that Fruits Basket (2019) 01 would feature an all-new seiyuu cast.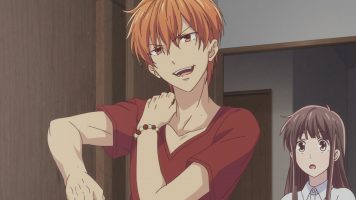 Although it is rare for the Japanese to have such radical recasting of roles for beloved series, it does happen. And the Japanese do seem sensitive to the fact that hardcore fans are used to a certain set of voices. So while the new seiyuu cast are different, it is clear that they are respecting the work of the original seiyuu. I liked that a great deal.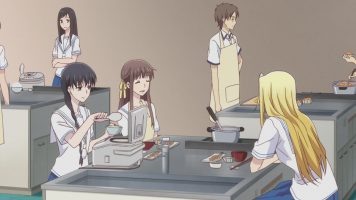 A Mostly Proper English Adaptation
Although I believe that FUNimation will not give me "cheese on my cheeseburger" (meaning no Japanese honorifics in the subtitles for their DVD/BD release), at least Crunchyroll's subtitles did retain them. As longtime readers of the blog know, this is a big deal for me. It may seem silly, but just having the honorifics in the subtitles made the whole viewing experience even more lovely for me.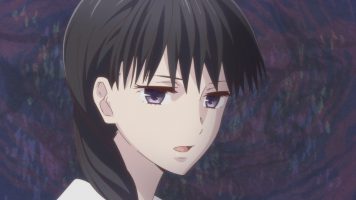 I have a minor quibble with the adaptation in some spots. When it came to adapting the True Tenchi Muyo! novels, I tended to keep a light touch. I only changed things that were passive sentences (making them "active") or sentences that weren't very clear. I believe adaptations should be accurate but readable and understandable. So I tend to dislike adaptations where accuracy is sacrificed, not for readability, but for more "localization".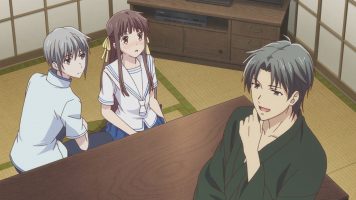 For example, there's a moment when Tohru leaves her tent and gives the standard, "I'm off" remark. It bothered me that the adaptation turned this into a remark about being back after school. That's not what Tohru said, and for my own adaptation style, that's going overboard. I prefer more accurate subtitles while keeping them readable.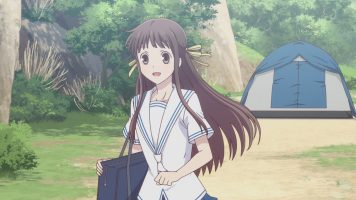 Finally, I don't know why the spelling "Sohma" was changed to "Soma." The first anime adaptation and manga went with Sohma. The "oh" may not be proper romaji, but that's how it has been. And it does reflect a long oh sound. (The self proclaimed Wiki gods immediately changed Wikipedia to the new romaji spelling from this anime adaptation 'cause "reasons.")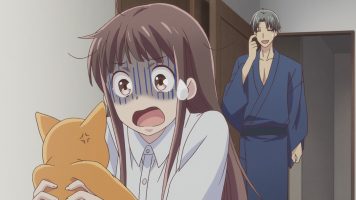 A Very Minor Visual Fail
Returning to the Japanese production side of things, visually, Fruits Basket (2019) 01 looked quite good. I feel the character designs nicely blended the great work Takaya-sensei did prior to her hand surgery and her current style. As such, all of the Furuba characters introduced in Fruits Basket (2019) 01 were easily recognizable.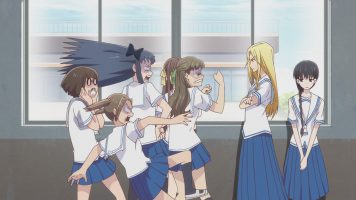 My only minor quibble is that the new Fruits Basket adaptation didn't quite capture the iconic moments when Hana-chan arrived with her Denpa powers, or when Yuki gave Shigure a look after we got to see the hint of his affiliation with rats. See what I mean vs. the manga.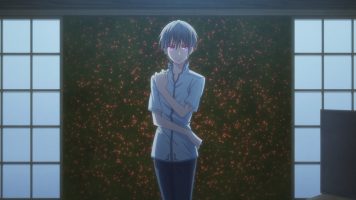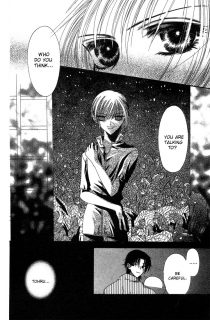 A Viewing Delight
Minor quibbles aside, I have to say that I really enjoyed watching Fruits Basket (2019) 01. Takaya-sensei created such a wonderful world with wonderful characters. As such, it is a delight that this new anime adaptation of her work really is capturing those wonderful elements. And the little extras to fill the run time that were added by the production team (TMS) were a nice touch.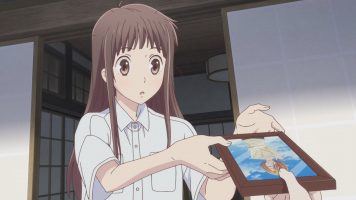 For example, we got to see how Shigure's house is in relationship to the city.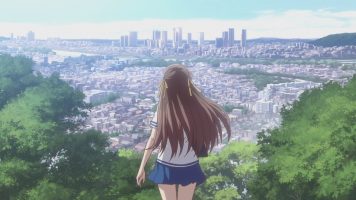 Another example is when Tohru arrives at school with Yuki. In the manga, it is only confronted by Minami. The new anime adaptation has her confronted by the entire club, lead by Motoko. And knowing how the manga story goes, the anime confrontation actually makes more sense to me. So while it may not be accurate, it is an improvement, and thus a delight.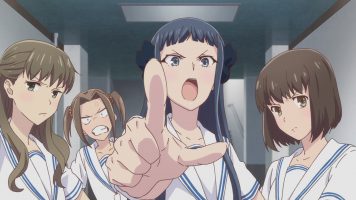 Final Thoughts and Conclusion
In the end, Fruits Basket (2019) 01 was everything I hoped it would be in an anime adaptation. TMS is clearly starting off with the intent of being very faithful to the source manga. In addition, the small changes between the anime and the source manga were an improvement, based on my knowing the source material quite well. Also, props to Crunchyroll for having Japanese honorifics in the subtitles!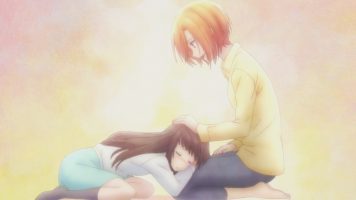 I look forward to episode blogging this series!