Fruits Basket (2019) 13
フルーツバスケット 13
Furuba episode 13
Story Summary/Synopsis
Tohru is out with Yuki at his garden. She leaves to go into the house and make lunch, but encounters clothing on the path. She suspects a member of the zodiac is nearby. A snake slithers to her and inside her clothing, causing her to scream. Yuki comes running and seeing the snake, enters the house and tells Shigure to skin the snake. Shigure explains that this is Ayame, Yuki's older brother.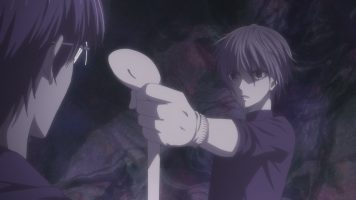 Ayame transforms back to his human self, where Tohru discovers his personality is nothing like Yuki's, though they look alike. Kyo and Yuki don't think Ayame is treating Tohru with respect, so he takes her to a restaurant for a gyoza lunch. There, he opens up to her about the situation between him and Yuki. He also expresses his desires to bridge the gap to his little brother. Tohru recounts words of wisdom from her mother, which Ayame likes.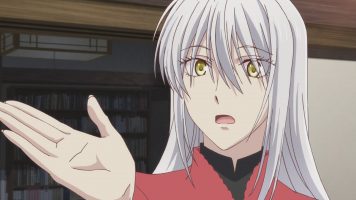 The next morning, Kyo is not happy to wake to see Ayame sleeping next to him. At school, Torhu informs Momiji and Haru that Ayame has come to visit. That afternoon, Yuki and Kyo are not happy to see Ayame is still there. Ayame proceeds to tell of how he was allowed to keep his long hair in high school. At Shigure's prompting, Ayame tells of how he helped some students who'd gotten caught in a sex oriented place. His solution was not approved of by Yuki, who wants his brother gone.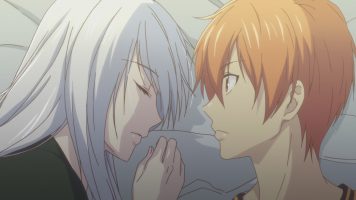 Hatori shows up and tells Ayame it is time to go. Ayame gets up and leaves after saying farewell. Shigure explains that Ayame has only ever listened to Hatori because he respects Hatori. Meanwhile, Ayame speaks to Hatori about the difficulty in bridging the gap with Yuki.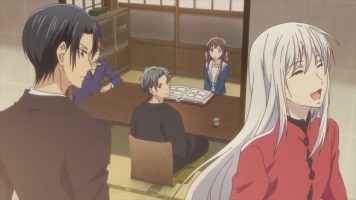 Thoughts/Review
For Fruits Basket (2019) 13, chapters 21 and 22 from the source manga were used in the adaptation. As has been the case of late, TMS continues to nail it on the adaptation.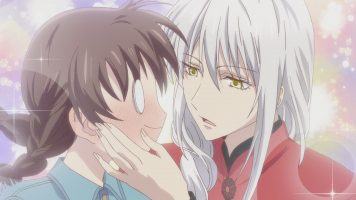 Ayame Arrives
Ayame's introduction into the Fruits Basket story caused a massive splash in the manga. And with Fruits Basket (2019) 13, there was no less of a splash. I was a little worried about how Ayame's seiyuu would be. But he does sound rather similar to the original seiyuu to my ears (different, but similar). So no issues there.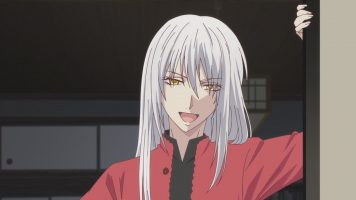 Anyway, Ayame's arrive meant for some hilarity as well as some lovely character work. I'm really glad TMS is doing all of this right with their anime adaptation. And this is why I'm loving the new anime series so much.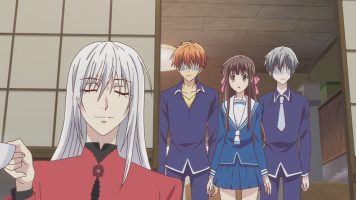 Changes to the Source Material
TMS continues to make only minor modifications to the source manga material. The only thing that really stood out to me is that Ayame and Tohru's lunch scene was extended a bit to show them starting to eat. Also, Ayame asking Shigure if he could spend the night was cut. But otherwise, nothing really stood out to me.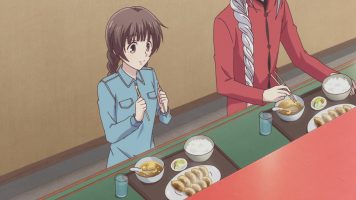 Subtitle Mess Continues
Man, the subtitles are really a mess in Fruits Basket (2019) 13. I kinda get the feeling that whomever translated or adapted the series really doesn't like Japanese honorifics, but have been forced to use them. Again, any time a full name is used, the adapter decided, "Frak the honorifics!" All instances of -sama were dropped for other things 'cause "reasons." And there was an instance where Shigure is teasing Kyo and calls him "Kyo-chan," but the subtitles say, "darling." 😑😑😑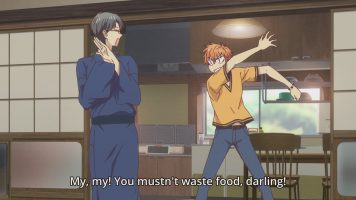 There was an adaptation issue that goes beyond honorifics though. During Tohru's conversation with Ayame at the restaurant, she gets through telling Ayame things her mother would say, then apologizes. The subtitles have Ayame saying, "No, I was just impressed that you said that."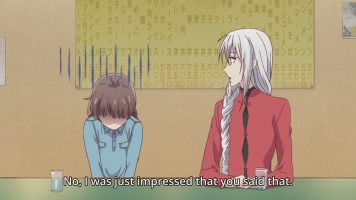 Tohru responds cheerfully, stating how awesome her mom is.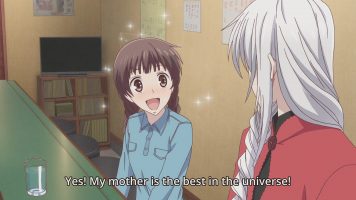 This makes no sense and makes Tohru sound stupid. Except Tohru isn't stupid. She's responding to Ayame giving her a compliment, that could be interpreted as praising her mom.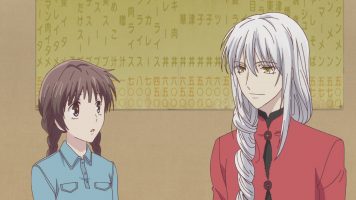 In the original manga, the Twins show Ayame saying, "I was just thinking that was a beautiful thing to say." And when you listen to Ayame's words, one of the words he says is "suteki," which means great, lovely, splendid, or wonderful. So the Twins use of "beautiful" is a fine one, and fits with Tohru's response. The subtitles in this episode don't.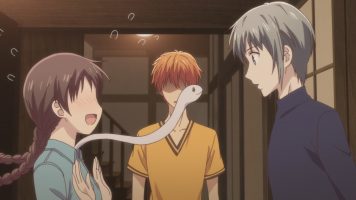 Final Thoughts and Conclusion
In the end, Fruits Basket (2019) 13 is a well-adapted anime episode, making good use of the source manga material. I love Ayame's introduction into the anime. It is just a shame that the translation and adaptation of the English isn't so good.