Tonikaku Cawaii Chapter 66
Tonikaku Kawaii Fly Me to the Moon 66
トニカクカワイイ 66

Spoiler Summary/Synopsis:
Having received a massage from his wife, Nasa decides to return the favor to Tsukasa. She's reluctant to get one, especially since her body recovers from illness and injury right away.
This causes Nasa to pout, so Tsukasa decides to let Nasa rub her shoulders. Nasa finds the experience of giving his wife a shoulder massage to be nothing like anything he's done before.
Tsukasa becomes short of breath due to the massage and asks Nasa to be gentle with her. He naturally complies.
Thoughts/Review:
The eight-page Tonikaku Cawaii Chapter 66 continues the vanilla lewdness of Nasa and Tsukasa and husband and wife.
More Massages
Since Hata-sensei only did a short chapter, I guess continuing the massage theme from the previous chapter was his best bet to fill eight pages. And it is a way to tweak those folks who want more lewdness in the manga, to include Nasa and Tsukasa getting it on.
Kaguya-hime Returns?
Although this was a short chapter, Tonikaku Cawaii Chapter 66 does appear to bring back up the mostly forgotten Kaguya-hime element of the manga. Hata-sensei has frequently shown the moon in frames of the manga, but the elements with Tsukasa being Kaguya-hime (or like Kaguya-hime) haven't been there.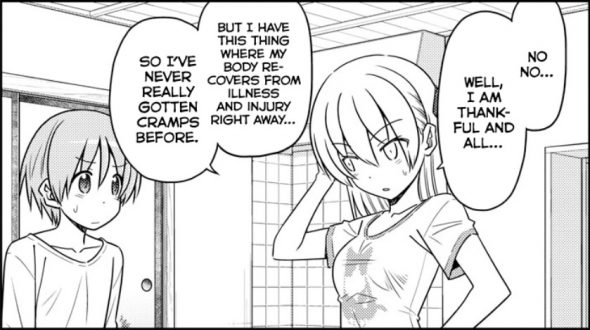 That said, Tsukasa mentioning how she rapidly recovers from injury and illness harkens back to the start of the manga, where she sustained a serious injury saving Nasa, yet when the injured Nasa goes to find her, she's no longer injured.
So nice one for Hata-sensei bringing back this element back into the story.
Final Thoughts and Conclusion
In the end, Tonikaku Cawaii Chapter 66 is fine for what it is, continuing to promote the advantages of being a young, married husband and wife.