Fate/Grand Order Absolute Demonic Front: Babylonia 02
#FGO_ep7 #FGOBabylonia
Fate/Grand Order -絶対魔獣戦線バビロニア- Episode 02
Fate/Grand Order: Zettai Majū Sensen Babylonia ep. 02

SPOILER Summary/Synopsis
Enkidu informs Mash and Ritsuka about the situation with the massive wall, Babylonia. Enkidu then leads them away through the woods. Mash notes they are traveling away from Uruk. Enkidu says there's a warf on the river where they can catch a boat. A man and girl reveal themselves, apparently in need of a means of travel to Uruk. When Ritsuka introduces his party, the man is troubled by Enkidu, who should be dead.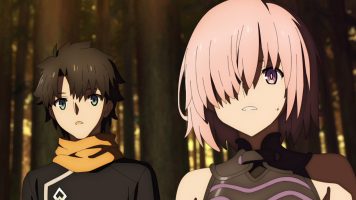 This causes Enkidu to turn on Mash and Ritsuka. During the battle that ensues, it seems that Enkidu has easily won. However, Enkidu turns out to have been battling illusions and thus leaves. Meanwhile, Mash and Ritsuka are amazed by their salvation. Their mage savior identifies himself as Merlin and the girl is Ana. He is a summoned Servant and Ana is a rogue Servant auto-summoned with no Master. This causes Romani to freak out over the communicator. He doesn't believe this to be the real Merlin of the King Arthur legend. Da Vinci believes Merlin is whom he says he is.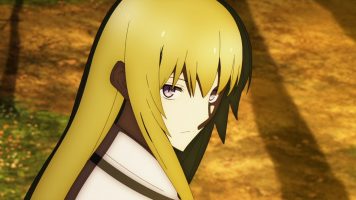 As the group travel to Uruk, Merlin briefs them on the situation and on Gilgamesh, the king in Uruk. They arrive at the gates of Uruk, where they are stopped by a friendly soldier. Merlin has an object from Siduri, one of Gilgamesh's aides. The soldier gives Ana a sweet his daughter made and lets the group enter. They make their way to the ziggurat, where Gilgamesh is holding court.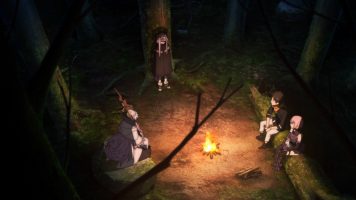 Mash and Ritsuka are surprised that Gilgamesh seems different to his tyrant reputation. Merlin brings Ritsuka to interrupt things. Merlin had been unable to locate the Tablet of Destinies. Siduri scolds Merlin for his lack of respect. Gilgamesh politely dismisses Siduri. He then decides to challenge Merlin in combat.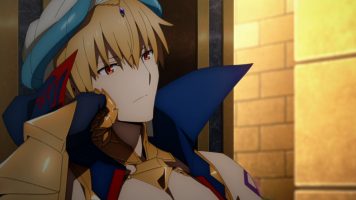 Thoughts/Review
I can certainly see Fate/Grand Order Absolute Demonic Front: Babylonia 02 being a bit confusing in areas. But it was a fun episode for me.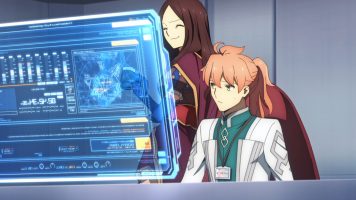 Merlin Comes
Within the Fate/Grand Order game. Merlin is one of the best Servants there are. It isn't because he's some offensive powerhouse, but because of what he does for a team. As such, I was keen to see him in the anime after his cameo last week.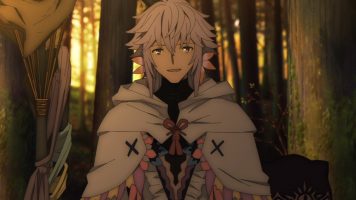 I found it interesting how in the Anime, Merlin is able to just create an illusion and thus allow himself and company to escape. However, what was unclear to me is why Enkidu didn't go after them. Yes, I know Enkidu was going to be with a mysterious person. But unless Merlin teleported the party miles and miles away, one would have thought that Enkidu would have quickly found Merlin and company to finish them.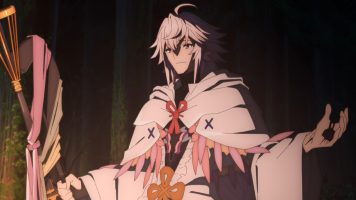 Since I mostly skipped the story in the game, I don't know if this next thing will happen or not. But I hope that during the course of the series, we get to see visual imagery of my girl Altria.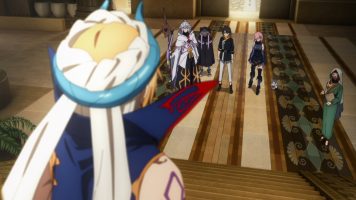 Ana
I have Ana in my Servant stable. It is a shame that she sucks so bad in the game. But she did come off as cool in Fate/Grand Order Absolute Demonic Front: Babylonia 02. So I'm hoping that she gets to play a cool role in the story. I kinda like her so far.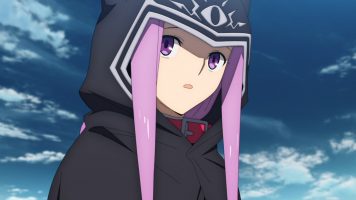 Gilgamesh
Its funny seeing Gilgamesh not be the complete and total smeg head he was in Fate/Zero and Fate/stay night. Yes, he challenges the party to a fight at the end of the episode. But we saw him show concern for his people who are helping Uruk from the demonic beast hoards. So I'm looking forward to seeing Gilgamesh in this better form.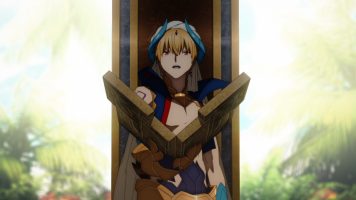 Final Thoughts and Conclusion
In the end, Fate/Grand Order Absolute Demonic Front: Babylonia 02 is a fine episode if you've played the FGO game. If not, there may be some things that are a bit confusing. That aside, I'm looking forward to more.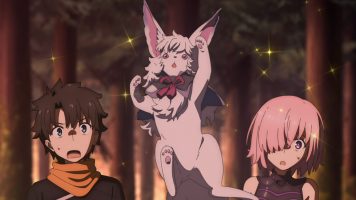 Note: For those interested, I do have some videos on YouTube created for the Fate/Grand Order mobile game. I'm looking to hit 1000 subscribers on YouTube, so click this link to help me reach my goal. 😁