Fate/Grand Order Absolute Demonic Front: Babylonia 07
#FGO_ep7 #FGOBabylonia
Fate/Grand Order -絶対魔獣戦線バビロニア- Episode 07
Fate/Grand Order: Zettai Majū Sensen Babylonia ep. 07
SPOILER Summary/Synopsis
Ritsuka has a dream about the King of Mages, Solomon. When he awakes, he informs Mash and Merlin of this. He recounts their encounter with Solomon during the 4th Singularity in London. Merlin has them head to the Northern Wall, where Leonidas is in charge. While opening a gate to let a squad out to do some repairs, beasts attack. They defeat the monsters that enter the gate while using the Dingir wall weapons to devastate another wave of beasts.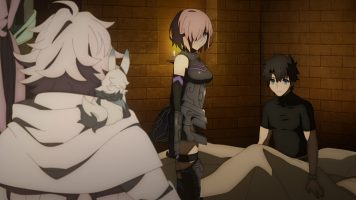 After spending a day gathering brick, Mash and Ritsuka are tired. That night at dinner, Ushiwakamaru briefs them on happening in the northern fortress city Nippur. They will have to mount a full assault rescue mission. That night, Merlin joins Ana on a roof as she observes the sleeping Mash and Ritsuka in a tent. She wants to reveal more information to the pair, but Merlin advises against it.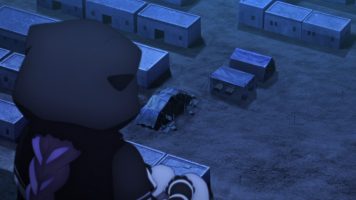 The next morning, Leonidas has a chat with Ritsuka before dispatching them.  Ushiwakamaru, Benkei, and soldiers attack the monsters to allow Ritsuka, Mash, Merlin, Ana, and soldiers free passage to Nippur. Ushiwakamaru sees the fight is too easy, meaning Ritsuka is walking into a trap. Meanwhile in Nippur, Ritsuka's group find Enkidu has slaughtered everyone. Enkidu reveals that invasion was never their plan. Humans were just to serve as fodder for a new generation of demonic beasts.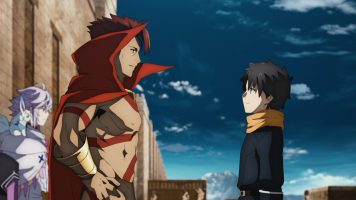 Enkidu summons Ugallu. Ana engages the giant lion-like beast, but to no avail. Merlin uses magic to buff Ana, allowing her to defeat the beast. However, this causes Ana to be snared by Enkidu's Chains of Heaven. Enkidu is going to kill Ana, but Fou saves her at the behest of Merlin. A giant naga with serpent hair emerges. Romani states this is an Avenger-Class Divine Servant. The Servant identifies herself as Tiamat.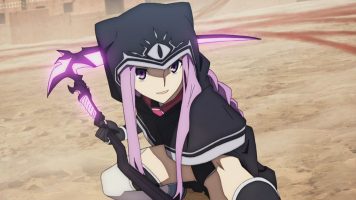 Thoughts/Review
Once again, the failure of not animating the earlier Singularities comes to light in Fate/Grand Order Absolute Demonic Front: Babylonia 07. But otherwise, how were things?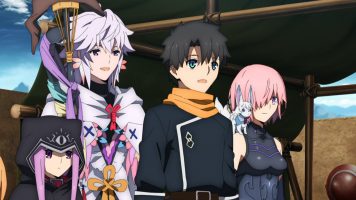 4th Singularity
As I've mentioned before, I almost always skip the stories in Fate/Grand Order game play. So I didn't know that Grand Caster Solomon appeared in the 4th Singularity until that came up as a flashback in Fate/Grand Order Absolute Demonic Front: Babylonia 07.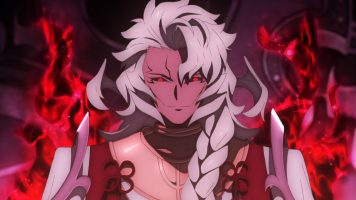 Unfortunately, this flashback lacks the punch it should have due to the previous Singularities not being adapted and shown. Had Fate/Grand Order been properly adapted (and enhanced to help poor stories), I still believe that these flashbacks to other events would carry more weight. We would have been following the story all along and thus this look-back would be more than a mere plot device.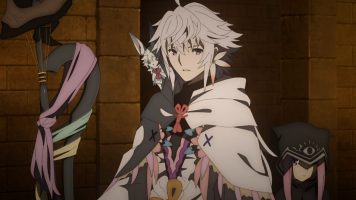 Don't Give Information 'Cause "Reasons"
I do know Ana's identity from the game. That aside, the story having Ana not reveal this information to Mash and Ritsuka is a story device I've always hated. It is clear that Ana knows why she was summoned into this era. And she knows what's to come. But because "reasons," Merlin advises her not to say anything. So that's TWO characters that know more than what they are saying.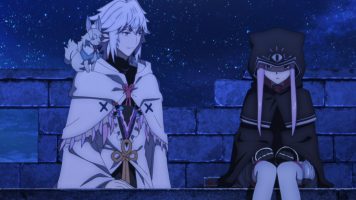 Final Thoughts and Conclusion
I'm running behind, so let me finish with some bullet point thoughts. And you guys can let me know in the comments on things I missed.
I didn't know Merlin was a dream thief. 😅
It was nice getting to see Merlin's "buff" ability from the game used in a way that made sense in the episode.
I do wish the anime had stated the Servant-class of Ushiwakamaru and the others. It had been in the back of my mind all along, but Tiamat's arrival as an Avenger Servant brought it to the forefront.
In the end, Fate/Grand Order Absolute Demonic Front: Babylonia 07 is fine for what it is. I enjoyed the episode, though it made me again wish that all of Fate/Grand Order had been properly adapted as a TV series.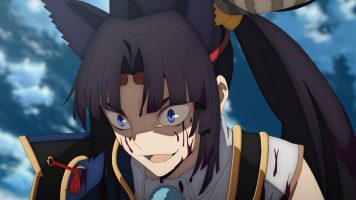 Note: For those interested, I do have some videos on YouTube created for the Fate/Grand Order mobile game. I'm looking to hit 1000 subscribers on YouTube, so click this link to help me reach my goal. 😁 I also do some streaming on Twitch as well.