Today's Menu for Emiya Family 03
Emiya-san Chi no Kyou no Gohan 03
衛宮さんちの今日のごはん 03

SPOILER Summary/Synopsis
Illya comes by Taiga's home, where Taiga has her fitted for a kimono. Saber escorts her to the Emiya residences, where Illya is surprise to see Sakura, Rider, and Rin. They are celebrating Hina Matsuri and have the Hina dolls up on display. Shirou brings out the chirashizushi "cake" for them to eat.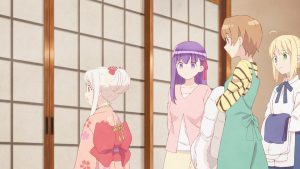 Prior to this, Sakura, Rin, and Rider had set up the Hina doll display. Shirou had prepared most of the food for the Hina Matsuri meal. Sakura helped decorate the chirashizushi (scattered sushi) "cake" and Rin made a special thing for Illya as well.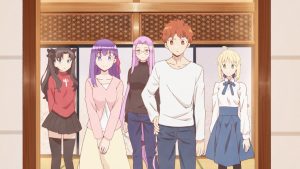 Illya expresses her surprise over all of this. Everyone starts eating and Illya decides that such gatherings aren't too bad. She fishes for a compliment about her kimono from Shirou and receives one. This causes her to glomp onto Shirou and call him "Oniichan," which annoys Rin.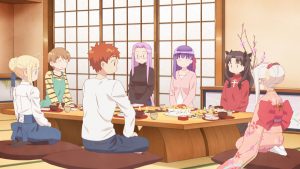 Thoughts/Review
While this episode may not have been funny, I have to say I enjoyed seeing the other side of Illya in Today's Menu for Emiya Family 03.  Also, I want to try chirashizushi.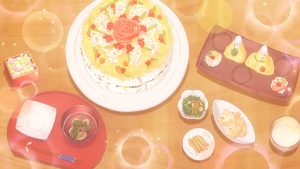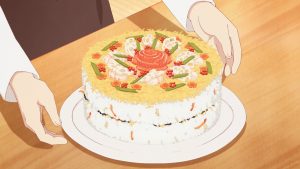 Not Prisma Illya
Despite being a very ecchi series, I have a weakness for the Fate/kaleid liner PRISMA☆ILLYA series. Illya behaves somewhat differently there (and subsequently Fate/Grand Order) than she does in Fate/stay night. So it is amusing to me to see Illya's more serious and somewhat reserved side in  Today's Menu for Emiya Family 03.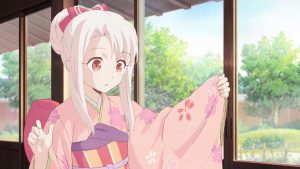 I like to imagine that this series is the "perfect ending aftermath" of Fate/stay night. The Holy Grail War is over. Some Servants still remain. And Illya is still a bit suspicious of the others, but continues to warm up to everyone. And I loved that smile she gave at the end.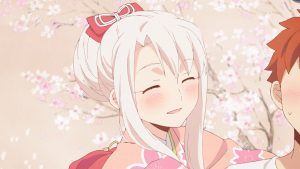 Final Thoughts and Conclusion
Let me wrap up my review of the episode with some bullet point thoughts.
It was lovely seeing Rin and Sakura together, complete with the sisterly elements in place.
On a related note, I hate how the Crunchyroll subtitles remove that sisterly element. No offense to the translator here as I'm sure this was dictated on high. I wish all Japanese honorifics were used besides Senpai
I loved how Rider is there with Sakura in a normal life. Its great seeing her having found humans she likes.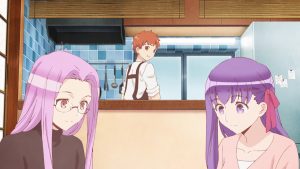 In the end, Today's Menu for Emiya Family 03 is a sweet and fun title, showing a lovely "what if" aftermath of Fate/stay night.