Fate/Grand Order Absolute Demonic Front: Babylonia 09
#FGO_ep7 #FGOBabylonia
Fate/Grand Order -絶対魔獣戦線バビロニア- Episode 09
Fate/Grand Order: Zettai Majū Sensen Babylonia ep. 09
SPOILER Summary/Synopsis
Ana recovers from her battle injuries while Ritsuka, Mash, and Merlin make a report to Gilgamesh. Romani and Da Vinci recount the history of Gorgon and why she hates humanity. Since Gorgon fears the other goddesses, Gilgamesh decides they must deal with Ishtar by buying her off. Ana rejoins the party, and the foursome plus Fou go with a donkey cart full of treasure for Ishtar.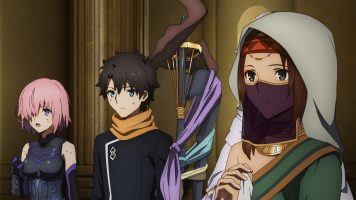 They arrive at Mt. Ebih, where Ishtar attacks them. Ana and Mash keep Ishtar distracted while Ritsuka empties a bag full of gems into the air. Ishtar sees the gems and stops her attacks. Since she uses gems in her magecraft, such a thing would fuel this for a long time. Then when she sees the cart full of treasure, combined with an offer for 25% of the treasures of Gilgamesh, she agrees to become Ritsuka's Servant, provided he kiss her feet to seal the deal.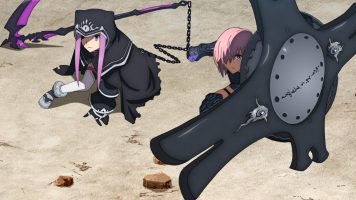 Inside Ishtar's temple, she confirms Romani's suspicion that she's a Psuedo-Servant, having possessed a willing human. The fusion creates a new personality. Once Romani's concerns are addressed, the group sets out. Ishtar drinks in their praises, but when they speak of her Bull of Heaven, Gugalanna, she doesn't tell them she's apparently not in possession of the beast.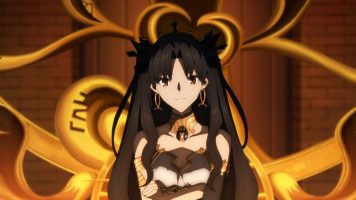 That night at their camp, Ishtar gets up and is surprised Ritsuka is keeping watch, proving how much he cares for Mash. Ishtar shyly wants to know if Ritsuka is in love with her to want to bring her to his side. He's flustered, but denies it. She claims to be joking, but she does seem more dere than during the day. She speaks of how she doesn't have a problem with humans. However, she doesn't like that they rejected the gods. Dawn approaches and she leaves to get some sleep, advising him to do so as well.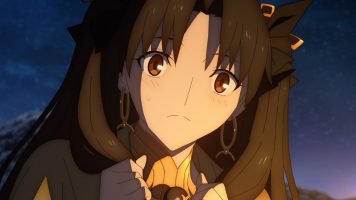 Thoughts/Review
And so another enjoyable episode comes to an end with Fate/Grand Order Absolute Demonic Front: Babylonia 09.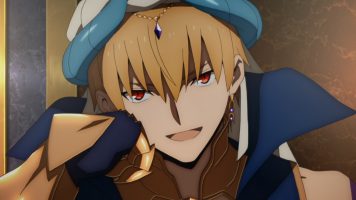 A New Servant
We lost three Servants in the previous episode. And now we gain a new one with Ishtar. Although the episode does not state it, it is clear that Ishtar and TOHSAKA Rin from Fate/stay night (and other Fate titles) merged to form the Archer Servant we know and love. I'm told the game really didn't go into details on this merger. I had hoped that the anime might flesh things out more. I mean, what would cause Rin to accept being merged with a goddess and becoming a whole new entity?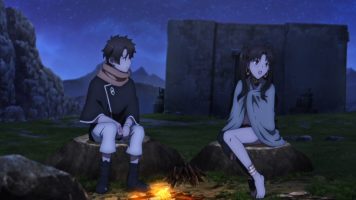 Alas, no such explanations came. Instead, long time fans of the Fate franchise have to laugh at the in-joke of Ishtar's love of gems. It doesn't make sense for a goddess to need gems to fuel magecraft, but that's exactly what Rin has always used. (Well, except maybe for Fate/EXTRA…I don't remember her using gems there.)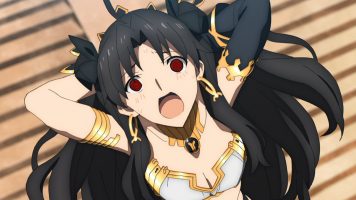 Still, there's this other personality there that shows up at night. I look forward to getting an explanation of this since I skipped the story in the game.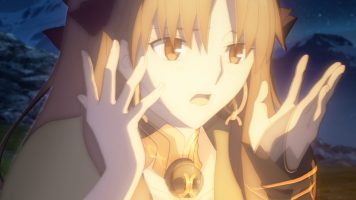 Gilgamesh's Plan
Gilgamesh has always been an utter bastard in the Fate franchise. I didn't care for him in Fate/Zero or any of the Fate/stay night routes. But in Fate/Grand Order Absolute Demonic Front: Babylonia 09, I can't help but like his Caster form. He's still a bastard, but he's a fun one. His plan to buy Ishtar just cracked me up.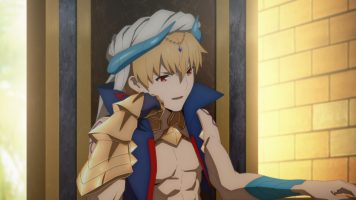 He must know whom Istar is joined with and thus her love for gems. And thus he launched this devious plan to allow her to have up to 30% of the gems in the Treasury of Babylon.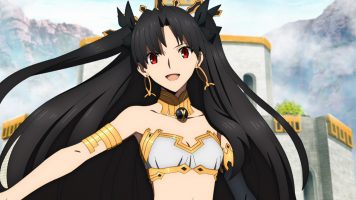 Final Thoughts and Conclusion
I'll wrap up my review of Fate/Grand Order Absolute Demonic Front: Babylonia 09 with some bullet point thoughts.
It was a nice touch seeing the repairs to the wall being made after Gorgon's attack.
I couldn't help but laugh that Ishtar had Japanese lucky cats outside her temple.
Still on Ishtar, her wanting Ritsuka to kiss her feet made me laugh.
Also, the brief battle they had with Ishtar was fun to watch.
I like the fun interactions between Da Vinci and Romani.
Ana is awesome. That is all.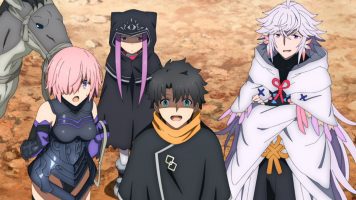 In the end, Fate/Grand Order Absolute Demonic Front: Babylonia 09 was an enjoyable episode.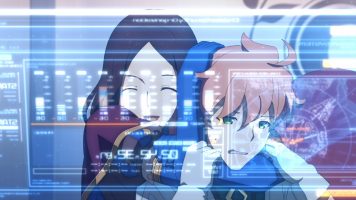 Note: For those interested, I do have some videos on YouTube created for the Fate/Grand Order mobile game. I'm looking to hit 1000 subscribers on YouTube, so click this link to help me reach my goal. 😁