Today's Menu for Emiya Family 07
Emiya-san Chi no Kyou no Gohan 07
衛宮さんちの今日のごはん 07

SPOILER Summary/Synopsis
Taiga gives Shirou, Rin, and Saber tickets to the Shinto Pool water park. The three have a ton of fun doing different things like the water slide and such. They take a break with some tropical beverages. Rider shows up, so Rin decides that they should play beach volleyball.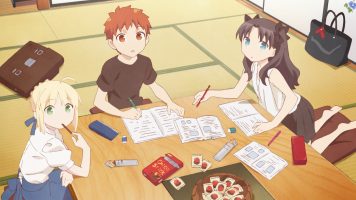 Rin and Rider are one team while Shirou and Saber are another. However, at some point, Lancer and Archer replace Rin and Rider. The two Servants go all out as Archer targets Shirou. Saber gets fired up about this, but she and Shirou still lose. Saber wants another go at the other two Servants.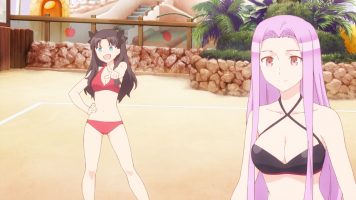 Back at the Emiya residence, Rin is exhausted from the day's fun. Shirou brings out barley tea and then prepares a light meal of chilled ochazuke. Rin and Saber go out to the engawa to enjoy the evening breeze, so Shirou brings their food out to them. Rin feels better, but wants Shirou to give her a massage to fully recover. He agrees.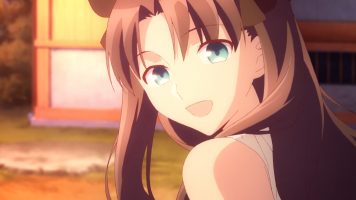 Thoughts/Review
There are delights and laughs to be found in Today's Menu for Emiya Family 07. Not only does Lancer return for the comedy fun, but Archer makes his debut. Oh, and there was some food that made Saber and Rin happy.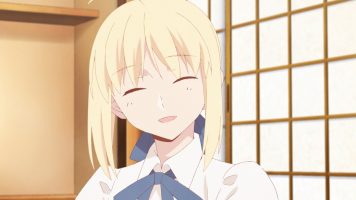 Water Park Fun
I have to say that I loved seeing how excited Saber got over the water slide she and Rin went down. I think that's partly why I've loved the Altria character in the Fate franchise.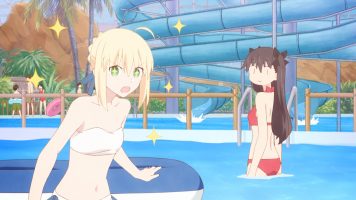 The other fun part of Altria (Saber) is how she is when it comes to a fight. And with Archer and Lancer showing up in Today's Menu for Emiya Family 07 and challenging her, she was not going to back down.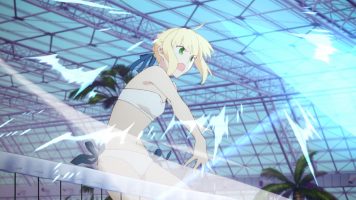 The only disappointment was that they didn't perfectly match Altria's Archer bikini (it has blue trim). Further, I would have loved it if she would have pulled a water gun on Rin since her Archer form uses one. But alas, 'twas not to be. That said, this is only a very minor disappointment over a lost joke.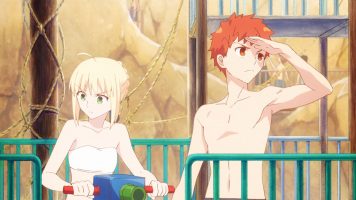 Lancer Returns With Archer
The comedy elements of Today's Menu for Emiya Family 07 came from Lancer and Archer showing up. The fact that the two of them teamed up and took it so seriously was funny enough. But having Archer constantly try to bean Shirou with the volleyball, fired at incredible speed was absolutely hilarious.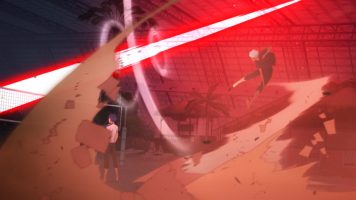 I don't know why ufotable had Archer hide his face. That didn't make sense to me. That aside, it was somewhat amusing that Rin didn't act as if Archer were her Servant. If this is a "what if" post-Holy Grail War world, maybe Archer just came back for the fun since Rin basically lives at Shirou's house.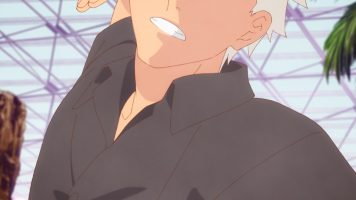 ufotable Rocks!
The animation studio ufotable did an amazing job with Fate/stay night: Unlimited Blade Works. And though Today's Menu for Emiya Family 07 is a different kind of series, the volleyball battle showed why ufotable are so good when it comes to animating battle sequences. And that just made the episode all that much more fun.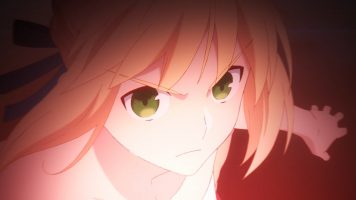 I was kinda hoping that Rider would replace Shirou to team up with Saber. I think that the volleyball battle could have been even more amazing had that happened.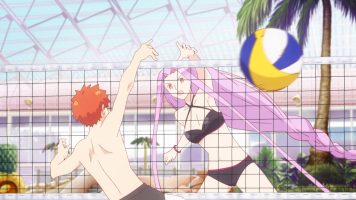 Final Thoughts and Conclusion
In the end, Today's Menu for Emiya Family 07 was a delightful and hilarious episode.