Today's Menu for Emiya Family 08
Emiya-san Chi no Kyou no Gohan 08
衛宮さんちの今日のごはん 08

SPOILER Summary/Synopsis
At the Tohsaka residence, Shirou helps Rin clean her basement and sort her books and such. Rin has a pile of papers for Shirou to take upstairs to her room. Because the Tohsaka residence is a mansion, Shirou has a hard time finding Rin's room. However, he finds Sakura cleaning in Rin's bedroom.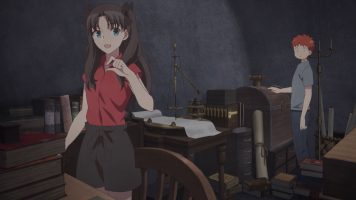 After looking over some of the things in Rin's room, the clock chimes noon. Rin comes up from the basement and announces she'll make lunch. Sakura volunteers to help, which Rin agrees to. Rin decides to make pork fried rice. Since Sakura has never made Chinese food, she asks Rin to teach her how to make it. Rin agrees.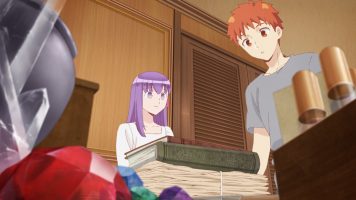 Shirou continues cleaning while the sisters make lunch. They decide to serve it in the drawing room of the mansion. Shirou enters and takes a seat. As they eat, Sakura tells Shirou that she wants him to try her first attempt at Chinese food. Further, she tells Rin that she'd love to learn more from her Nee-san. This causes Rin to heavily blush.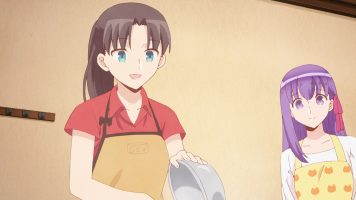 Thoughts/Review
This series has been quite a lovely gem, and Today's Menu for Emiya Family 08 was no exception to that.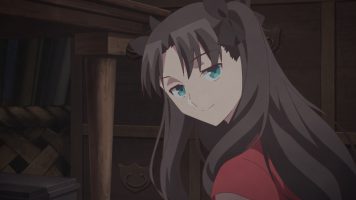 Tohsaka Residence
As I watched Today's Menu for Emiya Family 08, I couldn't help but feel a bit sad for Rin. She lives in that huge, old, Western-styled mansion all by herself. Although Archer has shown up in this series, the impression I get is that he doesn't actually live with her.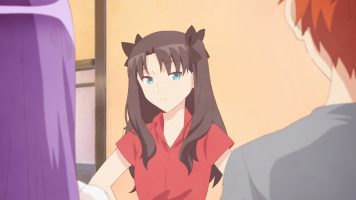 Still, it was nice seeing Sakura and Shirou over helping her organize and clean the place. I got a chuckle out of the two of them looking at Rin's letters and seeing one from the Clock Tower. It made me remember the ending of Fate/stay night: Unlimited Blade Works.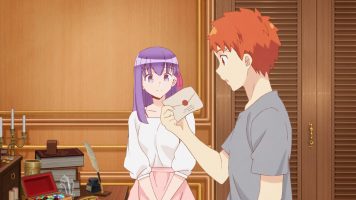 As an aside, I wonder why Rider wasn't with Sakura. Granted, this isn't the first time one or the other have been apart. But still, I couldn't help but notice Rider's  absence.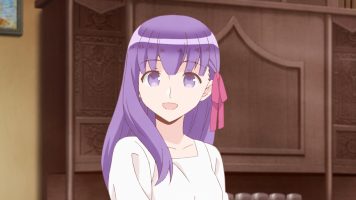 Sisters
One of the things I've loved about this series is the "what if…?" nature of it. As I've stated in other blog posts, Today's Menu for Emiya Family feels like the perfect end of Fate/stay night. And for Today's Menu for Emiya Family 08, we received a generous helping of that lovely perfection with Sakura and Rin. I loved seeing them working together and making pork fried rice.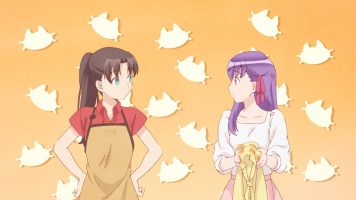 Of course the best part was at the end when Rin blushed at Sakura wanting to do more things with her older sister. I have to say, that was a lovely, awesome moment. 😍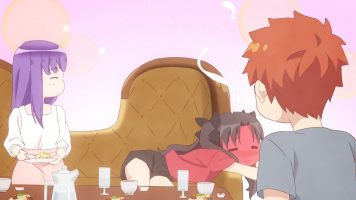 Final Thoughts and Conclusion
Let me wrap up my review with some final thoughts.
I used the word "drawing room" instead of "living room" because of the 19th century feel of the Tohsaka residence.
I knew there was a reason I liked Rin so much. Pork fried rice is my absolute favorite Chinese dish, at least as it is made in many American Chinese restaurants.
Speaking of Rin, I think ponytail Rin might be the best Rin. Just sayin'. 😉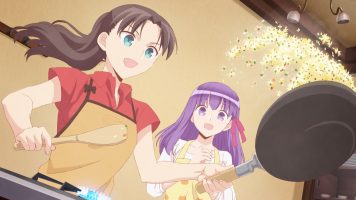 In the end Today's Menu for Emiya Family 08 was another delightful romp featuring my favorite sisters Rin and Sakura.