Azur Lane 10
アズールレーン episode 10
SPOILER Summary/Synopsis
Enterprise has a dream about the mystery ship-girl again when Belfast wakens her. Prince of Wales and Cleveland check in on the investigation of the Black Mental Cube. Meanwhile, Laffey, Javelin, Unicorn, and Ayanami are in a sauna. Ayanami gains her friend's support when she says she wants to save her people.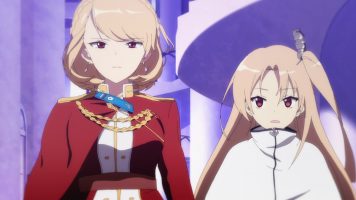 Over at the Sakura Empire, Nagato angers Kaga by freezing Project Orochi. The rest of the ship-girls discuss their weakened situation and concern over the Siren. Meanwhile, Kaga has a vision of Akagi fawning for Amagi. She also sees how Observer tempted Kaga. As such, Kaga vows to carry on Akagi's dream.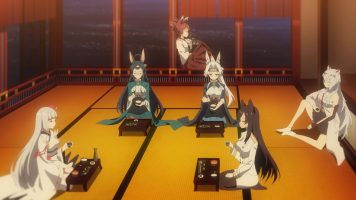 Back at Azur Lane, Enterprise also has another vision that leaves her unconscious. When she comes to, Belfast forces Enterprise to eat. As they chat in the mess hall, the base comes under attack by a Siren named Purifier. She steals the mental cube and is pursued by Belfast and other Royal ship-girls. Purifier decides to have some fun and counter-attack. Hornet and other ships join the fight. However, when Enterprise joins the fray, Purifier decides to go all out.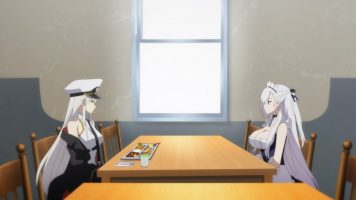 Elsewhere at the Sakura base, Prince Eugen is going to steal the secrets of Orochi. To her surprise, she witnesses Kaga steal the massive Siren fortress ship Orochi.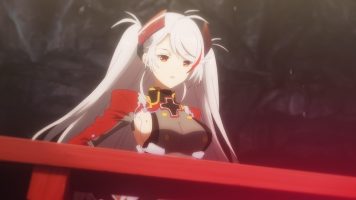 Thoughts/Review
Well, the stuff is getting real with Azur Lane 10. Sadly, the series is going on hiatus until March 2020, so we won't get a resolution until then.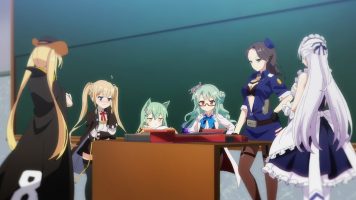 Sirens Become More Active
It is clear that everything going on has been due to Siren influence. For Azur Lane 10, We were introduced to the latest Siren on the block, Purifier. I think we've seen flashes of her before, like in the first episode.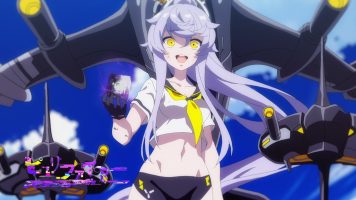 Nevertheless, this is the first direct attack by a Siren against Azur Lane. And Purifier attacked, walked in, stole the cube, and walked out. She only turned to engage Belfast's pursuit fleet to have fun. And she didn't even bother to go all out until Enterprise showed up.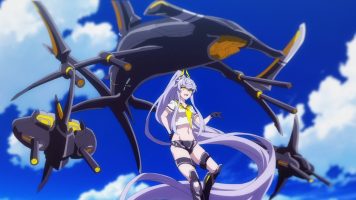 Enterprise Story
I know it is a common story trope for a tough character to attempt to work through their problems. In Azur Lane 10, Enterprise again does not tell anyone of her visions and such. That is frustrating enough. But it is also kinda frustrating that no one has forced Enterprise to talk more or undergo some kind of procedure. They all know something's up, but other than Belfast, no one does jack.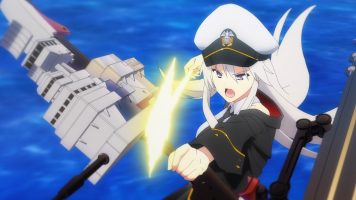 Speaking of Belfast, I did get a chuckle out of her basically dragging Enterprise to the chow hall.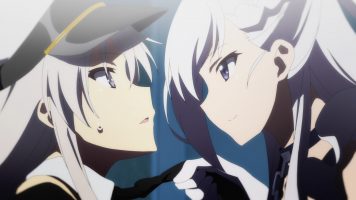 That aside, I suspect that the vision Enterprise has of the other girl is another version of Enterprise. The person looking like Amagi claimed to be the personification of Orochi. It is possible the other girl is another aspect of that as well.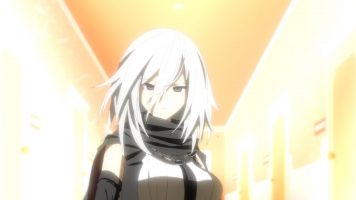 Ship-girl List
As usual, here's my list of ship-girls that I could identify from Azur Lane 10. I mainly focused on girls with speaking roles, but I did cite others I recognized (but not all). Let me know in the comments if I missed anyone.
Eagle Union: carriers Enterprise, Hornet; heavy cruiser Northampton; light carrier Langley; battleships Pennsylvania; light cruisers Cleveland, San Diego, Montpelier, Denver, Columbia, Helena; destroyers Laffey, Hammann;
Royal Navy: carriers Ark Royal; light carrier Unicorn; battleship Prince of Wales; heavy cruiser Norfolk; light cruisers Belfast, Sheffield, Edinburgh; destroyer Amazon, Javelin
Sakura Empire: carriers Kaga, Zuikaku, Shoukaku,Souryuu, Hiryuu; battleships Nagato, Mutsu, Hyuuga, Ise; battlecruiser Amagi; heavy cruiser Atago, Takao; light cruisers Naka, Sendai, Jintsuu; destroyers Ayanami, Kawakaze; repair ship Akashi.
Iron Blood: heavy cruiser Prinz Eugen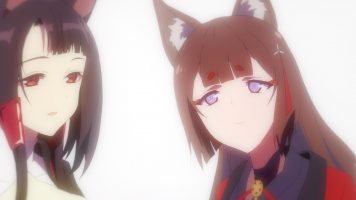 Final Thoughts and Conclusion
Let me wrap up my review of Azur Lane 10 with some final thoughts.
I liked seeing Ayanami join Javelin and Laffey in the fight against the Siren ships.
The Orochi ship is insanely huge. It would be a hard ship to sink for sure.
It was interesting seeing how the Sakura Empire were not only concerned how their weakened status would affect their alliance with Iron Blood. The Sakura are all pretty much concerned about Project Orochi.
What did happen to Amagi in the past?
I think this episode is the first time Enterprise has actually spoken to Hornet. It is clear that Hornet cares about her older sister, but they never speak or seek each other out.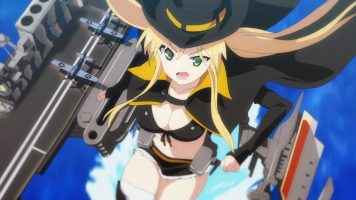 In the end, Azur Lane 10 was quite enjoyable for me. It is a shame that we'll have to wait until March 2020 to see more. But hopefully, it will be worth the wait.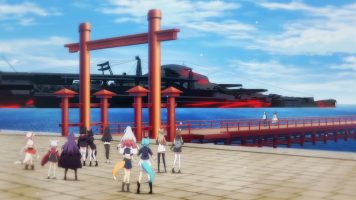 As an aside, I probably will try out the Azur Lane game and stream that sometime in the not too distant future. You can follow me on Twitch or subscribe to me on YouTube to watch that bit of loveliness. 😜