Today's Menu for Emiya Family 11
Emiya-san Chi no Kyou no Gohan 11
衛宮さんちの今日のごはん 11

SPOILER Summary/Synopsis
Rin is going shopping with Sakura. As such, she wants Archer to meet them at the park at noon. Archer arrives early, where he sees Lancer fail to recruit Shirou for something. Lancer manages to trick Archer into being a chef at the cafe Lancer is working at.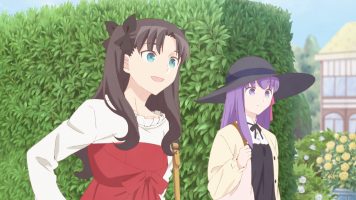 Meanwhile, Caster is on a date with Souichirou. The couple enter the cafe, where Caster is horrified to see Lancer working there. She's further distressed by seeing Archer working in the kitchen. However, Souichirou tells Caster that it doesn't matter where they are, as long as they are together. With that, Caster stays.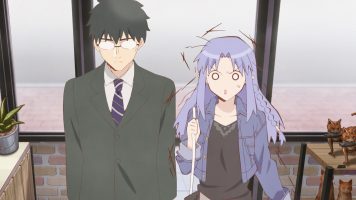 Saber shows up and is surprised to find Lancer and Archer working here. She orders the omurice and is very pleased with what Archer makes. Meanwhile, Rin enters in disguise to observe Archer work.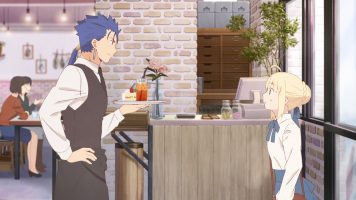 That evening, Saber excitedly speaks of Archer's omurice. This causes Shirou to decide to go all out on that night's meal.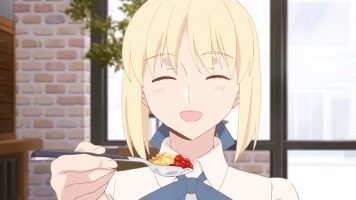 Thoughts/Review
The previous episode may not have been as good, but Today's Menu for Emiya Family 11 picks things back up with a fairly funny outing. Well, funny if you know the story of Fate/stay night and Shirou's relationship with Archer. 😂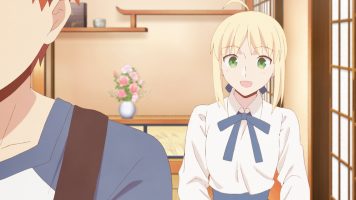 Lancer Makes Good Comedy
For the most part, the episodes featuring Lancer have been the funniest of the series. Today's Menu for Emiya Family 11 is no exception to that. I laughed out loud at how he used Archer's dislike of Shirou to trick him into working the kitchen at Lancer's cafe.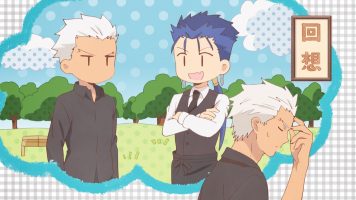 Caster's negative reaction to seeing Lancer (and Archer) made me laugh as well.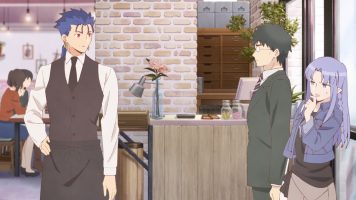 Finally, Saber's surprise at seeing Lancer work yet another job made me chuckle. That chuckle continued with me as Saber just rolled with things.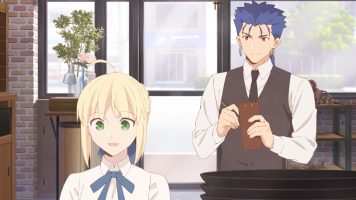 Final Thoughts and Conclusion
Since I'm so busy with FGO and work, let me wrap up my review of Today's Menu for Emiya Family 11.
Souichirou is a character I have never liked. However, I will admit that I liked how he treated Caster in the restaurant. No wonder she fell in love with the smegger.
While I cited Lancer earlier, Archer and Shirou provided some comedy moments as well. Of course, you need to know their history to get the jokes. 😂
Archer getting busted by Rin was also humorous. I guess he's still at her mansion in this "what if" world.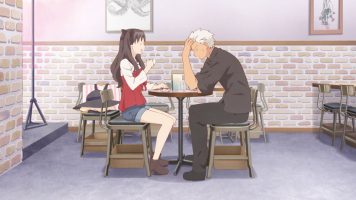 In the end, Today's Menu for Emiya Family 11 was another lovely romp into the "what if" world set after Fate/stay night.