ユーキューホルダー! 魔法先生 ネギま!2 Manga Review
UQ Holder! Mahou Sensei Negima 2
UQ Holder!: Magister Negi Magi! 2 Chapter 167
UQ Holder Chapter 167
SPOILER Summary/Synopsis: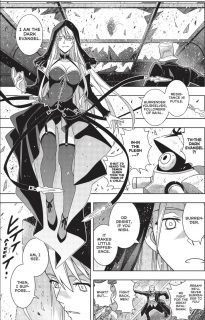 The Zero Dawn insurgent base comes under heavy attack. Initially, they think it is a fleet attack, but it is only UQ Holder. Great Paru-sama Mark II flies leads the charge. Gengorou mans its heavy machine gun while Jinbee uses his powers to attack the enemy monsters. The Great Paru-sama Mark II is escorted by Touta and Kuroumaru on one speeder bike and Karin on another. In addition, Santa and Ikkuu fly escort as well.
On the deck of another ship, Yukihime uses her Juculatio Grandinis spell to rain ice spears against Zero Dawn. However, the central core of the base is protected by an impenetrable barrier. Santa and Jinbee penetrate the barrier and fortress to take out the shield generator. Meanwhile, Zero Dawn dispatched the giant, Demon-God Soldiers to attack Great Paru-sama Mark II. Juuzou and Nikitis enter the fray and with Touta, they take out these giants.
Sept gets Yukihime in, where they puts the base on ice. Mana leads Yukihime to the magic circle that Ba'al used for travel.
The battle won, Yukihime has UQ Holder head for New Ostia for some downtime at the onsen resort theme park. In the girl's bath, they are surprised that Sept now has a large-breasted female form named Nanao Sepko. Yukihime returns to her Eva form to regenerate magic. She encourages Karin, Kirie, and Kuroumaru to go on a date with Touta since they have the time. Kirie attempts to turn it around on Eva.
Nanao has Eva enter a special bubble to enjoy an aquarium from the inside. She discovers lots of couples in other bubbles. Then her bubble bumps into one with Touta, and the two bubbles merge. Meanwhile, Karin, Kuroumaru, and Kirie are unhappy learning Nanao arranged this meeting between Touta and Eva.
Thoughts/Review:
And so UQ Holder Chapter 167 has a mix of action and fun, which kind of surprised me.
A New Enemy
Oddly enough, UQ Holder Chapter 167 dropped us immediately in the action at the start of the chapter. To be honest, the battle reminded me a lot of Avengers: Age of Ultron's opening battle sequence. That's not a bad thing as the fight was fun. And much like that Avenger's battle, our UQ Holder folks get to show off how much they can kick arse before running up against superior opposition. I liked that as well as seeing Eva unleashed (as Yukihime).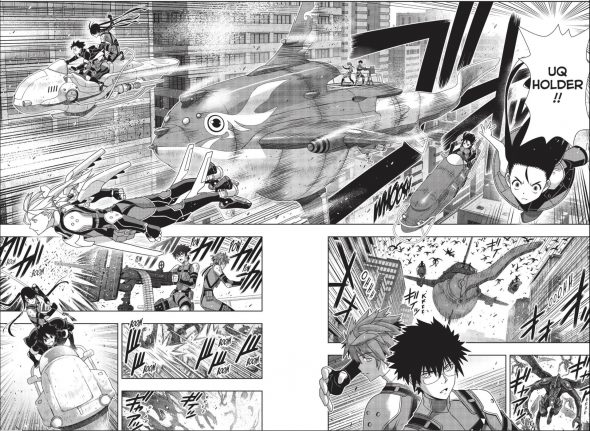 And everyone sans Mizore and Shinobu participated in the battle. It made sense to keep those two out of the fight since they are not trained warriors. So I liked that aspect. I do sorta hope Shinobu has been trained in some self defense though. know Mizore has been.
That aside, by dropping us cold into a mission like this, Zero Dawn comes out of nowhere. I don't remember this group being mentioned before. Further, I've no idea why Ba'al would need an army, considering how powerful he is. I suppose he is using an army because he's still regaining strength. But how'd he manage to do this in the first place?
More Fun Time
The surprising part of UQ Holder Chapter 167 was having more downtime after the initial battle. To be honest, I figured the previous chapter's hijinks would be the end of that kind of writing as Akamatsu-sensei winds down UQ Holder. But as long as the overall story isn't harmed, I don't mind.
We get our usual, ecchi onsen bath scenes 'cause that's what Akamatsu-sensei loves to do. And this is where Mizore and Shinobu got brought into the chapter. And of course, this is where Akamatsu-sensei can work on advancing the Touta Harem Project.
I know the chapter ended with Eva and Touta together. However, I really don't want Eva in Touta's harem. Leave her for Negi.
Sept
The weird element of UQ Holder Chapter 167 was Sept. As an entity, Sept can apparently change forms to be a man or woman. This felt more like Akamatsu-sensei just wanting to draw yet another female character with large breasts.
Regardless, Sept and Eva seem unusually close. Sept acted as her bodyguard during the intial fight. He also carried her into the Zero Dawn facility, which seemed odd to me. I'm not sure whey she needed a carry except maybe to make use of Sept's speed.
Final Thoughts and Conclusion
In the end, UQ Holder Chapter 167 was a fun chapter, including both action and onsen hijinks. Lets hope comiXology can be bothered to release next month's chapter on time.
So what were your thoughts on this chapter? Let me know in the comments. 😊