Fate/Grand Order (NA): 2020 Da Vinci Rerun Event!
Hey gang! I know a lot of you likely have zero interest in the Fate/Grand Order mobile game. And hey, I don't blame you. However, for those who are interested, I just made a new video. This time, I'm going over the 2020 Da Vinci Rerun Event, which should be dropping soon.
I do plan on streaming the entire event on YouTube and on Twitch. So even if you aren't a fan of the game, I'd love to have you come by and chill with me. Subscribe to me on YouTube to get a notification there, or follow me on Twitch for a notification there. And as usual, I'll send a blast from Twitter and Facebook as well.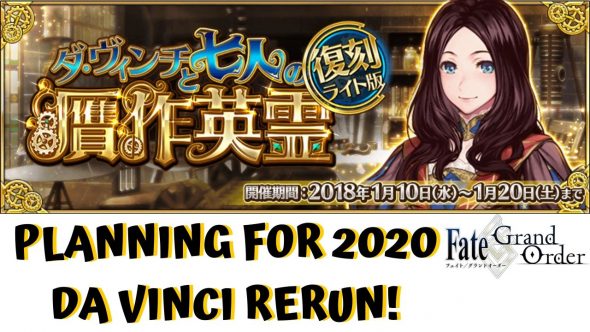 Lord willing, I'll have the next episode of Babylonia watched and blogged for Tuesday. Look forward to it! 😁