UQ Holder–New Bessatsu Shounen Magazine Cover
Hey gang. Kiba08 on Reddit posted the cover of what should be the February 2020 issue of Bessatsu Shounen Magazine. And if features the crew from UQ Holder. Here's a copy of the image.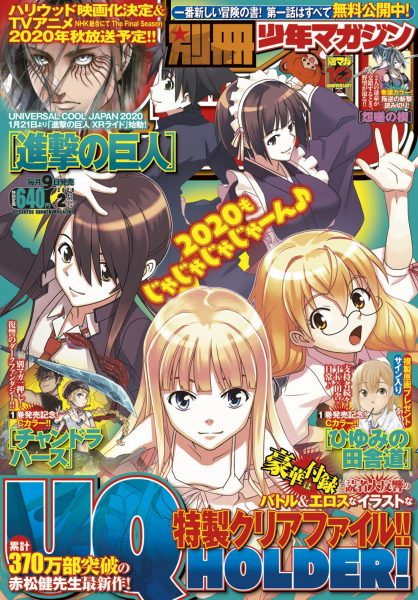 As some have noted, the artwork here doesn't really seem like Akamatsu-sensei's. Its not bad at all, but just doesn't seem like his normal art. It is possible he farmed this work out. I know he has more on his mind (copyright laws and such in Japan, for example) than UQ Holder.
The official Twitter feed for Bessatsu Shounen Magazine posted this originally.
【🎉2月号表紙】#別冊少年マガジン 2月号 1/8発売#進撃の巨人
ハリウッド!?
TVアニメ The Final Season!?#UQHOLDER
バトル&エロスな特製クリアファイル!#ひゆみの田舎道
サイン入り複製原画プレゼント!

お楽しみに😁 pic.twitter.com/OdjTIjqxYx

— 別冊少年マガジン【公式】 (@BETSUMAGAnews) December 30, 2019
Sadly, there are no UQ Holder spoilers out. I always look for them and I've of a mind to write a commentary piece on this topic in the future sometime. But, should some appear, I'll be sure to share. And as always, feel free to let me know if you find some before I can.