A Certain Scientific Railgun T 04
とある科学の超電磁砲T
SPOILER Summary/Synopsis
Mikoto wheels Kuroko around the food stands. Meanwhile, Saten finds a torn up event field that won't be used for a while. She calls Uiharu at the Judgement office to find out what Shadow metal is supposed to look like. They can't find anything, including the website Saten originally found. This leads her to believe a conspiracy is afoot. Mikoto and Kuroko arrive at the Judgement office. Uiharu teases her about conspirators taking her. Unfortunately, people in protective suits arrive on the field and confront Saten.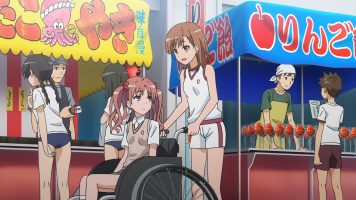 Kuroko teleports Mikoto and herself to the event site. Mikoto attacks, only to discover this is the cleaning crew. Their job is to clean up after events, including removal of esper DNA. Saten and Mikoto apologize and are let go. Kuroko tells Saten that the Shadow Metal rumors are likely cover for what folks are really after–esper DNA. Meanwhile, Uiharu uses her skills to find the original Shadow Metal website. However, she's paid a visit by someone. As such, when Mikoto, Kuroko, and Saten return, she reports she found nothing.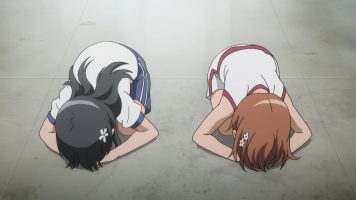 The next day, Wannai asks Mikoto about when she can get her uniform back. Mikoto realizes something must be up with Imouto. She discovers Imouto was taken by ambulance. Mikoto tracks the ambulance drivers who point her to a nearby hospital. She checks the hospital, but they have no record of an admittance for Imouto. Mikoto returns to confront the drivers. She checks the ambulance's GPS and finds they are lying. As she interrogates them, she realizes they may be under Misaki's influence.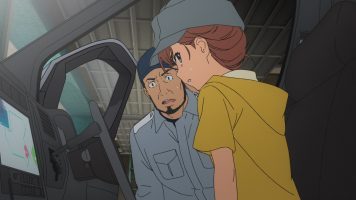 Elsewhere, Saten and Uiharu wheel Kuroko around for a Judgement patrol. Uiharu wheels them into a trap by Misaki. She proceeds to take their memories of Mikoto from them. Back at the ambulance parking garage, Watanabe-sensei is summoned to deal with Mikoto. Mikoto informs the head of her school that Misaki is abusing her powers, but can offer no proof. To Mikoto's chagrin, Watanabe-sensei turns her over to Misaki's faction. One of them establishes a telepathic link with her to prevent Mikoto from escaping.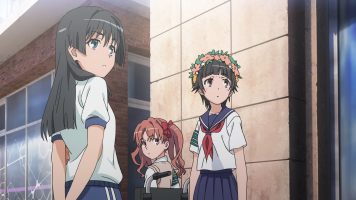 Mikoto sees her friends and goes to talk to them. She's horrified to find that they don't know her, even Kuroko. Mikoto's horror turns to rage and a desire to get back at Misaki.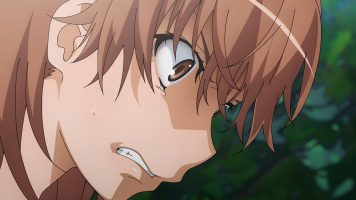 Thoughts/Review
And so things really begin to kick off plot-wise with A Certain Scientific Railgun T 04. This episode was adopted from the second half of chapter 47, all of chapter 48, and the first few pages of chapter 49 in the source manga. And from what I remember of the manga, good times are a coming.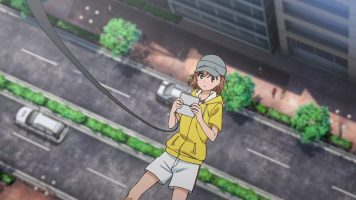 Misaki's Operation
One of my complaints about the previous episode was that Misaki's encounter with Mikoto didn't have a sinister element that the source manga had. I still say the anime adapters were wrong to remove this. I guess that in their minds, they wanted to delay the sinister aspect of Misaki's plans until A Certain Scientific Railgun T 04. The only reason to maybe do this is a sense of mystery. However, it was clear from early on that Misaki was the culprit.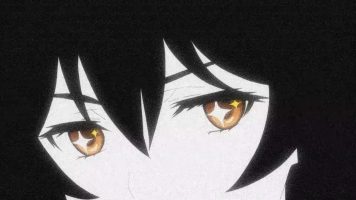 As such, that change doesn't make sense. If J.C. Staff had done this right, the suspense would have been here from early on. And Misaki's encounter with Mikoto in episode 3 would make Misaki look even more villainous and evil than she does at present.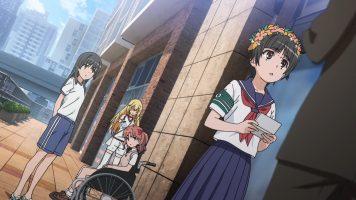 So the real question is what is Misaki up to that she'd choose now to target Mikoto?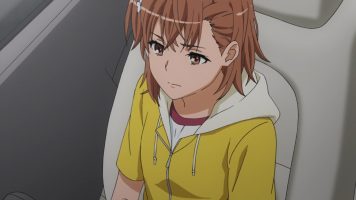 Telepathy and Mental Out
When I originally read volume 8 of the source manga, I didn't think about the fact that one of Misaki's faction could easily establish a telepathic link with Mikoto. However, as I watched A Certain Scientific Railgun T 04, it immediately struck me as something that maybe shouldn't happen.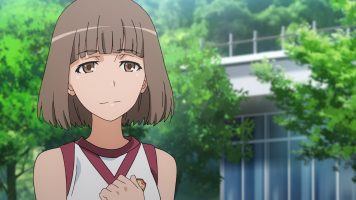 I say this because Misaki has her Mental Out ability, to which Mikoto is immune. Granted, it isn't a telepathic skill, but she can manipulate minds with a mental ability. And telepathy is a mental ability. So in my mind, anyone attempting to mentally reach into Mikoto's mind should be blocked. But if you know more about the Railgun/Index lore, you can let me know in the comments why Mikoto is immune to Mental Out, but not telepathy.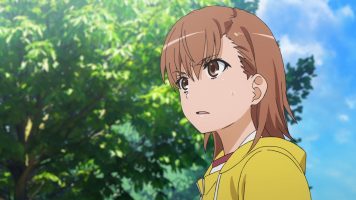 Final Thoughts and Conclusion
Since I'm behind, let me go ahead and wrap up my review of A Certain Scientific Railgun T 04 with some final thoughts.
FUNimation's subtitles are still the same rubbish.
I'm glad J.C. Staff were fairy faithful to the source material in adapting this episode.
Is Shadow Metal real or was Kuroko right about it being a cover rumor?
Even though I've seen Misaki's Mental Out power in action, what she does in this episode really makes it even more impressive to me. Manipulating so many people over such a wide area is most impressive.
Whenever is see Junko on screen, I'm reminded that I still need to read A Certain Scientific Railgun: Astral Buddy. 😅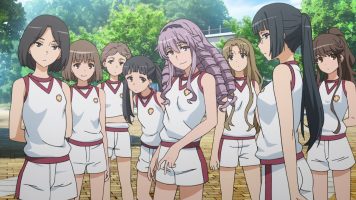 In the end, A Certain Scientific Railgun T 04 was a very enjoyable episode. Other than the FUNimation aspect of the subtitles, I'm pleased with this series so far.