Fate/Grand Order Absolute Demonic Front: Babylonia 17
#FGO_ep7 #FGOBabylonia
Fate/Grand Order -絶対魔獣戦線バビロニア- Episode 17
Fate/Grand Order: Zettai Majū Sensen Babylonia ep. 17
SPOILER Summary/Synopsis
Ritsuka, Mash, Istar, and Quetzalcoatl head offshore to deal with Tiamat. She fends them off by singing a note. As such, Ristuka uses a Command Spell to supply Ishtar with the energy needed to fire off her Nobel Phantasm. Initially, it appears to work as Dr. Romani sees no energy from Tiamat. However, the energy levels return and the giant, true form of Tiamat rises from the sea.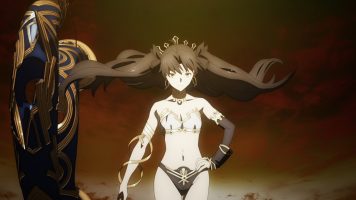 Quetzalcoatl advises them to retreat to Uruk, which is now down to 500 people. She states that at their current power level, they cannot even scratch Tiamat. Ritsuka and company are joined by Jaguar Man for a meeting with Gilgamesh. He is unhappy with Romani for not having a solution. Since they need everyone dead to defeat Tiamat, Ritsuka has an idea that Gilgamesh has already reach.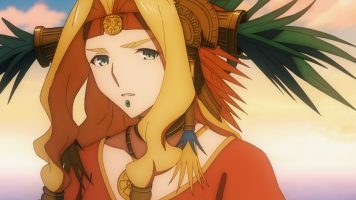 Ereshkigal makes an announcement, so Gilgamesh summons a portal so they can communicate with her. She agrees to move the entrance to the underworld to Uruk so that Tiamat can be sent there. She needs three days and Tiamat arrives in two. Gilgamesh wants Ishtar to use her the Bull of Heaven, Gugalanna, to delay Tiamat. Ishtar is eventually forced to admit that she's lost her Divine Beast.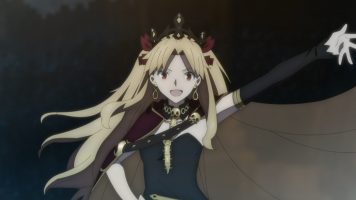 After punishing Ishtar, Gilgamesh calls for a break in the War Council, vowing they won't give up.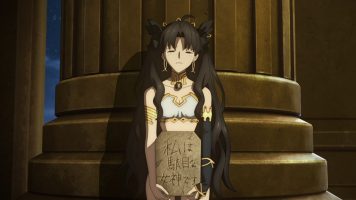 Thoughts/Review
I have to say that Fate/Grand Order Absolute Demonic Front: Babylonia 17 was a rather enjoyable episode. And despite the dire consequences, we even get a moment to pause and have a laugh.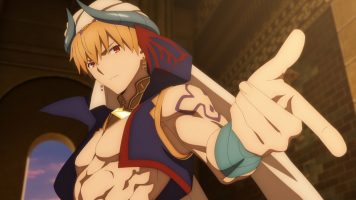 Tiamat
The humanoid-sized Tiamat always looked a bit too cute and such to be a visually credible threat. She never looked that cute in the game. 😅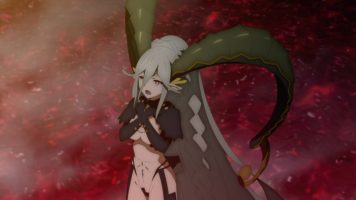 That aside, at least our band of heroes didn't take her lightly. I was happy to see Ishtar finally use her Nobel Phantasm on Tiamat, though in the end, it did no good.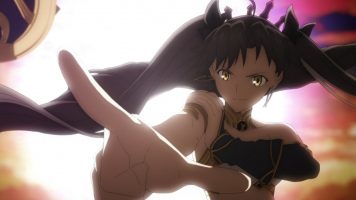 So now we have the giant Tiamat. And we now have a disconnect in the story. We are told that Tiamat is so powerful, she could nuke Uruk from her current location. And yet  because "plot", she's not going to slaughter all of Uruk now. No, she's going to take two days to travel to Uruk.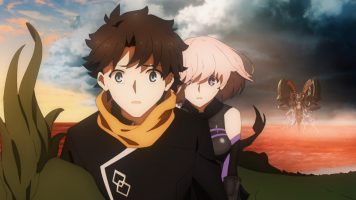 Final Thoughts and Conclusion
Let me wrap up my review of Fate/Grand Order Absolute Demonic Front: Babylonia 17 with some final thoughts.
I'm glad that Jaguar Man returned in this episode. Unfortunately, we didn't get an explanation for her being missing before.
The CGI graphics for Tiamat's true form seemed out of place.
I never read the story in the FGO game, so I don't know what happened with Gugalanna. I know there was an event for this beast, but again, I didn't read the story there. Still, it was funny that Ishtar was made to hold a stone tablet with text denoting her worthlessness as punishment for losing the Divine Beast.
I also got a chuckle out of Ishtar keeping her back to Ereshkigal during the group's chat with her.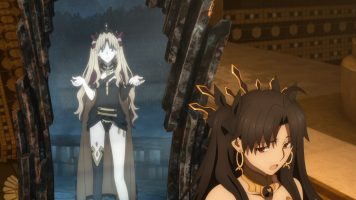 In the end, Fate/Grand Order Absolute Demonic Front: Babylonia 17 was a rather enjoyable episode.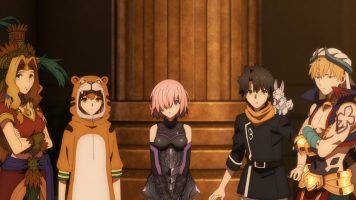 Note: For those interested, I do have some videos on YouTube created for the Fate/Grand Order mobile game. I'm looking to hit 1000 subscribers on YouTube, so click this link to help me reach my goal. 😁