The Story of a Terrifying Hitman and a Little Girl
恐ろしい殺し屋と暮らすことになった少女の話
恐ろしい殺し屋と拾われた少女
The Terrifying Hitman and The Little Girl He Took in
As a fan of Rimukoro-sensei's The Helpful Kitsune Senko-san manga, it was only natural that I read is Twitter doujinshi work, The Story of a Terrifying Hitman and a Little Girl.
The Story
The basic story tells how an unnamed hitman finds and rescued an orphaned, captive little girl. The first four chapters are the hitman getting used to now having a little girl to care for. Chapters 5 has a major time skip, where the little girl is now either a teenager or a young adult. The doujinshi manga never makes this clear.
From chapter 5 through ending chapter 10, this older girl is in a father-daughter relationship with the hitman. Further, she has learned skills so that she becomes his partner. And while there's no sexual component, one gets the feeling that she will stay with her Papa until the end of time.
Short Chapters
Because this is a Twitter doujinshi work, all of the chapters, save chapter 1 and chapter 6, are four pages long. The first chapter is eight pages, and chapter 6 is only three pages long.
Because the chapters are so short, and the series is so short, there's not much Rimukoro-sensei can do with things. This is a shame because although the story of a hitman (or samurai, or Mandalorian bounty hunter) taking in a child isn't a new one, it is still an interesting one.
I'm not sure why Rimukoro-sensei ended The Story of a Terrifying Hitman and a Little Girl so quickly. Maybe his work on The Helpful Kitsune Senko-san takes too much of his free time. Or maybe his thoughts for a series about a hitman and a little girl didn't produce as many ideas as Sensei thought it would.
As such, although this series is a cute one, it never lives up to its full potential. Nevertheless, should Idori Comics license it, I would buy it.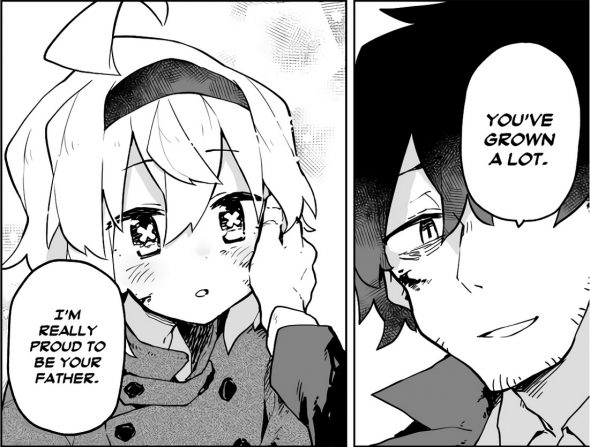 Final Thoughts and Conclusion
In the end, The Story of a Terrifying Hitman and a Little Girl is a cute and fun little series. However, it ends too soon and thus leaves not entirely satisfying. But maybe Sensei will come back to this series at some point.