A Certain Scientific Railgun T 08
とある科学の超電磁砲T
SPOILER Summary/Synopsis
Mikoto gets confirmation on Misaki's involvement in recent events. She leaves her mom in Kuroko's and Saten's care, even though they don't remember her. Meanwhile, Misaki waits for Mikoto's arrival. She recalls how she saved Imouto with her associate, Keitz Nokleben. Misaki assures Mikoto that Imouto is safe and OK, despite being infected with the nano device.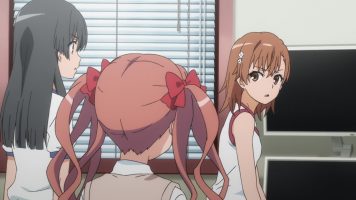 Elsewhere at the 177th Judgement office, Saten worries about things. Kuroko does her best to assure Saten. Uiharu wakes up, so Kuroko tells her the truth of her possession. However, she displays her faith in Uiharu to continue the research Kuroko started. Meanwhile, Mikoto realizes that Misaki isn't working with the people who attacked her mom and friends.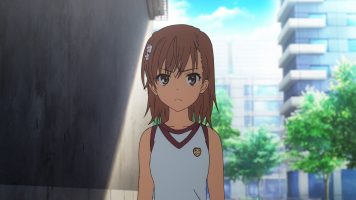 As such, Misaki briefs Mikoto on the situation and its link to the Level Six Shift project. Further, Misaki lets Mikoto know that they are going Kihara Gensei, the person ultimately responsible for the project. Misaki is reluctant to have Mikoto as an ally since Mikoto's power blocks Misaki's Mental Out. However, she decides to allow Mikoto to come along.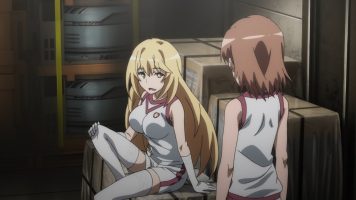 When they arrive at their destination, Mikoto takes off. She soon realizes she's alone. As such, she thinks Misaki has set her up. However, an out of shape Misaki staggers up. The two start bickering and decide to split up. Meanwhile, Kihara takes a call from KOUZAKU Mitori, the girl who attacked Mikoto, Mikoto's mom, and Mikoto's friends.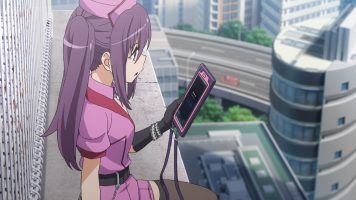 Thoughts/Review
After a week off, I'm glad to be back in the fun of things with A Certain Scientific Railgun T 08.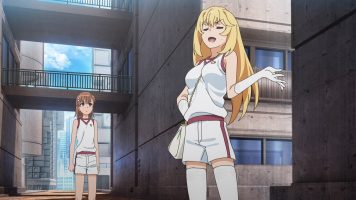 Differences from the Source Manga
Chapters 55, parts of chapter 56, and parts of chapter 57 were used in the making of A Certain Scientific Railgun T 08. However, there were a few minor changes to an otherwise accurate adaptation.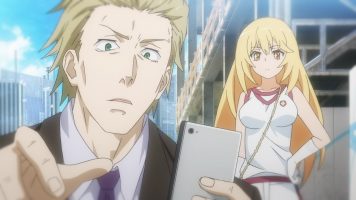 For a start, when Misaki has her flashback while waiting for Mikoto, she actually sees Mikoto first in the manga. This is a relatively minor change. I suppose the anime version gives Misaki a reason for recalling events rather than it just being a flashback moment.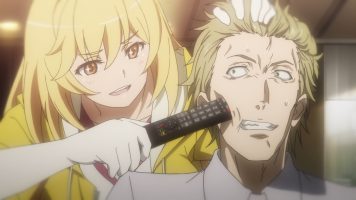 All of the material with Kuroko, Saten, and Uiharu (after Mikoto left) came from the later parts of chapter 56 and the extracted parts of chapter 57. I guess that J.C. Staff wanted to delay Mikoto's and Misaki's action until the next episode. In terms of story flow, this shifting of material does nothing negative…yet.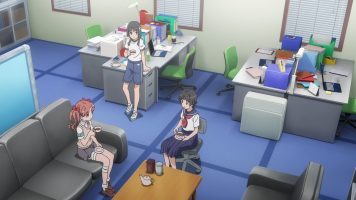 Misaki and Mikoto Alliance
One thing I really loved in this story arc is that Mikoto tries to maintain control over her emotions even when she's angry at what's happened to her mom and friends. When she takes off to deal with Misaki, one wouldn't have been surprised if she attacked first and asked questions later. But that wasn't what she did. Though she did attack later.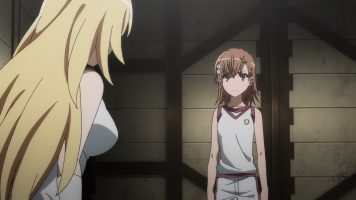 Instead, Mikoto had already reasoned things out. She didn't have all the pieces, hence why she had questions for Misaki. However, she understood that the folks who'd attacked her friends and her mom where the same ones Misaki was after. And so she agrees to work with Misaki, howbeit separately.
For Misaki's part, I can't help but think there are sentimental reasons behind her decision to cause Mikoto's friend's to have their memories of Mikoto blocked. But, I'll say no more there.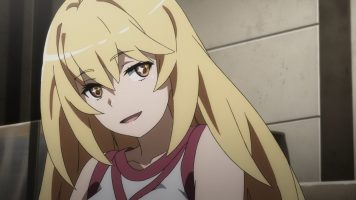 I like how the story fleshes out Misaki's reasons for doing everything she's done. And I like how we get an explanation of my she has difficulty trusting Mikoto. Misaki's Mental Out ability allows her to read people's minds and control them. But, since Mikoto is immune to Mental Out, Misaki cannot blindly take a leap of faith. She can only rely on Mikoto's desire to help her friends and Imouto.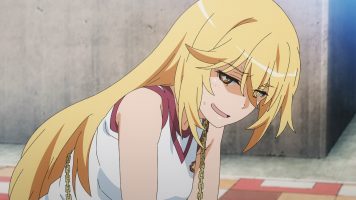 Finally, I understand why my Twitter timeline was filled with pictures of Misaki being grabbed by the shirt to reveal underboob. And this where Mikoto loses her emotional control.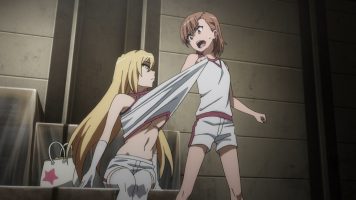 Final Thoughts and Conclusion
In the end, A Certain Scientific Railgun T 08 was an enjoyable episode. It's fun is enhanced by two rivals being forced to work together, at least to a degree.