Lord El-Melloi II's Case Files {Rail Zeppelin} Grace note 10
Lord El-Melloi II's Case Files 10
ロード・エルメロイⅡ世の事件簿 -魔眼蒐集列車 Grace note- 10
SPOILER Summary/Synopsis
Waver has a dream that he's a student in Kayneth's class. However, Kayneth challenges him about his current situation and desires to be in the 5th Holy Grail War. Meanwhile, Gray and Hephaestion have taken shelter from the blizzard and have a fire lit. Hephaestion sees much of herself in Gray, even if Gray's Noble Phantasm weapon and lineage are from a distant, powerful entity.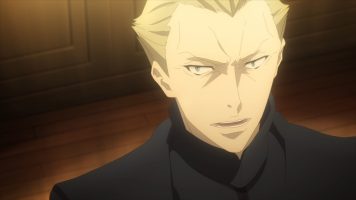 Meanwhile, Luvia and Kairi visit Mary Lil Fargo, a friend of Trisha's. Mary reveals that Olga's father abandoned her seven years ago to research the Holy Grail War. Trisha's investigation was to learn what Lord Animusphere discovered. Back at Rail Zeppelin, the train has resumed. Gray uses Add's shield form to sled to the train. Once inside, Adashino shows up and invites Gray, Caules, and Mervin to a meeting.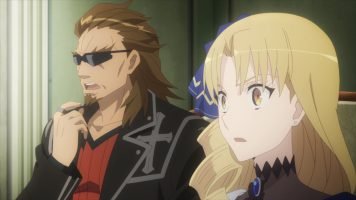 Most of the surviving passengers on the train gather for the meeting. Adashino reveals that her department and the Church covered up the seven beheadings that happened years earlier. Further, Karbo was an investigator back then, and his past-seeing Mystic Eyes couldn't help him. And Trisha's future-seeing Mystic Eyes couldn't protect her. However, she did have foresight to cast a spell so that when she was beheaded, her head would go into Imaginary space. And thus the head spoke one last word–Karbo.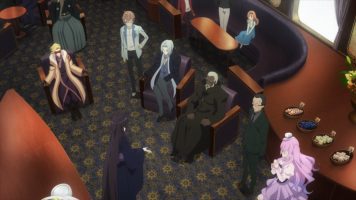 Adashino lays out a strong circumstantial case against Karabo. However, Waver is wheeled in by Gray. He challenges Adashino's conclusions. However, the deputy manager of the train appears to take Karbo's Mystic Eyes for the auction. Karbo is bound, but put into Waver's room on the train. Since Karbo couldn't control his Mystic Eyes, Waver isn't sure if he can trust him. However, Waver is determined to solve the case.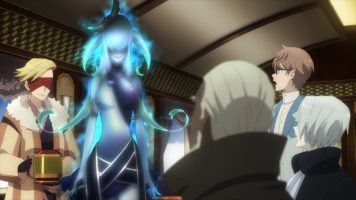 Thoughts/Review
I have to say, I think something must have been cut from the start of Lord El-Melloi II's Case Files 10. But the episode was still an enjoyable one, if a bit gruesome.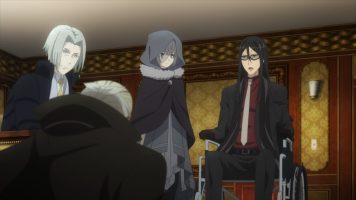 Battle Over
When episode 9 ended, Gray and Hephaestion were launching attacks at each other. So I have no clue as to what transpired that would cause them to stop fighting. Further, it appears that Hephaestion saved Gray's life. However, the circumstances of that are lost to us. And then Hephaestion apparently lit a fire in a cave with a stream in it so that she and Gray could take shelter from the blizzard. 🤨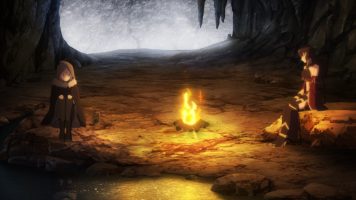 While I appreciate the little chat Hephaestion and Gray had in Lord El-Melloi II's Case Files 10, it doesn't make sense to me. Yes, I get that Hephaestion respects Gray. She senses Gray's Nobel Phantasm and lineage (though whether she knows it is to King Arthur or not is unknown). She respects Gray as a warrior. But it seems to me that if Hephaestion is a Servant, she probably should have killed Gray to complete her mission.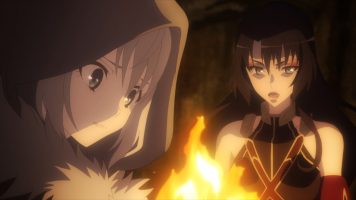 Gray's Wish
One thing the conversation between Gray and Hephaestion revealed was Gray's wish. She wants to help Waver get into the 5th Holy Grail War. Of course, that is his desire as well. And I can understand someone wanting to help another reach their dream. And Waver wants to be in the Holy Grail War just to be with Iskandar again.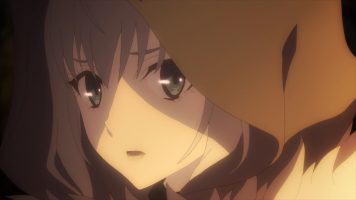 Still, I couldn't help but feel a little sad for Gray. As powerful as she may be, she has the burden of Artoria (the true King Arthur in the Fate/stay night universe).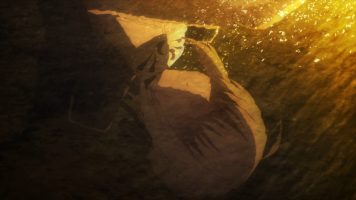 Murder Mystery
We continue with the murder mystery that remains a mystery. Adashino built a strong, circumstantial case against Karbo. Then conveniently, his Mystic Eyes are removed (rather gruesomely) right when he could use them to help uncover the truth. 🙄  That makes Adashino a total jerk. But it is in line with her character. She's not interested in discovering the truth. She just wants an arrest for her resume.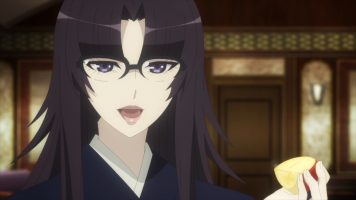 As to Trisha, it is interesting that though she apparently couldn't see who was going to kill her with her Mystic Eyes, she did have foresight to have her head sent to basically subspace. Maybe she also did things in a way so that Olga would find her head. Poor Olga.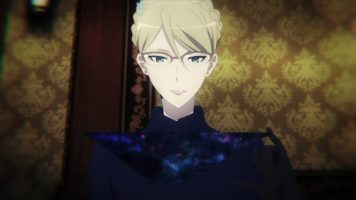 Final Thoughts and Conclusion
As usual, I'm short on time. So let me wrap up my review of Lord El-Melloi II's Case Files 10 with some final thoughts.
I liked seeing the Kayneth cameo in this episode, even if only for a dream.
Luvia and Kairi still only get cameos for their investigation. However, I do like the fact that the Holy Grail War came up again when they questioned Mary.
Who is this "man without a heart" that Mary mentioned?
Man, Olga can't catch a break. Trisha was her guardian, and she was brutally murdered. Before that, Olga's father abandoned her to research the Holy Grail War.
Also, I think it was jacked up that Adashino had Olga bring in Trisha's head in a box for her big "I'm solving this mystery" event. As I said, poor Olga.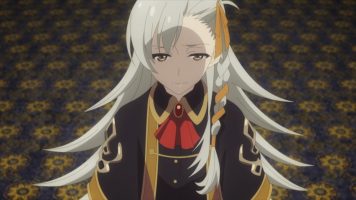 In the end, Lord El-Melloi II's Case Files 10 is a very enjoyable episode, even if I have no clue who is behind all of this mess that's going on.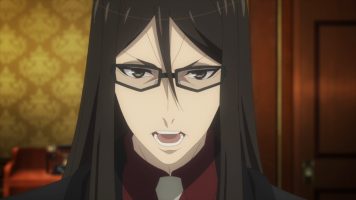 Self promotion! Follow me on Twitter to see me ramble about other stuff. 😁