A Certain Scientific Railgun T 12
とある科学の超電磁砲T
SPOILER Summary/Synopsis
Mikoto evolves further and fires a ranged attack that sends Gunha flying into a building. Meanwhile, Misaki figures Gensei needs her for Exterior's limiter release code and tracks his movements. Elsewhere, Kuroko disables Mitori's liquid metal doll's ability to "see" and "hear".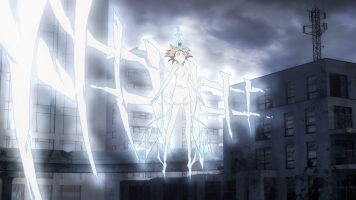 Back with Misaki, her attempt to trap Gensei failed due to his use of Level Upper, giving him Multiskill access. Misaki uses the building's communication system to ask Gensei why he's doing this. He concedes that only Accelerator can reach a stable Level 6. They need Exterior to keep Mikoto grounded as she transforms into a higher dimensional being. And in the end, Academy City will be destroyed for the advancement of science.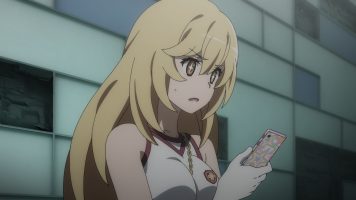 As they talk, Gensei opens a hole in the wall with Multiskill and traps Misaki. He uses Multiskill remove air from her, which will allow him to get past her mental defenses. However, discovering that Gunha and Touma are battling Mikoto causes him to become excited and distracted. Misaki escapes and plans her next move.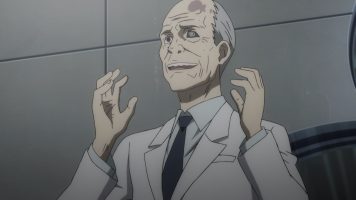 Meanwhile, Saten and Uiharu find both Mitori and her metal doll. The doll quickly catches up to her. However, Kuroko's tricks to disable it do not phase it. Kuroko takes damage, but figures Mitori is in the building and saw her. As that happens, Misaki surprises Gensei by confronting him. She springs a trap on him, but he easily overcomes it. She springs a second trap on him, but he overcomes that as well. He again uses his powers to suffocate her, then uses his Mental Out to get the codes from Misaki.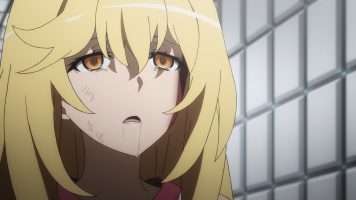 Thoughts/Review
Welp, it is time for Misaki and Kuroko to have their day in A Certain Scientific Railgun T 12.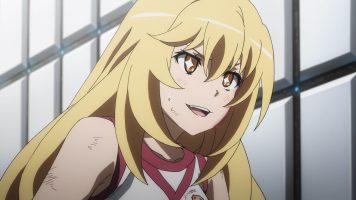 Changes to the Source Manga
This episode was adapted from the remaining parts of chapter 64 and a big chunk of chapter 65. Aside from the shifts caused by the anime sometimes having grabbed ahead for one storyline or the other,  A Certain Scientific Railgun T 12 mostly adapts things accurately. We did miss some minor things such as Gunha's thoughts after Mikoto's upgraded attack. But nothing significant.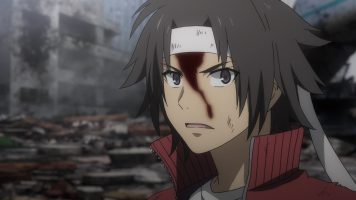 When it came to the manga, I didn't realize Kuroko was planting some kind of sticky devices everywhere. I only noticed one panel in the manga where one is shown being planted. I guess I just kind of glazed over that when I read the manga. Another manga panel displayed one on the wall. However, I didn't realize Kuroko planted it. And I don't even remember what they are. 😅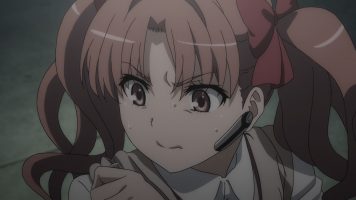 Liking Misaki
One thing this arc does for me is make me like Misaki as a character. A Certain Scientific Railgun T 12 shows us that she has a first class mind. She really did her homework in preparing the security of the facility just to protect Exterior. But as she's learning, sometimes the best laid plans don't work out.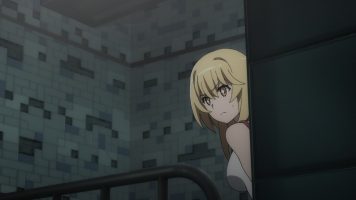 Still, it is fun seeing Misaki being pushed to the limit here. And that nutter Gensei is just the one to do it.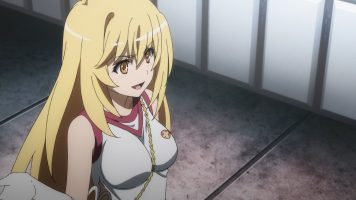 Final Thoughts and Conclusion
As always, I'm behind and need to wrap up my review of A Certain Scientific Railgun T 12 with some final thoughts.
The anime certainly gives more gravitas to Mikoto's evolution. And certainly, her attack on Gunha was more impactful in the anime.
I spoke earlier of liking Misaki's first class mind. But Kuroko has one too, as evidenced in this episode. Of course, that doesn't mean one will be perfect, which is why Kuroko got injured. But Kuroko's deductions and shortcomings all felt natural.
Speaking of Kuroko, she provided the episode's only moment of levity. She had a moment of anger over her body getting damaged when she's saving it for marriage. 😂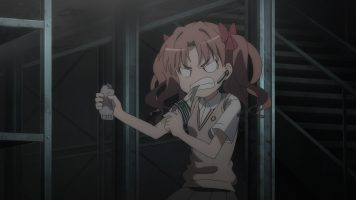 In the end, A Certain Scientific Railgun T 12 was a good, action-packed, fast-paced, and highly enjoyable episode.