My Monster Secret Volume 15 Manga Review
Jitsu wa Watashi wa/実は私は 15
My Monster Secret: "Actually, I am…" 15
–> Buy My Monster Secret Volume 15 from Amazon.com
It is always good to get back into the world of My Monster Secret. And with all of the insanity in the world today, it is nice having something to get a laugh, or at the very least, a smile.
NOTICE!!! In the interest of full disclosure, I should mention that I am the adapter for the official English translation of the True Tenchi Muyo! novels, which are also published by Seven Seas.
* * * S P O I L E R S * * *
The Story, in Brief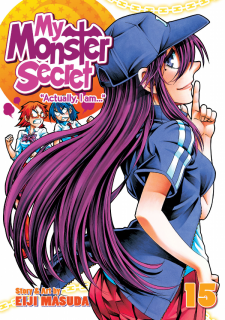 Things get started in My Monster Secret Volume 15 with Shiho desperately attempting to change the future so that she doesn't end up with Shimada. While doing this, Shiro accidentally transforms into Shirou in front of Mikan and Nagisa. The three go to a family restaurant to discuss their secrets.
Meanwhile, Shiho wants to go to the local fireworks show despite knowing this is what causes her to eventually marry Shimada. Shiho gets permission from Youko to confess her feelings to Asahi. At the festival's fireworks show, Shiho decides she really is in love with Asahi. She eventually confesses, then decides that maybe she should give into fate and date Shimada. However, she's stunned when he tells her he's not interested.
Shirou and Asahi are hanging out and discover Akari-sensei might be playing the Magical Akalyn (Akarin) role for kids. Sometime later, Asahi and Youko go to the beach and find Akane being forced to work one of the food stalls. Youko's parents and Karen observe from a distance. That evening, Akane insures Youko and Asahi can't catch the last bus home. The two decide to have some fun with fireworks, then make out.
Youko gets carried away and bites Asahi. Akane shows up and takes them back to school. There, she reveals that vampire blood sucking is a sexual act. After having fun teasing Youko, Akane warns Asahi that Youko is transforming into a total vampire. As such, she might end up like her father. Further, vampire hunters will be out for Youko. Asahi races out to find vampire hunter KIRYUIN Sen, looking like a male version of Rin, proposing to Youko. Sen also has a dire warning for Asahi.
Shiho's Tale
One of the interesting things about My Monster Secret Volume 15 is that is kinda shifted into serial storytelling. Yes, there were individual chapters telling "x" or "y", but this volume had chapters flowing into each other. It's not as if previous volumes didn't do this to some degree or other. Its just that this volume did it throughout.
That said, things get started, picking up right where the previous volume left off–Shiho. On one hand, Shiho has feelings for Asahi. On the other, she's been told that she marries Shimada, the scuzziest guy at their school. And naturally, this has her all confused. However, I liked how she too asked Youko's permission to confess to Asahi. And she already knows Asahi isn't leaving Youko. This is all for Shiho's peace of mind.
I'm glad that Shiho, Mikan, and Nagisa all know each other's secrets. It has been a bit frustrating that some know certain secrets but not others. So it is awesome that this element is all cleared up.
Shiho x Shimada
Finally, the whole Shiho x Shimada thing had me laughing out loud. If you don't know, a hot babe who is used to getting guys looking at her will become interested in a guy, even one who's not a guy she'd thought she'd go for, if said guy isn't phased by her. That's a personal challenge to the girl and one she must rectify. And during the rectifying process, she may actually become attracted to said guy.
That's what's Shiho is now pursuing Shimada at the end of her story arc in My Monster Secret Volume 15. When Shimada chases everything remotely female, yet won't pursue her, comedy is going to happen. I really hope we see more of this. And I'm cool with them being married in future.
Youko x Asahi
Youko and Asahi's romance took an unexpected turn in My Monster Secret Volume 15. Well, I say unexpected, but I had noticed something up with Youko of late. That aside, her vampire aspects came to light in a big way when she took a bite into Asahi's shoulder. And for a moment, she had lost herself and wasn't in control. It is also implied that something similar happened with Youko's father, leading him to become the giant he is today.
While Akane gets her usual comedic trolling here, she also gives Asahi a warning. While I don't believe something bad will ultimately happen to Youko, I do think that the journey could get rough.
Finally, the character KIRYUIN Sen is introduced to the manga. I think he had a cameo last volume, but was unnamed. But he is apparently a vampire hunter, only his job is to marry a vampire, not slay them. 😂 That was funny, but even Sen had a dire warning for Asahi regarding Youko now growing as a vampire. And I gather that Sen would kill Youko if she turned into a monster.
So yeah, the hints of something serious took a definite turn in that direction.
Final Thoughts and Conclusion
Let me wrap up my review of My Monster Secret Volume 15 with some final thoughts.
As I had mentioned, Akane did a fair amount of trolling in this episode. As such, the comedy elements were pretty high. But the best bit was when she was forced to work the food stand at the beach.
Further to that, there were a lot of comedy moments from Shiho's story. So the comedy in this volume is excellent.
Speaking of Shiho, it was cool that Shirou got some love too. Well, that and a beating from Akari-sensei. 😂
In the end, My Monster Secret Volume 15 was a very good volume. There were lots of laughs to be had, but there's also more plot and a serious undertone building. It will be interesting seeing where this goes.