Fruits Basket Season 2 07
フルーツバスケット S2 07
Furuba (2019) S2 episode 07
Story Summary/Synopsis
Hiro gets the news from his mom that she is pregnant. Tohru and Kisa congratulate him. Shigure reveals himself and asks Tohru on a date. This annoyed Kyo and Yuki, who have returned with Haru and Momiji from the store. The group, sans Shigure, return to the house to enjoy the watermelons purchased at the store. Tohru is excited and starts to tell a tale about her mom and her trying to smash watermelons. However, she cuts herself off after remembering Hiro's words to her on her mom.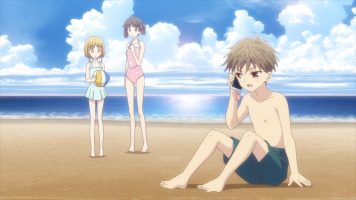 Later, Hiro, Kisa, and Momiji fall asleep in the house, so Tohru covers them. Yuki goes for a walk. Kyo talks with Tohru. He sensed that she was holding back on talking about her mom. She recounts a story where her mom attempted to smash a watermelon and destroyed a pot and the shrine to her deceased husband. Tohru inquires about Kyo's family and learns that he's estranged from his dad and that his mom is dead.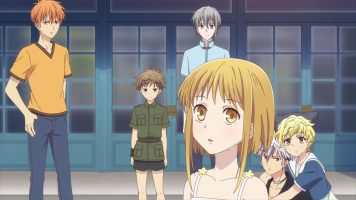 Shigure shows up and says that Akito has arrived and wants to see everyone, sans Kyo and Tohru. At the guesthouse, Hatori arrives to have words with Shigure. They pay their respects to Akita, who's with Kureno. Akito sends Kureno away as Akito doesn't want the other zodiac to see him. Then Akito goes to greet the other zodiac, save Yuki, who's still out for a walk.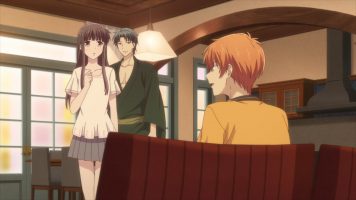 Kyo and Tohru have pancakes. Tohru is worried about the others and heads out. She encounters Yuki, who chats with her. They watch shooting stars as Yuki continues to speak, recalling his encounter with Tohru as a child.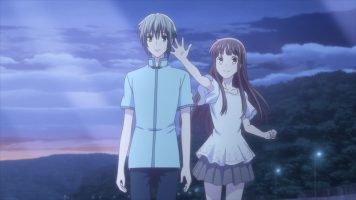 Thoughts/Review
Work has had me insanely busy, so I've not had the time to work on anime reviews like I'd like. (They take way longer for some reason.) But after getting a ton of sleep on Tuesday, I was finally able to watch Fruits Basket Season 2 07. And thankfully, we are back to a mostly good adaptation.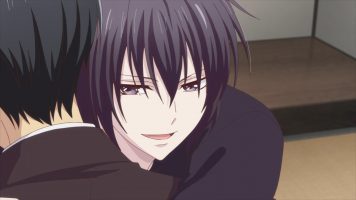 Changes to the Source Material
The way TMS jumps all over the place in the narrative, it really is difficult to keep track where the smeg they are going to cherry pick story elements from the source manga. But for Fruits Basket Season 2 07, the story starts with a bit from chapter 59, then drops back to chapter 58 before returning to 59.
Hiro and Kisa's conversation regarding his mom's pregnancy is cut.
Tohru educating Kyo a bit on her pancakes is cut.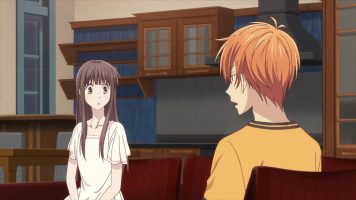 No doubt, those two moments were cut for time constraints. Those would be moments to be put into the DVD/BD release of the anime. Thankfully, no other scrambling of the story was done.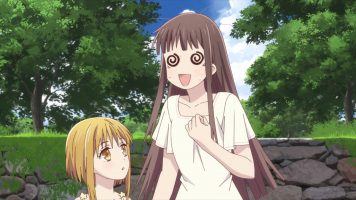 Skipping Haru's Story
I promise I won't spoil anything for those who've not read the manga. That said, I'm somewhat torn on whether or not I like that the story before Hatori comes to the beach house is being skipped. I suspect TMS will put it back, but the events of that story impact Hatori's experiences at the beach house in Fruits Basket Season 2 07. Well, at least they do to me.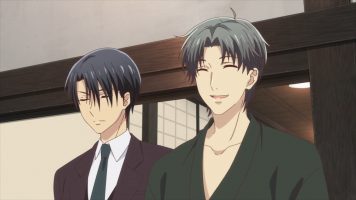 As I see it, what happened to Hatori prior to his arrival at the beach house are partly why he sought out Shigure. And it also plays a role in why Hatori doesn't get angry with Shigure for Shigure's scheming. I kinda get why TMS wanted to skip it as they wanted to stay with the beach house action. The skipped story almost plays like a side-story. BUT, it is a crucial story for Hatori.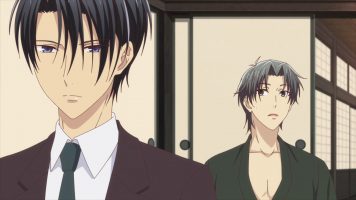 Assuming TMS does adapt the story (and I can't see how they could skip it), we'll see if they can have it be meaningful or just the facts of the event.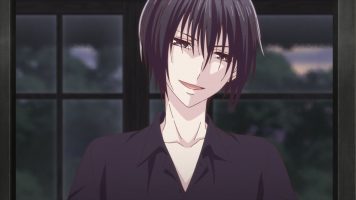 Subtitle Issues
Ugh. The official subtitles are such a mess. Believe it or not, I'm not even going to complain about "Oneechan" being "Big Sister", but "XXX-neechan" being acceptable. No, in the case of Fruits Basket Season 2 07, we get something mind b0gglingly whacked in the subtitles.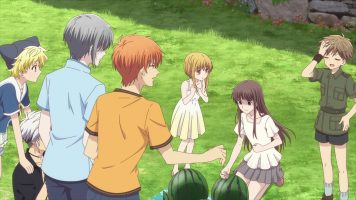 The character Hiro transforms into a sheep in this series. He's not a goat, nor could he be mistaken for a goat. Further to that, when the group discuss Hiro's mom and her acceptance of her cursed child, the Japanese word for "goat" is not used. The word for "sheep" is used.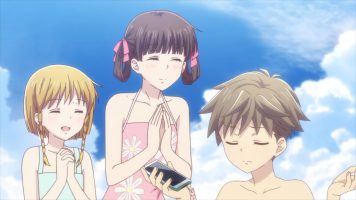 Yet for some unearthly reason, the awesomely awesome localized subtitles decide that "sheep" should be "goat" 'cause "reasons!" This is why I despise it when adaptations don't go for accurate but readable subtitles. Don't rewrite things 'cause "reasons."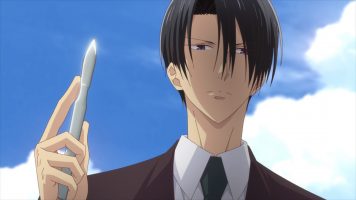 Final Thoughts and Conclusion
In the end, Fruits Basket Season 2 07 was a pretty good adaptation of the source material. Outside of a couple of scene cuts for time, it was spot-on, which is always going to please me.