My Monster Secret Volume 20 Manga Review
Jitsu wa Watashi wa/実は私は 20
My Monster Secret: "Actually, I am…" 20
–> Buy My Monster Secret Volume 20 from Amazon.com
The world is just stupid at the moment. As such, I have enjoyed the belly laughs provided from the My Monster Secret series. While My Monster Secret Volume 20 doesn't have many laughs, it did have amazing plot.
NOTICE!!! In the interest of full disclosure, I should mention that I am the adapter for the official English translation of the True Tenchi Muyo! novels, which are also published by Seven Seas.
* * * SPOILERS * * *
The Story, in Brief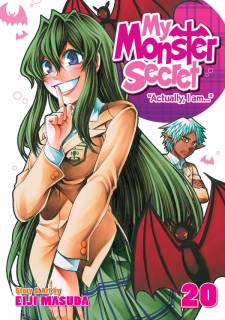 Things get started in My Monster Secret Volume 20 with Mikan confronting Asahi over her belief that Youko is a vampire. Asahi demands Genjirou tell him what happened to him in the past. Akane has Rin take her and Asahi to the past. There, Asahi meets the teenage Genjirou and Touko. He learns that Touko's maiden name is the alias Genjirou uses in the preset in his female teacher guise.
Past Akane agrees with Akane to let Asahi pose as a transfer student. Asahi starts getting used to the notion of being in the classroom of his girlfriend's parents when the principle (Shirayuki) confronts him. Initially, she acts normal, but reveals she is a yukionna youkai. However, she eventually shows her true, evil colors to Asahi as she waits for the day for Genjirou to lose control.
Asahi befriends Genjirou, Touko, and their friends. However, on the day that Genjirou's secret is revealed, Asahi is unable to prevent it. Genjirou attacked Touko and drew her blood in a loss of control. Because the human students, sans Touko, were horrified by him, Genjirou is filled with despair, turning into a large monster. Akane has Asahi witness her past self try to intervene and be attacked. Further, Past Akane appears to kill Principle Shirayuki.
Akane has Rin return them to the present. Future Nagisa tells Asahi that the past cannot be changed, but the future can be. Further, she and Rin share the info that Youko disappears in the future and that Asahi married no one. Future Asahi was left with an orphaned vampire daughter, created from Youko drinking Asahi's blood. She is Rin's mother.
Asahi vows to change the present. Meanwhile, Shirayuki shows up and attacks Akane.
Backstory Time
Wow. I had been wanting to see Genjirou's and Touko's backstory for a while. I didn't expect that My Monster Secret Volume 20 would actually show that story, but have Asahi witness it first hand. On one hand, Akane sent them back in time because it amused her to do so. (And I got a kick out of her past self going along with her future self's scheme because she also found it amusing.) And that is typical Akane trolling.
But Akane also wanted Asahi to truly understand how important his keeping secrets was. It is one thing to tell someone about something. That will have some impact. It is another to have someone actually witness something first hand. Asahi didn't actually witness Genjirou "attack" Touko. (I say "attack" because Touko was seriously injured by Genjirou's apparent bite.) But he did witness the immediate aftermath, and thus he now knows all too well what could happen to Youko should her secret get out.
While I loved how Masuda-sensei presented this backstory via time travel, I do wish we knew how Touko discovered Genjirou's secret. I'd guess it was a similar situation to how Asahi discovered Youko's secret. And maybe Touko fell in love with Genjirou for the same reason Asahi fell for Youko in spite of knowing their intended was a vampire.
Also, I liked how the normally childish Akane comes off as very mature in her chat with Asahi after they return to the present. Despite Akane's great age and wisdom, Shirayuki fooled Akane. And she didn't really understand vampire nature with Genjirou. But she does now, which is why despite her trolling, it is clear she's been shepherding Asahi and Youko.
Final Thoughts and Conclusion
I really could write a lot more, but I'm way behind so I need to wrap up my review of My Monster Secret Volume 20 with some final thoughts.
Masuda-sensei has finally established his rules for time travel. Someone from the present cannot change the past. But someone from the present can change the future. There's still a paradox issue here which cannot be avoided unless Sensei adopts the multiple timeline theory. That's the only way this works.
I didn't expect that the whole reason that Rin and Future Nagisa came to the past was because of Youko being missing. The implication is that she turned monster and fled.
I believe this volume marks the first time we see Future Akane, howbeit via flashback. I'm guessing after she delivered Rin's mom to Asahi, she disappeared, possibly to keep Youko company.
Speaking of Rin's mom, I didn't expect Rin to be part vampire hunter, part vampire, and part human. Maybe that's why she doesn't appear to have fangs or have other vampire traits. And it probably also explains why Akane has difficulty reading her.
Finally, I didn't expect to see Shirayuki return in the present. I guess Akane of the past didn't kill her. I don't think she's slain Akane, but I could be wrong. My reasoning is that Shirayuki seems to be the type to want to gloat. Since Shirayuki has known Akane for hundreds of years (or more), she may know how to seal Akane away.
In the end, My Monster Secret Volume 20 was an amazing volume. The humor elements were all but swept aside in favor of an incredible plot.