Princess Connect! Re:Dive 08
プリンセスコネクト!Re:Dive episode 08
SPOILER Summary/Synopsis:
Kokkoro writes a letter home, talking about the Gourmet Guild's recent quest adventures. Currently, the guild is helping plant some rice. Karyl complains that Pecorine only picks quests with food rewards. She wants a quest with more substantial rewards. Karyl then recalls her recent report to her queen and Karyl's assignment to observe and report on Yuuki.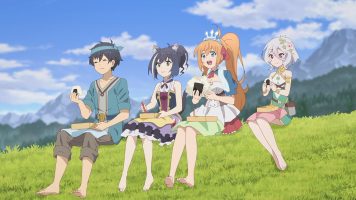 Back in the city, the members of Gourmet Guild are looking for a quest. Yuuki finds one where the quest giver is looking for a master to train them. The guild hall lady, Karen, says that quest is unofficial and attempts to remove it. Yuuki keeps it. Outside the guild hall, the girls of Little Lyrical put on an act to stop Gourmet Guild. They were the ones looking for a master. When they tell Karyl their reason for making a guild is to help others, Pecorine, Karyl, and Kokkoro feel guilty for having selfish motives.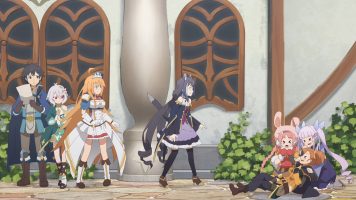 As such, Gourmet Guild agrees to help the unofficial Little Lyrical. They stage a quest and send Yuuki with Little Lyrical to complete it. However, Yuuki has no sense of direction and leads them the wrong way. Kokkoro, Pecorine, and Karyl try to get Yuuki reoriented, but he goes in the wrong direction again. Pecorine dresses as a monster to scare Little Lyrical into the right direction and gets a surprise defeat.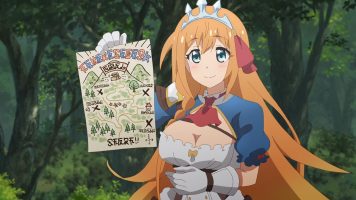 Yuuki and Little Lyrical continue into more dangerous areas, forcing Karyl and Kokkoro to help them in secret. Pecorine, who's trapped in her monster suit, warns they are heading to a monster bird nest. Sure enough, the bird grabs Yuuki. The little girls give chase, but are defeated. Karyl is out of magic and Kokkoro can do nothing. However, Pecorine manages to score some food from a nearby pack and defeat the bird monster.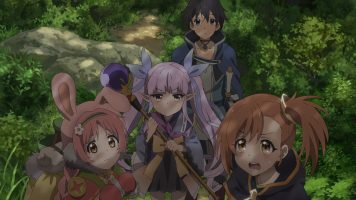 When Misogi, Mimi, and the elf Kyouka, they think they've somehow defeated the monster. Karyl allows them to believe this. Pecorine offers one of the eggs as a prize. It hatches and the chick bonds with the girls of Little Lyrical. Sometime later, Gourmet Guild are again helping plant rice. However, Little Lyrical and their giant bird chick are helping by having the chick eat all the bugs and such.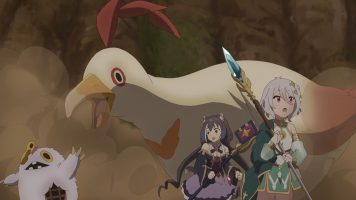 Thoughts/Review:
It always sucks when real life interferes with my fun. However, as I write this, I'm in a hotel room, far away from the worries of work. As such, it is time to finally get back to anime with a look at Princess Connect! Re:Dive 08.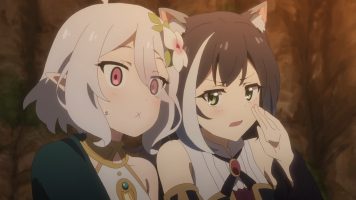 Little Lyrical
I rather enjoyed seeing Misogi, Mimi, and the elf Kyouka return in Princess Connect! Re:Dive 08. I can understand why Little Lyrical is only an unofficial guild. All three girls are very young. Indeed, I wonder where their parents are. I guess they have no school to attend? Or maybe school was just on break.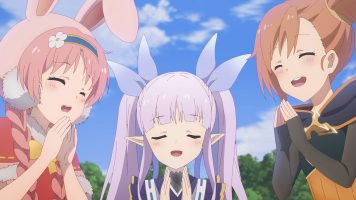 But that aside, their little adventure was fun to watch. I did chuckle at how they defeated Pecorine. I actually expected the girls to pull together and actually defeat the bird monster at the end. That's the typical resolution to these kinds of stories. Instead, the girls are defeated and the "big girls" have to step in and save the day.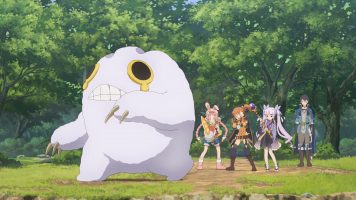 It is interesting that Kyouka did figure out that Pecorine, Karyl, and Kokkoro were involved behind the scenes for Little Lyrical's quest.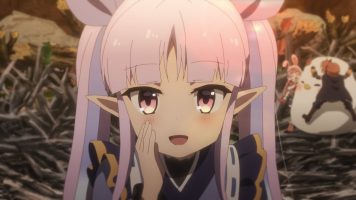 Finally, yay for the monster bird chick bonding with the girls of Little Lyrical. Haha. Imagine when the bird grows up and the girls of Little Lyrical grow up. They could be quite a powerful little  guild.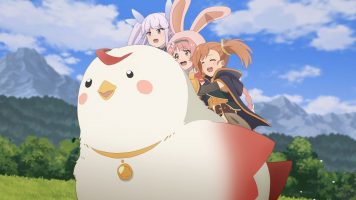 Final Thoughts and Conclusion
I need to wrap things up, so here are some final thoughts I have about Princess Connect! Re:Dive 08.
I feel bad for Karyl. She's trapped by her queen's apparent dark intentions regarding Pecorine and Yuuki. And yet despite herself, she's bonding with Pecorine, Yuuki, and Kokkoro. What is her queen planning?
I don't like that Yuuki continues to be dumb. Initially, I was OK with it since there was some trauma he experienced in battle before Ameth returned him to the world. While I'm still OK with him not having his memories, I am kinda weary of him just being dumb. If he was a competent warrior before, that should come back to play now. The dumbness just isn't funny to me, more so since we have an apparent time skip in this episode.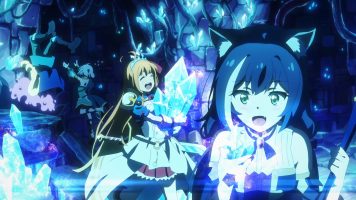 In the end, Princess Connect! Re:Dive 08 was a fun little episode for what it was. The main plot was touched, but not explored, which was a bummer.