ユーキューホルダー! 魔法先生 ネギま!2 Manga Review
UQ Holder! Mahou Sensei Negima 2
UQ Holder!: Magister Negi Magi! 2 Chapter 175
UQ Holder Chapter 175
SPOILER Summary/Synopsis: 
Touta crashes to Nigeria, naked and missing his right arm. A space elevator tower is nearby and in ruins. Further, Touta has no memories. Four months later, Touta is working on the construction team that is rebuilding the Nigerian tower. He goes to bed with a nagging sense of urgency. He has memory dream flashes of the past that wakes him up with his memories restored.
Touta recounts the events of the past, where he trained with Dana and Yukihime for 72 days. He's able to pass their test, so Kirie breaks the time loop and the group gets ready to depart. Santa discovers some research from Sayoko, which he hands to Yukihime. On Earth, a new disease is breaking out that is causing people to go into a trance or coma. However, UQ Holder decide to leave it to Earth officials and head to the space elevator tower.
Mizore and Shinobu see Touta off. He renews his promise to go to college with them, causing consternation with his battle harem. After a 3-day trip, the group make it to the East Asia Geostationary Orbit Station, where a massive fleet has gathered. Yukihime lets them know that they have two weeks of classes on space travel and combat in space.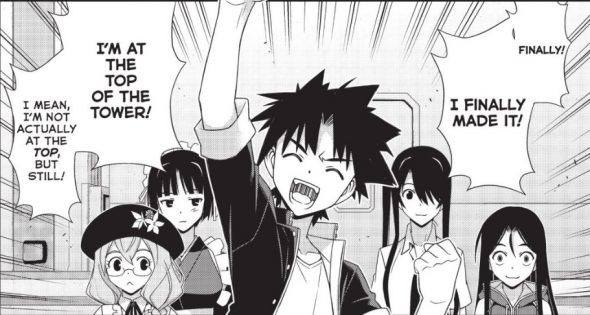 UQ Holder is met by a large group from Inverse Mars, who throw a party for them. During the party, Touta joined Kirie and Kuroumaru. They notice a light glint in the distance, soon followed by an explosion on the geostationary orbit ring. Kirie passes out with suspected poisoning. The explosions rip the station apart.
Thoughts/Review:
Well, the advertised, plot twist, time jump happened in UQ Holder Chapter 175, but I suspect the reason could be a logical one.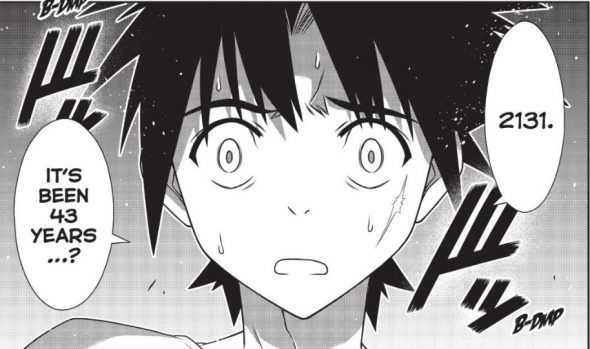 Training
Akamatsu-sensei gave us a glimpse of the intense training Touta went through in UQ Holder Chapter 175. And frankly, that was all that was needed. Even if Akamatsu-sensei weren't ending UQ Holder sooner rather than later, we didn't need a lengthy number of pages dedicated to Touta and the others training.
What I didn't get was how Kurobo could turn into Asuna's sword, Ensis Exorcizans. I don't remember Touta having this power, but I'll admit, my memory isn't what it was. So if one of you know, let me know.
Time Jump
We knew from the spoilers of UQ Holder Chapter 175 that there would be a time jump. I have a couple of theories on this. The first theory is that it took Touta 43 years to fall from orbit and land on Earth. That makes a logical sense. Touta is immortal, and he did fall from the sky, so that fits. And Touta mentioned he'd never really talk with Shinobu and Mizore again. They may have died in the destruction of the space elevator system.
The only problem with this theory is why the Mage of the Beginning hasn't done her thing and finished off Earth. Also, 43 years seems a long time for rebuilding work on Earth to not have made much progress. Even considering a global destruction of the entire space elevator system, one would think more progress would have been made.
Theory 2 is that maybe Touta is in a kind of Cosmo Entelecheia fantasy realm. True, CE usually creates a pleasant world, but Touta is whacked, so his tower dream could have created this. Further, Kirie wasn't resetting time. Granted, she was knocked out, but on death, she resets time.
I only cite CE because of the news reports of folks going into comas. I suspect those people were shifted to CE. But I could easily be wrong.
Final Thoughts and Conclusion
Let me wrap up my review of UQ Holder Chapter 175 with some final thoughts.
What was in the Sayoko research that Santa found?
Why was Touta missing his arm (assuming this is the real world)?
Where the two leaders from Inverse Mars the same ones from Negima!?
We got confirmation that there are at least 132 parallel worlds, not just the three mentioned in Negima!.
Kuroumaru does make a lovely girl.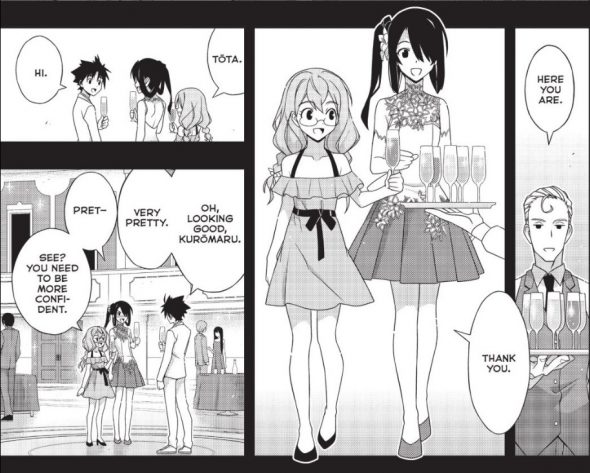 In the end, UQ Holder Chapter 175 took an unexpected plot twist. And it wasn't as bad as I thought. But there are still a lot of unanswered questions.