"Lupin III THE FIRST" Movie Review
ルパン三世 THE FIRST
I love the Lupin III franchise. Sure, some of the entries are rubbish, but some are quite good. With Lupin III THE FIRST, the shift from 2D animation to 3D animation really caught my eye. So naturally, I had to give this a look-see.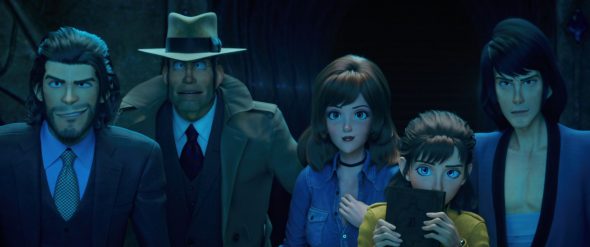 The Story (SPOILERS!)
In France during World War II, an archaeologist professor named Bresson gives his unique diary to his adult kid and spouse to keep it from the Nazis. However, a Nazi group named Ahnenerbe kills the parents, but not their child. The diary goes missing.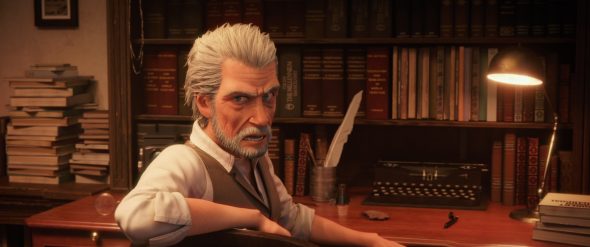 Years later (early 1960s), the found diary is shown at an exhibition. Lupin shows up to steal it, but is thwarted by a young, female security officer. However, she too is trying to steal the diary. Fujiko steals it from the young woman, named Laetitia, who has to report her failing to her grandfather. Lupin finds Laetitia's residence and has a chat with her. She gets instructions to bring Lupin and his key to her grandfather. As such, she agrees to team up with Lupin.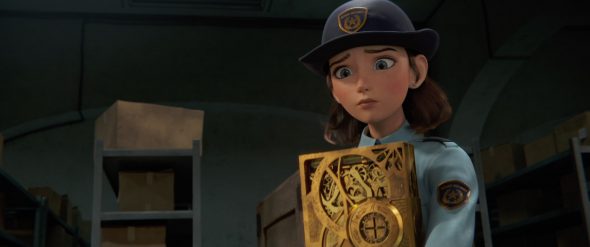 Fujiko delivers the diary to Ahnenerbe, which Laetitia's grandfather Lambert is the chief researcher. However, they discover Fujiko's attempt to spy on them and imprison her. Meanwhile, Laetitia brings Lupin to a spot where a giant, 6-propeller sea plane lands. Lupin is captured, but reveals he knew this was a trap. Fujiko uses Lupin's capture as a means of escape in a biplane. She later rescues Lupin and Laetitia when they are forced off the sea plane.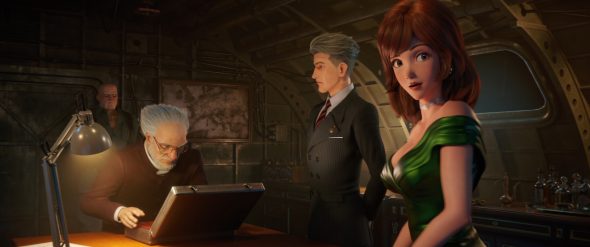 Jigen and Goemon have rescue the trio when Fujiko's plane gets shot down. Since they are stranded in the desert, Lupin summons Zenigata. They steal Zenigata's ICPO Chinook helicopter, but Zenigata manages to get back on board. He agrees to help Lupin after learning of the Nazi involvement. With that, the group head out to find Eclipse, a power generator left by an advanced civilization that is talked about in Bresson's diary.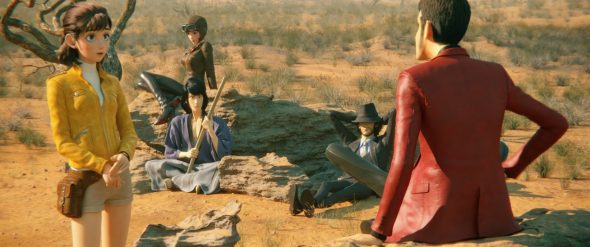 Lupin's party solves the puzzles to reach Eclipse, but Lambert and Ahnenerbe's leader Gerard come in and take it along with Laetitia. Lupin and company manage to shoot down Ahnenerbe's sea plane, but Eclipse causes crystals to form and provides anti-gravity for the plane. Lambert reveals Eclipse can be used as a weapon to create micro black holes, then demonstrates its use.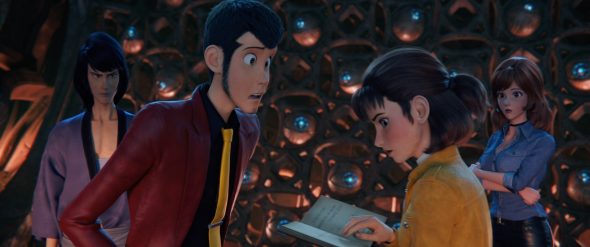 Lambert decides he doesn't need Ahnenerbe anymore, leading to Gerard giving him a beating. Laetitia tries to save her adoptive grandfather, so Gerard attempts to shoot her. Lambert takes the bullet. Gerard gets a message from Hilter, who's holed up in South America. As such, Gerard flies to the Ahnenerbe to give the elderly Hilter an explanation of Eclipse.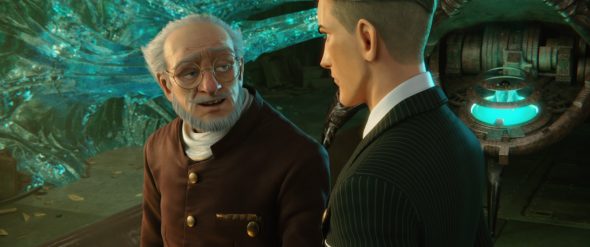 Hitler uses Eclipse's anti-gravity to fly the damaged seaplane away from the base. However, Hitler makes a mistake and is revealed to be Lupin in disguise. Lupin and Lambert fight, but Lupin is able to have Eclipse set off a micro black hole in the plane, destroying it and Lambert. Lupin returns to base using an anti-gravity sphere from Eclipse. He gives it to Laetitia as the Ahnenerbe had been under Zenigata's control when Lambert arrived.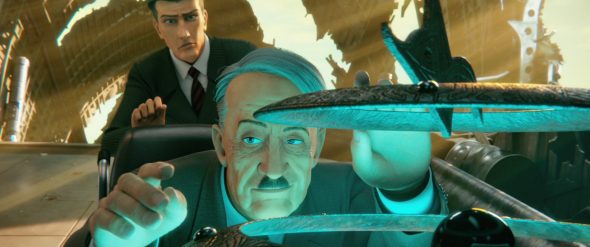 Laetitia tries to be romantic with Lupin, but keeps getting interrupted. She wants to go with Lupin and his gang, but he rejects this. He also reveals that he got her into the university in Boston, based on her research paper. Lupin takes off in a boat with Jigen and Goemon. Zenigata pursues with his ICPO troop, where they first salute Laetitia before departing.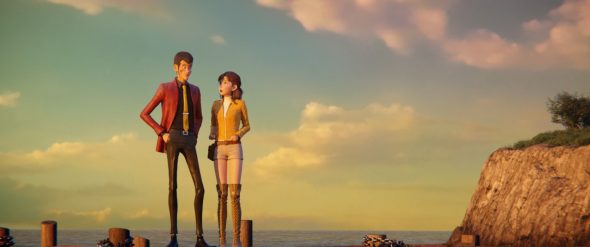 3D vs 2D Animation
One thing that I was worried about was how the 3D animation of Lupin III THE FIRST would work compared to the normal 2D animation of all the years past. I'm not opposed to 3D animation, as I enjoyed the Star Wars: Clone Wars series and Star Wars: Rebels series. And on the anime front, I liked the Harlock Space Pirate movie, at least visually (review here).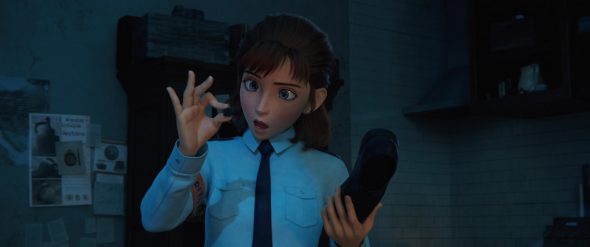 I need not have worried though. I quickly got used to the 3D character designs for Lupin and company. Indeed, I think it is some of the best 3D animation I've seen. On one hand, it really captures the feel of the 2D character designs. On the other, it gives them a kind of human feel, as if they were real people.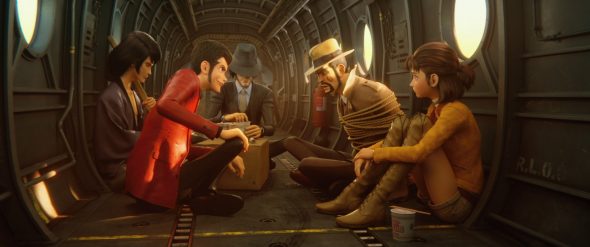 That's not to say they look like real people, but it is the feeling of real people, especially in the hair and clothing. For example, there's a moment where Lupin and Laetitia are rescued by Fujiko on a biplane. The way the wind causes their hair and clothing to move felt very real. The animation aspects of this movie were just incredible.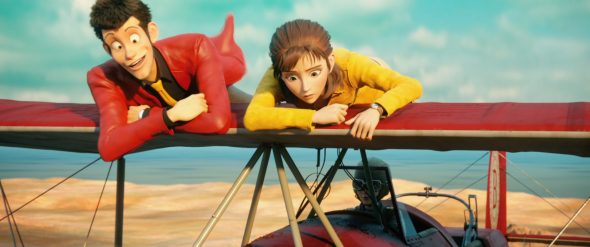 Things are really beautiful in terms of sets and scenery. There was a richness in color that I really liked. And the various places they went felt very real, whether the streets of Paris, or a ship on the ocean. So really well done there. I'd happily watch more 3E Lupin III.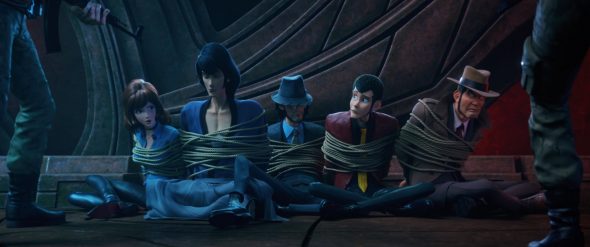 Cagliostro Inspiration
One thing that stood out to me about Lupin III THE FIRST is that the folks at TMS in charge of this movie looked to Lupin III: Castle of Cagliostro for inspiration. For starters, Zenigata has his ICPO troop group, similar to what he had in Cagliostro. And indeed, they act in a similar fashion. And it happened without being a carbon copy. Rather, it was a loving tribute.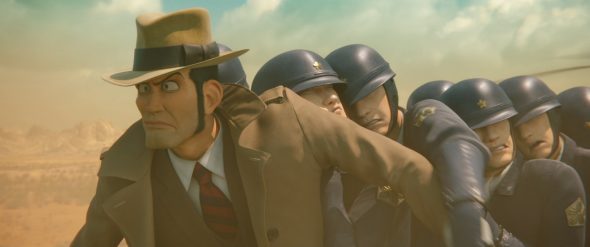 Indeed, Zenigata's personality is much the same as in Cagliostro, in that he's willing to aid Lupin in the cause of a greater problem. And at the end of the episode, he and his ICPO troops salute Laetitia in a way similar to his salute to Clarisse in Cagliostro. And the musical score at this moment, going into the ending music felt like Cagliostro, in a good way.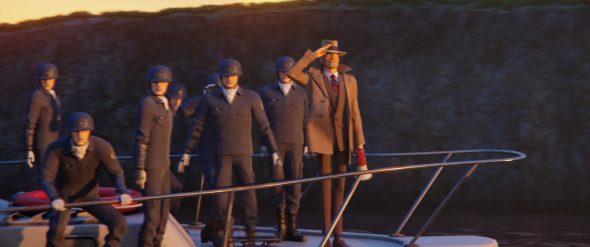 In addition, the relationship between Laetitia and Lupin in Lupin III THE FIRST is similar to Lupin and Clarisse's relationship in Cagliostro. There's the age gap between Lupin and the girl. There's a history between Lupin and the girl. The girl falls for Lupin, and though Lupin may be attracted to the girl, he passes to do the right thing.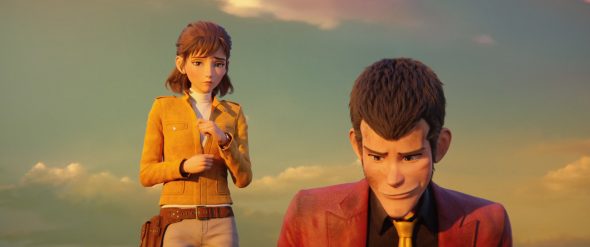 That said, while Cagliostro may have inspired Lupin III THE FIRST, the Lupin III THE FIRST is not a clone of Cagliostro. And that's what helps make it good.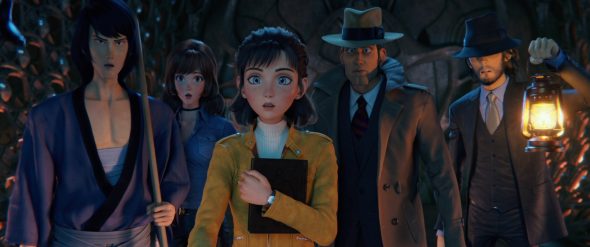 Plot and Characters
The plot for Lupin III THE FIRST isn't anything amazing or anything. It is a typical "find the treasure" plot with some greater issues at stake than just mere treasure. That said, the story was highly entertaining, even if predictable at times. I just really enjoyed the ride of seeing Lupin and company do what they do so well.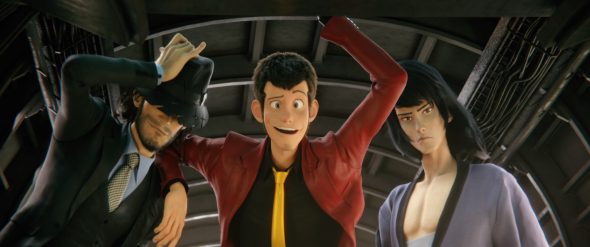 As to the characters, sadly Jigen, Goemon, and Fujiko have very little to do. They are all given moments to shine with Fujiko scoring a bit more on this front. But to be fair, this is a Lupin story, so I understand that the rest of Lupin's crew have to take a back seat. But this is one place where Castle of Cagliostro succeeded in a better fashion as Jigen and Fujiko had more substantial roles.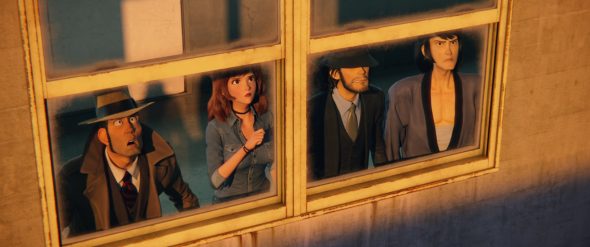 I really liked Laetitia's character. On one hand, she's trying to please her adoptive grandfather. On the other hand, she doesn't want to be a thief or do other criminal things for her grandfather. She wants to be an archaeologist. And thanks to Lupin, she will get her chance. To be honest, I'd love to see another 3D movie where Laetitia returns as an archaeologist and engages Lupin on some other adventure.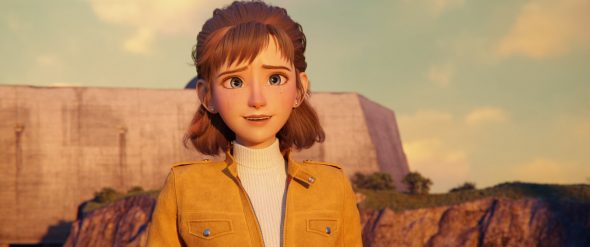 Final Thoughts and Conclusion
In the end, Lupin III THE FIRST moves to the the number 2 spot in my favorite Lupin III movies list. The production team looked to number 1 movie Castle of Cagliostro for inspiration and thus succeeded in creating a movie that was highly enjoyable and funny (at times).