ユーキューホルダー! 魔法先生 ネギま!2 Manga Review
UQ Holder! Mahou Sensei Negima 2
UQ Holder!: Magister Negi Magi! 2 Chapter 177
UQ Holder Chapter 177
SPOILER Summary/Synopsis: 
Touta's opponent introduces himself as Agali Arept. The four-armed, skeletal warrior attacks, so Touta adopts a purely defensive posture to try to survive. After gaining some distance, Touta attempts to come up with a plan, but Agali presses the attack. Touta uses his wits to survive and summons Kurobo. He is able to use the Gravity Blade to get an attack on Agali.
Agali summons a massive monolith onto Touta to stop him. Touta burns his chi to prevent from being crushed. And Agali isn't sure that killing Touta wouldn't reactivate his immortality. As such, he tries to crush Touta's spirit by informing him that Yukihime is stuck on Mars, and his pactiones partners are all dead. As such, he pulls Touta's cards and shows that they all have no border, which is an indication of death. But Agali does concede that should people with a pactiones who pass through a rift in the dimensions could still be alive, but in limbo.
Touta believes them dead, so Agali decides to end Touta by beheading him. However, the headless Touta comes to life and regenerates his missing arm, meaning his immortality is back. Touta dispatches Agali and is out for four months. He then wanders the earth on a quest to find his missing comrades.
Thoughts/Review:
I have to say that UQ Holder Chapter 177 was somewhat underwhelming. But it is setting up the return of Touta's battle harem.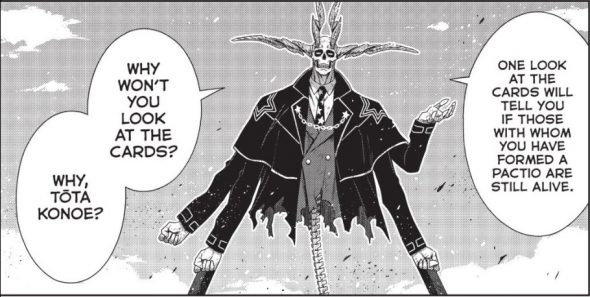 Rift is the Key?
Based on the info dump from Agali in UQ Holder Chapter 177, I suspect that all of Touta's immortal battle harem (and Santa) are actually with Dana. As such, they are disconnected from the pactio system and thus their cards are "dead". And considering how time runs different in Dana's realm vs. everywhere else, I can easily see her playing host to Karin, Kuroumaru, and the others.
Further, putting the battle harem into Dana's realm would provide Akamatsu-sensei a deus ex machina moment for Touta to be saved in the future. I can see that happening for sure.
Agali Arept
As an enemy, Agali Arept failed to impress me in UQ Holder Chapter 177. Yeah, he looks like that Magic World entity that Negi defeated. But outside of that "scary, bone-monster" look, he's rather rubbish. Yeah, Akamatsu-sensei is making Touta more Mary Sue this chapter in his ability to survive by the hair of his chinny-chin-chin. But Touta should be an easy victory.
It is true that Agali did stop Touta, but in the end, he's an utter moron for killing Touta. After stopping Touta, Agali states that killing Touta might actually cause Touta's immortality to reactivate. So maybe the idiot thought that by breaking Touta's spirit, Agali could kill Touta. Instead, Touta's immortality reactivated once Agali beheads him.
I'm guessing that after Touta's headless body beheads Agali, he uses the same ability he used on Dana to dispatch her. Whether this has killed Agali or not remains to be seen.
Final Thoughts and Conclusion
Let me wrap up my shorter review of UQ Holder Chapter 177 with some final thoughts.
If I've understood the chapter correctly, Eva may have joined Nagi and Negi within Mage of the Beginning. But that explains why MotB hasn't made her move on Earth.
Akamatsu-sensei continues to make Touta take on different EMIYA forms from Fate/Grand Order. Earlier, it was Archer. Now, it is Assassin. 😂
Why'd it take four months for Touta to "reform" on the beach? And how'd no one find him in the meantime? After all, as he traveled the globe, he was apparently under constant attack.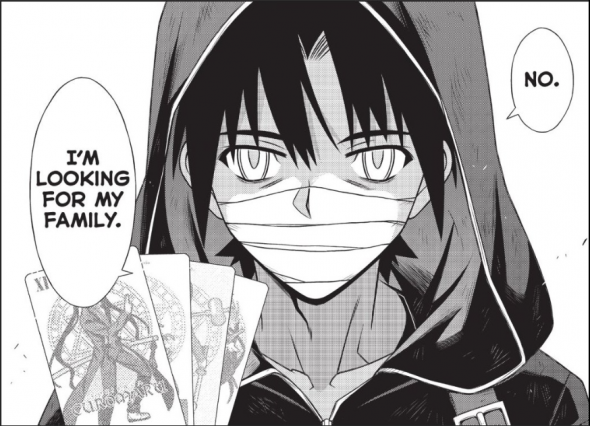 In the end, UQ Holder Chapter 177 was rather underwhelming as a chapter. So while nothing special, it wasn't bad per se as it is setting up Touta's new quest.