ユーキューホルダー! 魔法先生 ネギま!2 Manga Review
UQ Holder! Mahou Sensei Negima 2
UQ Holder!: Magister Negi Magi! 2 Chapter 181
UQ Holder Chapter 181
SPOILER Summary/Synopsis: 
Somewhere in space, Karin contemplates the hell of her existence. A giant energy/fire ball approaches her location.
Back on Earth, Touta is briefed on the events 45 years earlier, where Nikitis implanted a World Seed tree in Touta. The world tree branches then grew and kept the orbital elevator and ring from being destroyed. After that, it took Touta 42 years to free himself from the tree and fall to Earth.
Back on the ship, Touta relaxes in an onsen. Touta contemplates things, including what became of Shinobu, Mizore, and others. He's joined by Kuroumaru, who's hair has become blonde. Touta is surprised, so Kuroumaru causes her hair to return to black. She offers to wash his back, which he accepts.
Kuroumaru lets Touta know that she, Karin, Kirie, and Yukihime made a deal that whomever found Touta would get to move forward with a relationship with Touta. She talks about how she worked hard, believing Touta would come back. Now that he's here, she wants a reward.
Realizing what she's said, Kuroumaru tries to flee. Touta catches her and embraces her. After assuring her, he has a reaction to her naked body. The two decide to take their relationship to the next level.
Meanwhile, Nikitis has a discussion with Fate about Touta and rescuing Karin.
Thoughts/Review:
I'm insanely behind reviewing UQ Holder Chapter 181 thanks to work. But it is time to get this party started.
Flashback
Akamatsu-sensei used UQ Holder Chapter 181 to provide a flashback to the events from 45 years ago. As such, the World Tree seed is used again to save the day. As such, now we know why Touta was in space for over 40 years–he was the heart of a giant tree (that acts like a massive vine) in space to keep the orbital ring and elevator(s) in place.
It is a retcon to have Nikitis secretly have planted the seed in Touta in the past, but that's not really a problem. What was weird was that suddenly Fate is back, thus making the seed planting necessary. Maybe I'm misremembering, but I thought Fate had been obliterated. Sure, Fate is a homunculus and as we saw, easily revived. But this just came out of left field and seemingly to make him a villain again.

And then at the end of the chapter, I did laugh at Nikitis complaining that Fate looked like him. In all honesty, I think it is due to Akamatsu-sensei's limited range of character designs. But I suppose the story will be that Fate's design was based on Nikitis. We'll see.
Kuroumaru is a Lovely Girl
I'm glad that Akamatsu-sensei has once and for all settled the issue of Kuroumaru being a lovely girl. And she is a lovely girl. The picture of her asking for a reward was like an arrow to the heart. How could one deny her?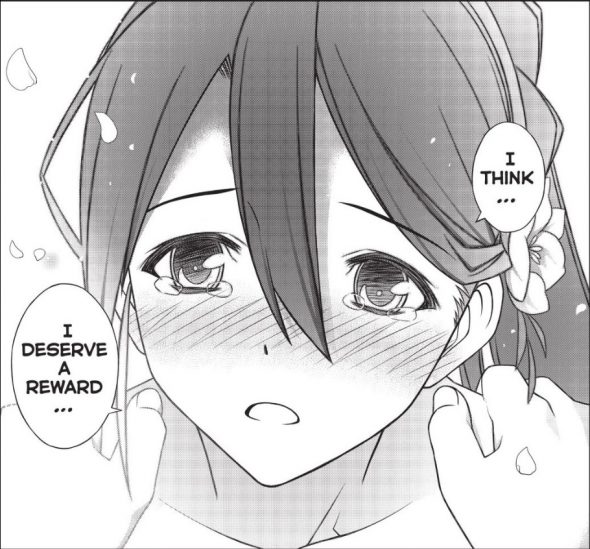 I did appreciate Kuroumaru opening up to Touta. It was touching and I loved it. As such, we get reaffirmation that Kuroumaru, Karin, and Kirie have their deal over Touta. I don't like that Yukihime is part of the deal. As Touta's adoptive mother, the ick factor is just not going to ever go away there. I know the Japanese have this thing that "well, as long as they love each other, anything goes." 😅
The surprising part of the chapter is that Akamatsu-sensei went "there" when it came to having Kuroumaru and Touta advance their relationship to the next level. Not only did they confess their love to each other, they did the "do" as well. Akamatsu-sensei did the artistic route rather than the graphic route, and I'm more than cool with that.
So "YAY!" on Kuroumaru being a lovely girl and head girl of Touta's harem.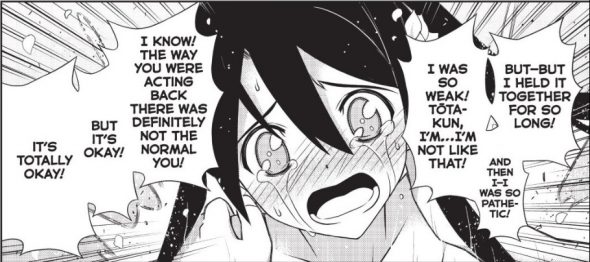 Final Thoughts and Conclusion
In the end, UQ Holder Chapter 181 was a lovely chapter. I loved the advancement of Kuroumaru as a lovely girl. Hopefully, Karin returns to the fold soon.