ユーキューホルダー! 魔法先生 ネギま!2 Manga Review
UQ Holder! Mahou Sensei Negima 2
UQ Holder!: Magister Negi Magi! 2 Chapter 182
UQ Holder Chapter 182
SPOILER Summary/Synopsis: 
Forty-five years prior, Karin is using her holy magic to defend UQ Holder. She takes a massive attack, which sends her flying naked into space at 10% of the speed of light. Karin decides to pass the time by using her magic app to read the thousands of books in her library. Unfortunately, she burns up her battery in seven months and lacks the knowledge on how to use her own magic to power the app.
She decides to take a page from Touta and train. However, after seven years, she gives in to despair. Thirty-eight years later, Karin has been floating aimlessly in space when she sees what she thinks is a sun. She realizes that her immortality will cause her to fall into the center of this sun forever, never dying, but feeling the torment of the heat. She cries out for help and Touta shows up.
Some twenty-seven hours earlier, Touta is briefed by Fate to rescue Karin and install a gate on Alpha Centauri. He is fired through a series of rings, where he loses his clothing, but not his supplies. He finds Karin and informs her that they have 12-hours to wait before they can return to Earth. During this time, Karin opens up to Touta and confesses her feelings for him. He accepts and they consummate their relationship.
Some time later, the dual are "zapped" back to Earth, where they land in the waters outside of Hawaii.
Thoughts/Review:
Whew. Well, Akamatsu-sensei pushed the ecchi factor to the max with UQ Holder Chapter 182. At this point, he may as well start doing his own H doujinshi titles based on his manga. 😅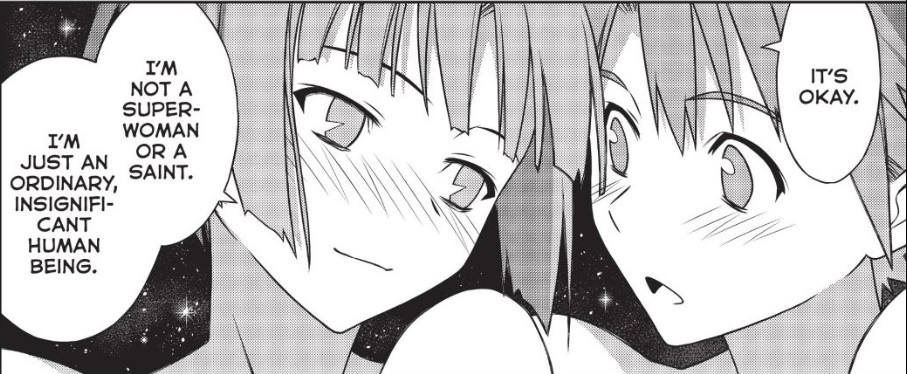 Immortality is a Curse, Not a Blessing
In the classic (and good) Doctor Who series episode "The Five Doctors", the first Doctor remarks that "immortality is a curse, not a blessing." That line popped into my head as I read UQ Holder Chapter 182 and we got a mere glimpse of what 45 years in space was like for Karin. She was only able to keep herself going for seven years before despair overtook her.
Add to that the fact that she's flying into a star. And as an immortal, she would take zero damage from being in the core of the sun, yet she would feel the insane heat and blinding brightness for eternity. I mean, that's just a jacked up situation for sure.
When faced with the reality of that, it is no wonder that Karin was finally able to be honest with Touta.
Karin Joins the Harem
Although I think Kuroumaru is "best girl", Karin always held a special place with me. I had my issues with Touta as a character, but after Akamatsu-sensei mostly resolved those issues, I wanted Karin to fall to Touta. Yeah, Karin's fall is part of the tsundere journey, but I still enjoy seeing a tsundere fall. And this has been a long time coming.
Karin's forty-five years of solitude in space allowed her to finally be honest when Touta rescued her. And Karin being the aggressor here made sense, based on her personality. Touta's surprised reaction is also understandable. As he stated, he thought Karin hated him, thus her coming on to him set him aback. I don't think Karin ever hated Touta, but she was irritated because she recognized her attraction to him.
That aside, Akamatsu-sensei again has two of his characters consummate their relationship. Thus Karin officially joins Touta's battle harem. But man, Karin was naked almost the entire chapter. It made me wonder if Sensei wants hentai artists to do UQ Holder doujin titles. Heck, he could probably make big bank doing his own hentai doujinshi versions of UQ Holder Chapter 182 and the previous chapter as well. 😅
Final Thoughts and Conclusion
In the end, UQ Holder Chapter 182 is a very ecchi chapter. But I finally got to see Karin fall, which was nice. And she returns to the story, which is nicer still.