Tenchi Muyo! Ryo-ohki OVA 5 Episode 05
天地無用! 魎皇鬼 OVA 5 Ep. 5

SPOILER Summary/Synopsis:
A few years after the events of episode 4, Washu gives a report to Seto on Kenshi's progress. Meanwhile, Funaho, Misaki, Yuuzaki (Yuzaki), and Kuis plan to crash in Kenshi's training. They rope Ringo in as well. Ringo's first visit is to the Yamada residence to see Seina's harem. She then grills the boy on finances. Next is Minaho, who quickly schools Seina on not underestimating her because she's in Intelligence.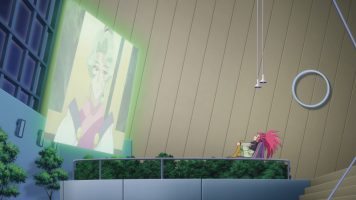 Minaho briefs Rea on Kenshi's evaluation. She then scolds Tenchi since he will be marrying before her. Minaho demands two days of Tenchi's time and lays down the law with his harem at the same time. Meanwhile, Funaho, Misaki, Yuuzaki, and Seto pay Seina's harem a visit to have some fun. They then proceed to Tenchi's home so that Yuuzaki can evaluate Kenshi. At the shrine office, Airi visits her husband Yosho (in Katsuhito form) for a chat.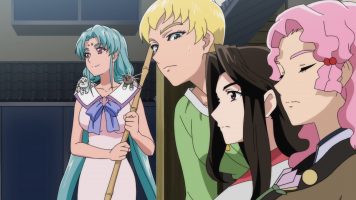 Later, a handicapped Misaki has no trouble defeating Kenshi. Minaho takes a turn, using only thread as a weapon. Seto takes a turn, trashing Kenshi at a computer game simulation. That night, the Juraian women prepare a feast. The Kuramitsu family are there waiting while in the shrine office, Emperor Azusa, his father Kazuki, and Utsutsumi join Katsuhito and Nobuyuki for tea.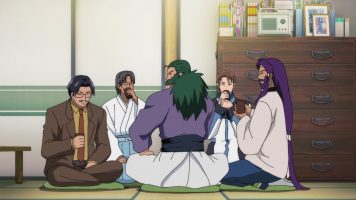 The following night at Seina's house, an unofficial, formal ceremony is held to announce the marriage of Tenchi to his harem. After Emperor Jurai says his piece, Tenchi stands and speaks of his journey with the girls that began when he was 15 and how they'd become family. Airi and Katsuhito pressure Minaho about getting married, when she learns that her parents never had a formal ceremony.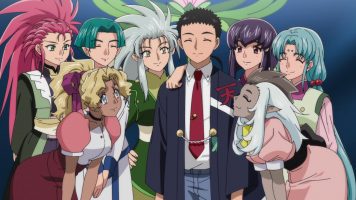 Thoughts/Review:
Good grief! It has taken way too long to get my review of Tenchi Muyo! Ryo-ohki OVA 5 Episode 05 out. But, my job is insanely busy, hence the lack of posting here. Nevertheless, I do want to write something about this episode before the next one is released. 😅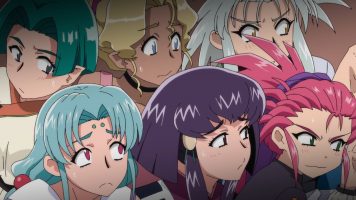 Wrapping Up the Kenshi Training
I suspect that Tenchi Muyo! Ryo-ohki OVA 5 Episode 05 was the last time we see Kenshi training, at least in a formal sense. With Misaki, Funaho, Seto, and other highly important Juraian women there to evaluate Kenshi, it is basically endgame in terms of training. Next is to see Kenshi off to the world of Geminar.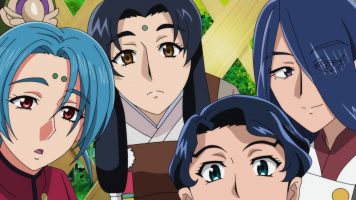 I think when the final episode is released, I'll try to rewatch War on Geminar. That is, assuming I have time to watch it at all. 😅 That aside, it would be interesting to see how OVA 5 impacts the viewing experience of WoG.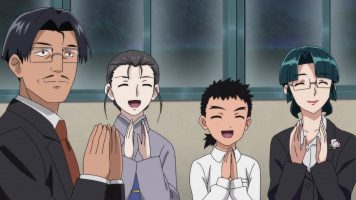 Harem Accepted
Back in my early fandom for Tenchi Muyo! Ryo-ohki, I was a Tenchi x Ryoko shipper. But after debating fans like True Sheol (I miss him), I came to realize that the harem ending was in fact the best ending for the story. Tenchi Muyo! Ryo-ohki OVA 5 Episode 05 doesn't actually touch the politics of the situation. However, the fact that all parties accept the harem marriage shows how advantageous it is for everyone involved.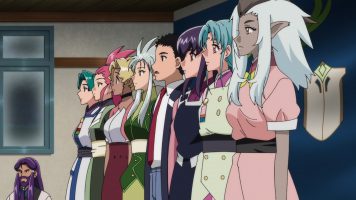 Basically, all that remains is the informal marriage as this was basically an engagement ceremony. The final episode may show us the marriage, or it may skip ahead to where Tenchi is already married. I'm not sure how they'll handle things. That aside, it is nice seeing the harem ending actually coming to fruition after all these years.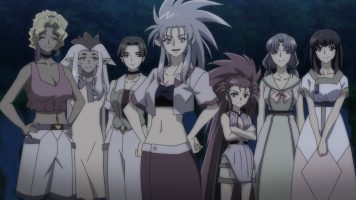 Good Times
Aside from the official harem engagement, I think the thing I enjoyed most about Tenchi Muyo! Ryo-ohki OVA 5 Episode 05 is seeing Funaho and Misaki. Yes, both characters have been seen, Funaho more so than Misaki. However, we get to see Funaho in a more lighthearted moment. For a start, she's part of the silly cabal plotting to crash Kenshi's training. Then, she uses string to "school" Kenshi, though that also shows how awesome she is.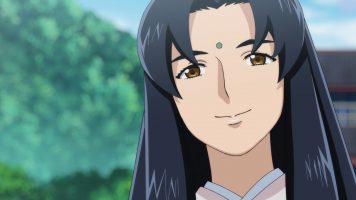 As for Misaki, we've already seen how she's more lighthearted in nature, even when semi-serious. If we look back at the final OVA 2 episode, we see this in action in how she toys with Ryoko, pretending to believe Ryoko is Sasami while casually beating up Ryoko in the process.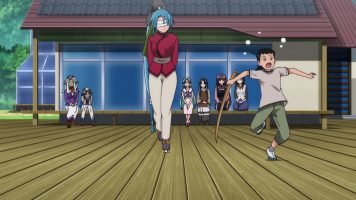 The only problem I had with Funaho and Misaki returning is their lack of interaction with their kids. Yes, OVA 2 episode 6 showed this, and Kajishima-sensei is always loathe to retread previously covered ground (except for jokes about Minaho being single). But it would have been fun watching Ryoko flee for safety from Misaki as Misaki greets Sasami and Aeka. And Yosho should at least say hi to his mom. But what do I know?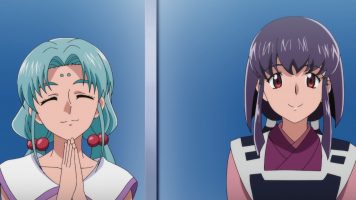 Final Thoughts and Conclusion
Let me wrap up my review of Tenchi Muyo! Ryo-ohki OVA 5 Episode 05 with some final thoughts.
I kinda wish Sasami had given Minaho a bit of a fight, more so considering she is Tsunami. But I guess Kajishima-sensei wanted to show just how powerful Minaho is.
I like seeing Airi visiting her husband. But somehow, I'm always disappointed that Yosho retains his Katsuhito form rather than reverting to his Yosho form. Maybe Airi likes the Katsuhito form more than the Yosho form.
Also, I thought it strange that Minaho didn't know here parent's were never officially married. Not sure why that seems to be such a tetchy topic with Azusa, Seto, Funaho, and Misaki.
If you don't the one Kuramitsu guy, that's Nakita, Mihoshi's dad. He was seen in OVA 3, though his relationship to Mihoshi and wife Mitoto isn't stated in the OVAs, which is annoying.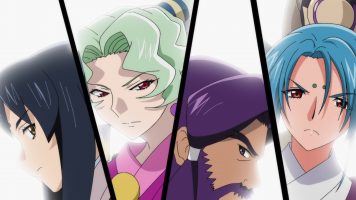 I'm sure I'm missing stuff, but I've been struggling to get this done for weeks. Nevertheless, I did enjoy watching Tenchi Muyo! Ryo-ohki OVA 5 Episode 05. And now for the harem wedding.