よつばと!
Yotsuba&! Volume 14 Review
–> Buy Yotsuba&! Volume 14 from Amazon.com!
I literally have mounds of unread manga volumes collecting dust on my bookshelves. However, I was informed that the next volume for Yotsuba&! is coming out in September, so I thought I'd find my copy of Yotsuba&! Volume 14 and actually read it.
*SPOILERS!*
The Story, in Brief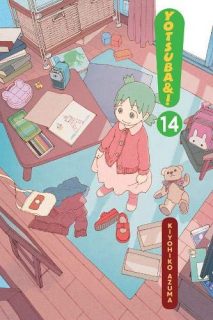 To get things started in Yotsuba&! Volume 14, Jumbo brings over some beads for Yotsuba. This leads Jumbo, Yousuke, and Yotsuba to try to make necklaces. Next, Fuuka and Hiwatari take Yotsuba to a Yoga class. Following that, Yotsuba gives herself hair extensions in order to be a princess. As such, Asagi makes her a poofing dress made from garbage bags.
Yousuke and Yotsuba run into Yanda at the store. Yotsuba is not amused when he comes by the house later. However, she grills him and Jumbo on places to visit when she and her dad go to Tokyo. The following day, Yotsuba discovers that Tokyo train stations are a scary place. Further, aliens (girls in cosplay) abound in the city (Harajuku).
Yousuke decides to buy cotton candy for himself and Yotsuba. Then he buys crepes, despite the fact that it is nearly time to meet his sister (Koharuko) for lunch. She decides to meet them in Harujuku where again, Yotsuba has an encounter with high school girls dressed as aliens.
Koharuko shows Yotsuba the car her dad is getting. She then takes the trio to a fancy hotel for lunch. The place has an all you can eat buffet, which amazes Yotsuba. While Yotsuba stuffs herself on the various foods and desserts, she proclaims her father's food to be the best. After saying goodbye to Koharuko, Yousuke gives into Yotsuba's request to take the freeway home.
Chapters 91 and 92
The first two chapters of Yotsuba&! Volume 14 are fun, stand alone affairs. I got a kick out of Yotsuba's reaction to being given a large container of various beads. We also got to see her greedy, selfish side when it game to sharing her "jewels" with her dad or Jumbo.
The second chapter was a nice excuse to see Fuuka's friend Hiwatari again. I got a kick out of how Fuuka and Hiwatari had struggles with the yoga class while Yotsuba seemed to breeze through it.
Tokyo Trip
The one thing about Tokyo is that it is a monstrous metropolis. Harajuku is a district within the greater Tokyo area. So while most of the rest of Yotsuba&! Volume 14 took place in Harajuku, this is in fact part of Tokyo.
That aside, we've now met two members of Yousuke's family. Last volume, it was his mom, who looked like a bag lady. This volume, it is his sister Koharuko, who seems quite fashionable. And to live in Tokyo as well as afford to give away a car (I think that's what happened…I should go back and reread volume 13), she has to be doing pretty well financially.
Still, it was a lot of fun seeing Yotsuba's first experience in such a large, crowded city. Yotsuba was right in character when she got scared by seeing the high school girls dressed as aliens. And then later, that was further paid off when the girls showed up again.
However, for me, the biggest bit of fun was seeing Yotsuba react to the large, all you can eat buffet. I'll never forget the first time I went to one. Coming from a poor family, the idea of getting to eat as much as you wanted of anything you wanted just boggled the mind. And much like Yotsuba's family, we got our money's worth for sure. 😂
Final Thoughts and Conclusion
Let me wrap up my review of Yotsuba&! Volume 14 with some final thoughts.
As usual, the Japanese honorifics are retained in the volume. And the adaptation appears to be pretty faithful from the spot-checking that I did. But then Yotsuba&! has not been a problem in this regard.
There are no extras in the volume. However, I suspect there were none in the Japanese tankoubon either, considering this volume is pretty hefty.
The title page is printed backwards. I don't have access to the tankoubon, so I don't know if this was intentional or not.
In the end, Yotsuba&! Volume 14 was another delightful romp into a world of innocent childhood wonder and a single dad raising a daughter. I have to say I enjoyed every bit of it and regret having sat on it so long. However, at least this way, I only have four months to wait for the next volume rather than three years (since this came out in English at the end of 2018). 😅