Yashahime: Princess Half-Demon 13
半妖の夜叉姫 13
Hanyou no Yashahime episode 13
SPOILER Summary/Synopsis:
Setsuna and Towa get a briefing from Kohaku on a youkai who's eating priests and monks in the area. They are assigned to protect Hisui, who's father is the former wandering monk Miroku. Miroku has been engaged in day 800 of a 1000 day training session. His daughter, Gyokuto, visits him as Hisui, Setsuna, and Towa arrive. Miroku explains that after losing his Kazaana power, he continued to be a youkai hunter. But after encountering a very powerful youkai, he decided to train further.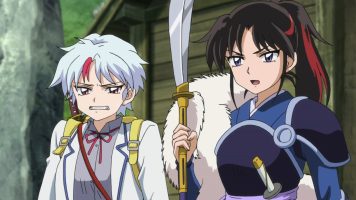 Meanwhile, Kohaku and his youkai hunters Rokuta and Nanasuke find Moroha is guarding the priest they were going to guard. As such they move on whole the monk-eating youkai, Totetsu, uses his Rainbow Pearl to determine the temple Moroha is at doesn't have prey he's after. Back at the place Miroku is at, Setsuna finally remembers him. Gyokuto explains why Hisui is not happy with his father.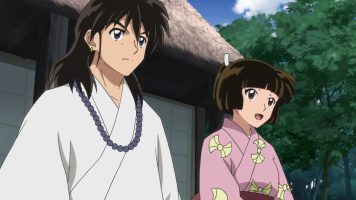 Totetsu targets Miroku for his next meal, citing the famous monk Sanzo. Miroku recognizes him as one of Kirinmaru's minions while Setsuna names him. Totetsu tries to suck Miroku into his maw, but gets a back of chips instead. Towa throws a bottle of extreme hot sauce for the youkai to ingest. Miroku has Hisui use youkai poison on Totestu, but the youkai spits it out, injuring Hisui.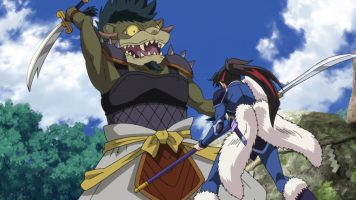 Setsuna has Miroku release a seal on her youkai blood, allowing her to injure Totetsu with poison and make him flee. Setsuna explains the seal is needed as her full youkai powers are difficult to control. Meanwhile, Hisui's mother Sango notices his change of attitude regarding his father.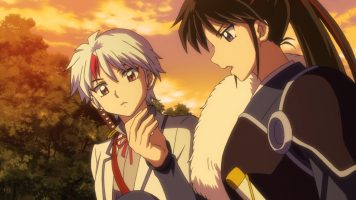 Thoughts/Review:
It was really nice getting the Inuyasha nod in Yashahime: Princess Half-Demon 13. I kinda wish there had been a bit more to it, but I'll take what I can get.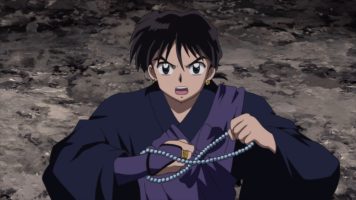 Classic Youkai
The interesting thing about Totetsu is that he is designed with a classic youkai look from Japanese mythology. Even the cloud he uses to fly through the air seems as if it came from an old Japanese artwork. So while many of the youkai in Inuyasha and Yashahime have either been humanoid or monstrous, Totestu came off as something more unique. I liked that.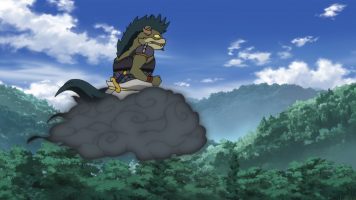 Further to that, I got a kick out of Totetsu apparently having eaten Sanzo (Tang Sanzang). He was the priest in the Journey to the West 16th century novel. It was a cheap way to give Totetsu even more "street cred", but it worked.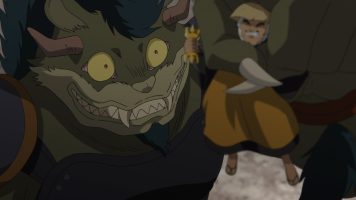 Miroku Returns
It was nice seeing Miroku from Inuyasha return in Yashahime: Princess Half-Demon 13. While he has shown up for cameos before, I believe this is the first time he has actually been a featured character in the series (discounting episode 1). That aside, I appreciated seeing Miroku again. It gave us a chance to see where the character is now compared to his Inuyasha days. I was hoping to learn more about the event that caused Miroku to start his 1000 day training. But as I stated earlier, I'll take what I can get.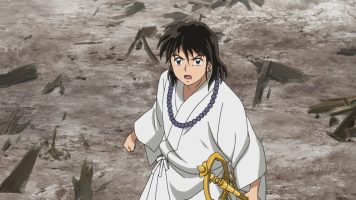 The conflict between Hisui and his father Miroku is somewhat cliched. The son considers the father a coward 'cause "reasons", but then sees his father in action and has a change of heart. Still, despite the obvious cliched trope, I still enjoyed seeing how this played out. And it was nice seeing Miroku's daughter Gyokuto. Alas, we did not get to see Miroku's other daughter, Kin'u.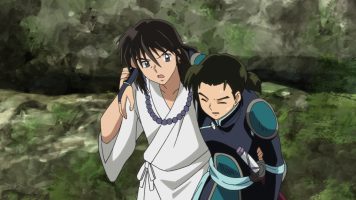 Finally, Sango got a cameo. For some reason, the director of the episode kept her with her back to the camera, and in shadow for most of her screen time. As such, I though that maybe Sango was deeply depressed over Miroku's being gone for two years. But that wasn't the case, as we learned at the end of the episode when we were finally allowed to see her properly.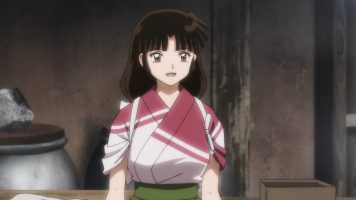 No Mary Sue!
One of my gripes of this series is that Towa is used as a Mary Sue character. She has no training and is not used to the world that Setsuna and Moroha grew up in. Yet time after time, she's showing up her more experienced sister and cousin. Thankfully, the writers didn't have Towa be a Mary Sue in Yashahime: Princess Half-Demon 13. She was just put on the useless shelf when the fight with Totetsu happened.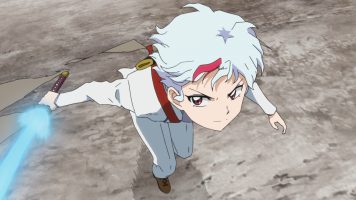 So instead of Mary Sue, we get Setsuna, who's given a moment to shine. And in the process, we learn a bit more about her as a character. She inherited her father's poison claw, once her youkai blood is unsealed, giving her a more youkai-human appearance. However, she cannot easily control her youkai powers, hence the seal. So having Miroku unseal Setsuna to defeat Totetsu is something I was fine with.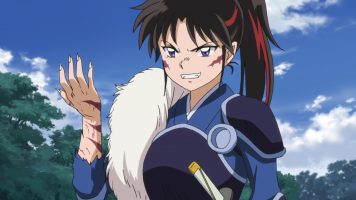 Still, if Setsuna's youkai half is severely restricted, it could explain why in episode 12, she had never experienced the New Moon phenomenon of turning full human.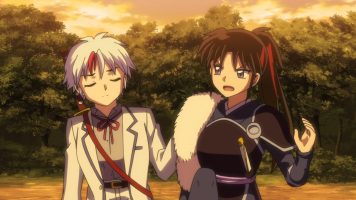 Final Thoughts and Conclusion
In the end, Yashahime: Princess Half-Demon 13 ended up being pretty enjoyable. While we still had the youkai of the week, Setsuna got a chance to shine with an explanation on why she looks human. Further, Miroku returns and Sango gets a cameo. Limited Moroha, but I'm cool with that in this instance.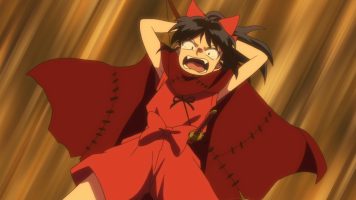 Bonus Setsuna, 'cause she's cool.